Gold 1.484,88 Eur
Silber 21,77 Eur
Platin 1.033,26 Eur
Palladium 2.412,07 Eur
(49) 2935 - 3 390 375
Europaweite Lieferung
Europaweite Lieferung
Gold 1.484,88 Eur
Silber 21,77 Eur
Platin 1.033,26 Eur
Palladium 2.412,07 Eur
SILBER 15,39 EUR
PLATIN 853,48 EUR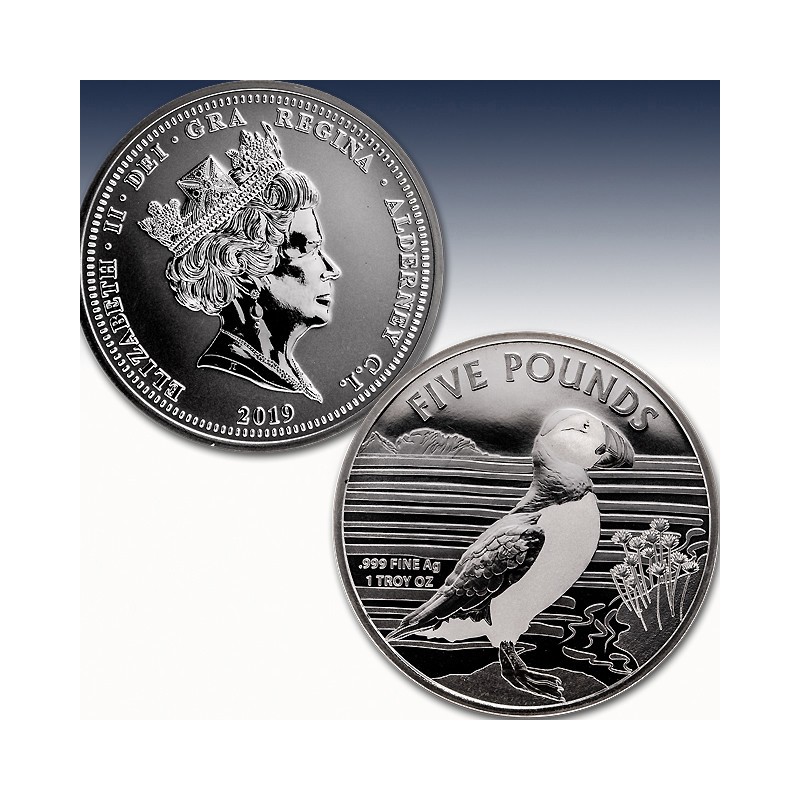  
1 x 1 oz Silber 5Pfd Alderney "Puffin 2019" -BU-*
| | | |
| --- | --- | --- |
| Hersteller: |   | Sunshine Mint |
| Nennwert: |   | 5 Pounds |
| Prägung: |   | Stempelglanz |
| Stückelung: |   | 1 x 1 Unze |
| Material: |   | Silber |
| Feinheit: |   | 999,9/1000 |
| Gewicht: |   | 31,103 |
| Verpackung: |   | zip-Tüte |
| Durchmesser: |   | 38,61 mm |
| Auflage: |   | 10.000 Stück |
1 x 1 Unze (oz) Silbermünze 5Pfd Alderney "Papageientaucher 2019"

(diff.besteuert nach §25a UStG)
This release of the Alderney Five Pounds features a striking image of a Puffin in .999 fine Silver.
The 1 troy oz coin has a limited mintage of 10,000 coins worldwide.
Around the world, puffins are known by several different names. In the Shetland and Orkney Islands off Scotland's northern coat the name for a puffin is Tammie Norrie and in Iceland and Norway they are called lundi or lunde.

Coin Highlights:
Limited mintage of 10,000 coins worldwide.
Contains 1 oz of .999 fine Silver.
Individual coins come in protective packaging. Multiples of 20 may come in tubes.
Obverse: Depicts the likeness of Her Majesty Queen Elizabeth II along with the year of issue and country of issue.
Reverse: Features an image of a Puffin standing on a rock with a graphic depiction of the ocean in the background, as well as the face value, purity and ounce size.

Own one of these Silver coins while it is available. Add this 2019 1 oz Silver Puffin coin to your cart today!

Puffins have predominantly black or black and white plumage, a stocky build, and large beaks. Most people recognize the puffin by its colorful beak but it is born with a dull beak which changes over the years.
Technische Daten
Gewicht

31.103

Material

Silber

Jahreszahl

2019

Preis-Addition

13.65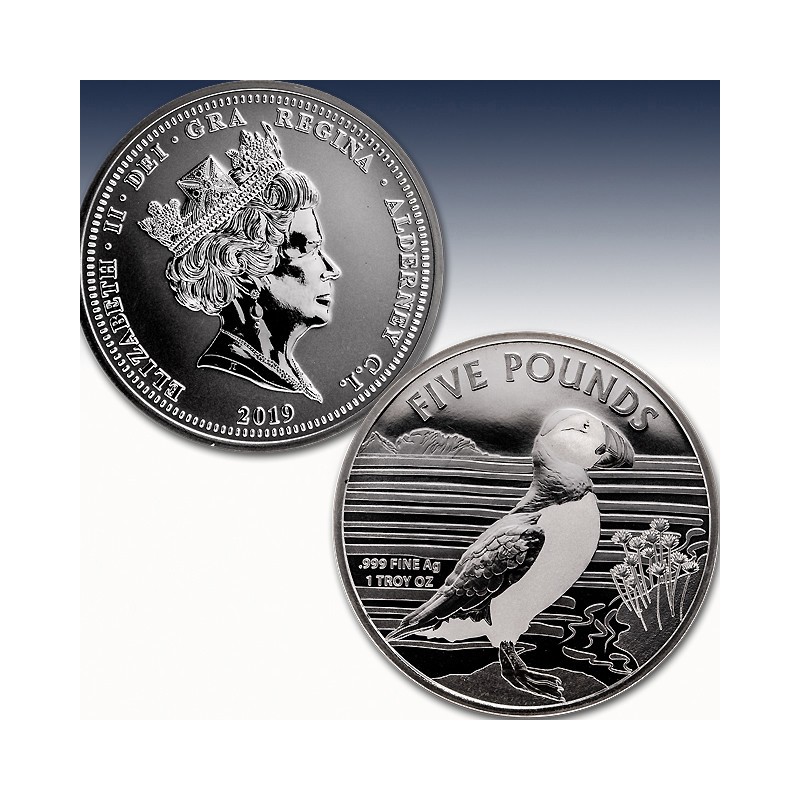 | | | |
| --- | --- | --- |
| Hersteller: |   | Sunshine Mint |
| Nennwert: |   | 5 Pounds |
| Prägung: |   | Stempelglanz |
| Stückelung: |   | 1 x 1 Unze |
| Material: |   | Silber |
| Feinheit: |   | 999,9/1000 |
| Gewicht: |   | 31,103 |
| Verpackung: |   | zip-Tüte |
| Durchmesser: |   | 38,61 mm |
| Auflage: |   | 10.000 Stück |