Gold 1.863,05 Eur
Silber 21,38 Eur
Platin 855,59 Eur
Palladium 879,72 Eur
(49) 2935 - 3 390 375
Europaweite Lieferung
Europaweite Lieferung
Gold 1.863,05 Eur
Silber 21,38 Eur
Platin 855,59 Eur
Palladium 879,72 Eur
SILBER 15,39 EUR
PLATIN 853,48 EUR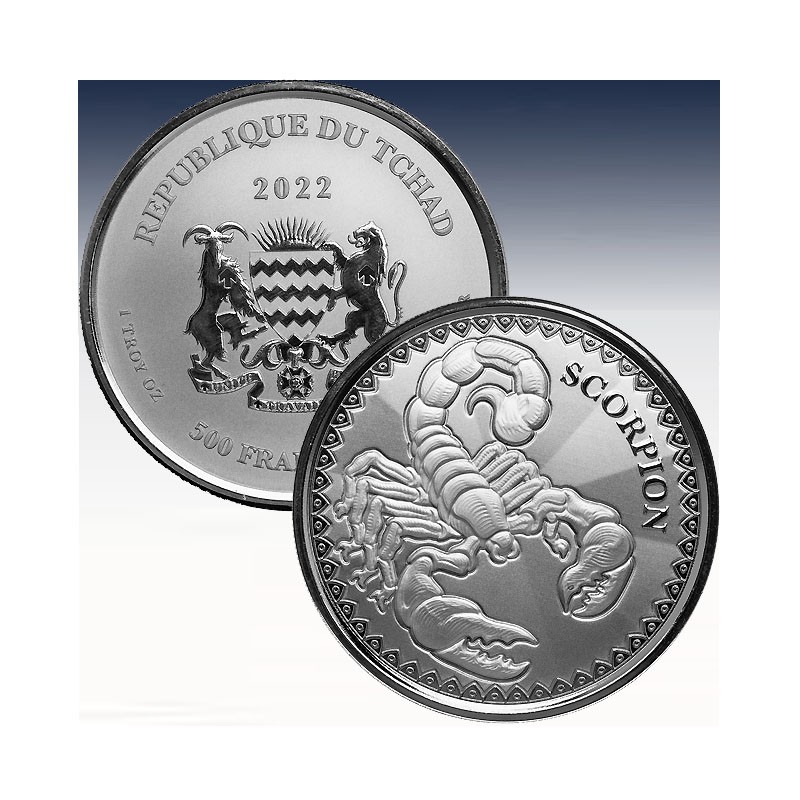  
1 x 1 oz Silbermünze 500 CFA Republik of Tschad "The Scorpion 2022" -PL- *
| | | |
| --- | --- | --- |
| Herkunftsland: |   | Republik Tschad |
| Nennwert: |   | 500CFA |
| Prägung: |   | Spiegelglanz |
| Stückelung: |   | 1 x 1 Unze |
| Material: |   | Silber |
| Feinheit: |   | 999/1000 |
| Gewicht: |   | 31,103 gramm |
| Durchmesser: |   |  39,00 mm |
| Auflage: |   | 20.000 Stück |
1 x 1 Unze (oz) 500 CFA Silbermünze Republik of Tschad
"The Scorpion 2022"
The Scottsdale Mint is excited to bring you the next installment in our Scorpion series. 
Amidst the rugged landscapes and captivating wilderness of Chad, a precious treasure awaits discovery.  Join us on an enthralling expedition as we unveil the remarkable three-coin Scorpion series—a testament to Chad's natural splendor and the nation's dedication to preserving its rich heritage.
Crafted with utmost precision, these coins reflect the intricate beauty of Chad's diverse ecosystem.  Just as the elusive scorpion thrives in the arid deserts, these exquisite numismatic creations capture the essence of their tenacity and resilience.   These legal tender bullion coins all contain 1 troy ounce of either .999 fine silver or .9999 fine gold and intricately showcase the scorpion's form, with its elegant grace dancing across the metallic canvas.
These 1 oz coins are available in Proof-like .999  Silver, Rhodium-Plated .999 Silver or .9999 Fine Proof Gold. with a world-wide mintage of 100.
Diese Sammlermünze wird als 31,103 gramm herausgegeben und besteht aus 999/1000 Feinsilber!
Sie hat einen Durchmesser von 39,00 mm.
Auch diese Silbermünze gilt als gesetzliches Zahlungsmittel in ihren Herausgeberland Republik of Tschad.
Die Spiegelglanz Prägung sorgt für ein besonders detailreiches und schön anmutendes Motiv.
The release of the "Deathstalker" Scorpion marks the inaugural release of a scheduled annual program.  The coin features an abstract design that realizes the peril of the most dangerous scorpion. The obverse of the coin features the elegant Coat of Arms of the Republic of Chad. The complete mintage of the 1 oz Republic Chad "Deathstalker" Scorpion Silver Coin Proof-Like Coin (2017) is limited to only 20,000 pieces. 
Technische Daten
Gewicht

31.103

Material

Silber

Jahreszahl

2022

Preis-Addition

7.4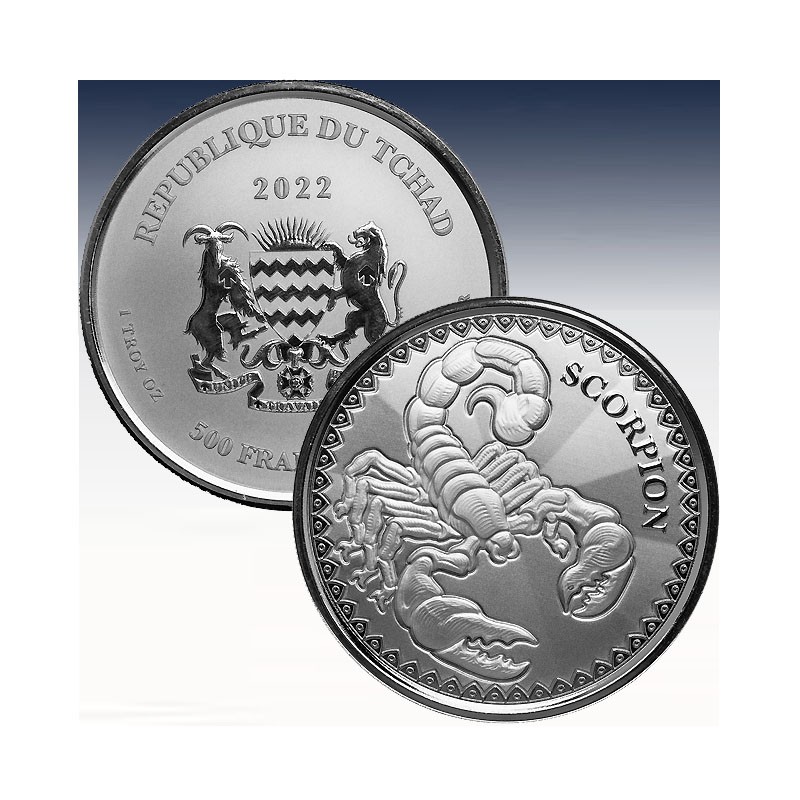 | | | |
| --- | --- | --- |
| Herkunftsland: |   | Republik Tschad |
| Nennwert: |   | 500CFA |
| Prägung: |   | Spiegelglanz |
| Stückelung: |   | 1 x 1 Unze |
| Material: |   | Silber |
| Feinheit: |   | 999/1000 |
| Gewicht: |   | 31,103 gramm |
| Durchmesser: |   |  39,00 mm |
| Auflage: |   | 20.000 Stück |