Gold 1.824,35 Eur
Silber 22,59 Eur
Platin 942,83 Eur
Palladium 1.234,75 Eur
(49) 2935 - 3 390 375
Europaweite Lieferung
Europaweite Lieferung
Gold 1.824,35 Eur
Silber 22,59 Eur
Platin 942,83 Eur
Palladium 1.234,75 Eur
SILBER 15,39 EUR
PLATIN 853,48 EUR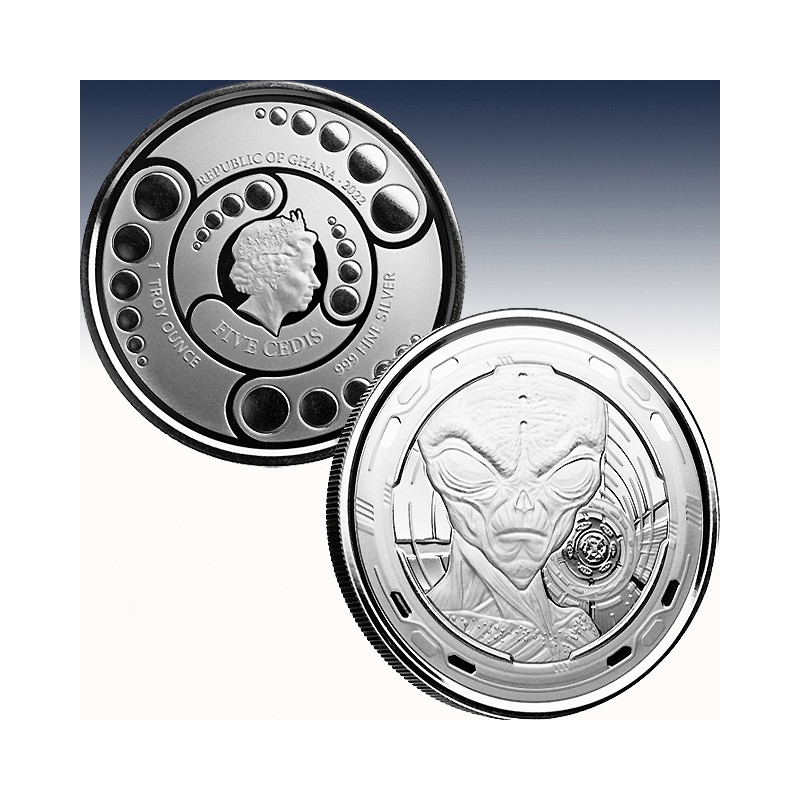  
1 x 1 oz Silbermünze 5 Cedis Rep. of Ghana "Alien - They're Back 2022" -BU-* -
| | | |
| --- | --- | --- |
| Herkunft: |   | Ghana |
| Nennwert: |   | 5 Cedis |
| Prägung: |   | Stempelglanz |
| Prägejahr: |   | 2022 |
| Stückzahl: |   | 1 x 31,103 Gramm |
| Material: |   | Silber |
| Feinheit: |   | 999/1000 |
| Gewicht: |   | 31,103 Gramm |
| Durchmesser: |   | 39.00 mm |
| Verpackung: |   | zip-Tüte |
| Auflage: |   | 25.000 Stück |
1 x 1 Unze (oz) Silbermünze 5 Cedis Ghana Rep. of Ghana
"Alien - They're Back 2022"
The 2022 Ghana Alien features an Alien ET staring into your terrestrial soul as he summons himself through a stargate.
–  1 Troy Ounce | 999 Fine Silver
–  Legal Tender in Ghana ($5 Cedis )
–  Limited Mintage: 25,000
–  Quality: BU
–  Comes in Tubes if ordered in increments of 20 coins
–  Diameter: 39 MM
Scottsdale Mint is thrilled to launch the next wave of the interstellar invasion: the 2022 Ghana Alien series.  This marks the second installment of the highly acclaimed and highly anticipated coin program.
The new design features a foreboding Alien staring into the terrestrial viewer's soul as he manifests out of a stargate.  The obverse features a cosmic pattern and the effigy of Queen Elizabeth II.  Proof versions of Scottsdale's Alien coins feature green eyes with a specialized coating that is reflective under UV light.  New this year is a 1/10th oz Gold BU offering.
These one-of-a-kind coins come in SIX different variations.
Silver Proof
Gold Proof
Rhodium Plated Silver Proof
Silver Antique
Silver BU
Gold BU Tenth Oz
The Proof versions all come packaged neatly in a collectors box accompanied by a Certificate of Authenticity and display case.
These Alien coins are perfect for any UFO enthusiast, collector of space coins and science fiction fans.
Diese edle Sammlermünze wird als 1 KG herausgegeben und besteht aus 99,9 Prozent Feinsilber.
Diese Wunderschöne Silbermünze hat einen Durchmesser von 39,0 mm, wiegt 31,103 Gramm.
Jede dieser wunderschönen Silverround enthält 999/1000 Feinsilber und wurde im wunderschönem Brilliant uncirculated geprägt.
Geliefert wird dieses Sammlerstück, mit einer limitierten Auflage von nur 25.000 Stück,
Technische Daten
Gewicht

31,103

Material

Silber

Jahreszahl

2022

Preis-Addition

6.6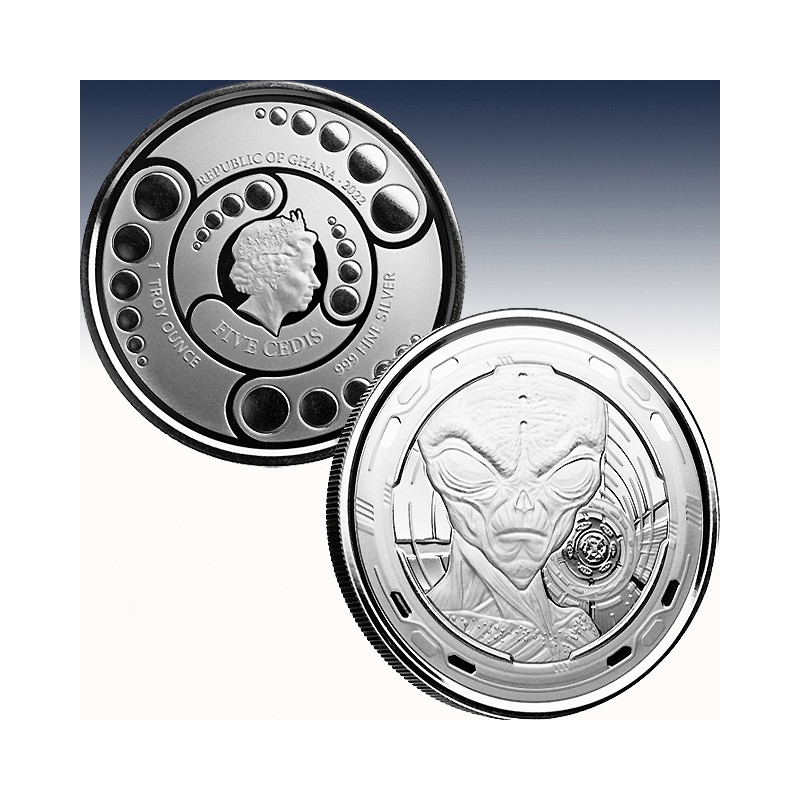 | | | |
| --- | --- | --- |
| Herkunft: |   | Ghana |
| Nennwert: |   | 5 Cedis |
| Prägung: |   | Stempelglanz |
| Prägejahr: |   | 2022 |
| Stückzahl: |   | 1 x 31,103 Gramm |
| Material: |   | Silber |
| Feinheit: |   | 999/1000 |
| Gewicht: |   | 31,103 Gramm |
| Durchmesser: |   | 39.00 mm |
| Verpackung: |   | zip-Tüte |
| Auflage: |   | 25.000 Stück |