Gold 1.863,05 Eur
Silber 21,38 Eur
Platin 855,59 Eur
Palladium 879,72 Eur
(49) 2935 - 3 390 375
Europaweite Lieferung
Europaweite Lieferung
Gold 1.863,05 Eur
Silber 21,38 Eur
Platin 855,59 Eur
Palladium 879,72 Eur
SILBER 15,39 EUR
PLATIN 853,48 EUR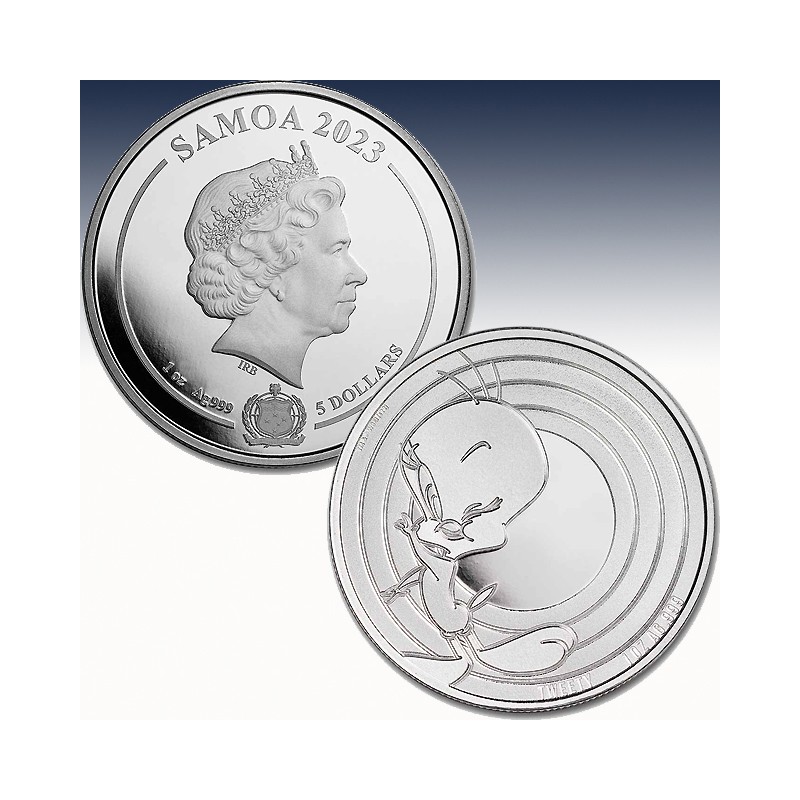  
1 x 1oz Silbermünze 5$ Samoa "Looney Tunes - Tweety 2023" -BU-
| | | |
| --- | --- | --- |
| Herkunft: |   | Samoa |
| Nennwert: |   | 5 Dollar |
| Prägung: |   | Stempelglanz |
| Stückelung: |   | 1 x 1 oz |
| Material: |   | Silber |
| Feinheit: |   | 999/1000 |
| Gewicht: |   | 31,103 |
| Durchmesser: |   | 39,00 mm |
| Auflage: |   | 15.000 Stück |
1 x 1 oz (Unze) Silbermünze 5$ Samoa "Looney Tunes - Tweety 2023"
This Looney Tunes Series has a limited mintage of 15,000 coins. This bullion Silver coin, issued by the country of Samoa, commemorates Road Runner.
Coin Highlights:

Contains 1 oz of .999 fine Silver.
Mintage of only 15,000 coins worldwide.
Individual coins packaged in protective capsules. Multiple of 20 arrive in heat-sealed rolls.
Obverse: Features the effigy of Her Majesty Queen Elizabeth II along with the issuing country crest, the face value, year of issue, weight and fineness.
Reverse: Features Tweety winking. Behind him are the familiar circles associated with Looney Tunes.

This

coin is legal tender in Samoa.

Samoa
The country of issue, Samoa, is located in the South Pacific and is an island nation. The population is approximately 185,000, but many native Samoans live in New Zealand, Australia and California. The Samoan way dates back more than 3,000 years and is still present today. Samoa is known for its natural beauty, hospitality and as a place for adventures.

Looney Tunes®
Some of our favorite animated cartoon characters belong to the Looney Tunes family. The first film series was produced in 1930 and introduced everyone to some of these lovable characters. Bugs Bunny, Daffy Duck, Tweety, Road Runner and many more were brought to life for all to enjoy. Looney Tunes characters have been on television, feature films, comic books, video games and music albums.
Technische Daten
Gewicht

31.103

Material

Silber

Jahreszahl

2023

Preis-Addition

8.6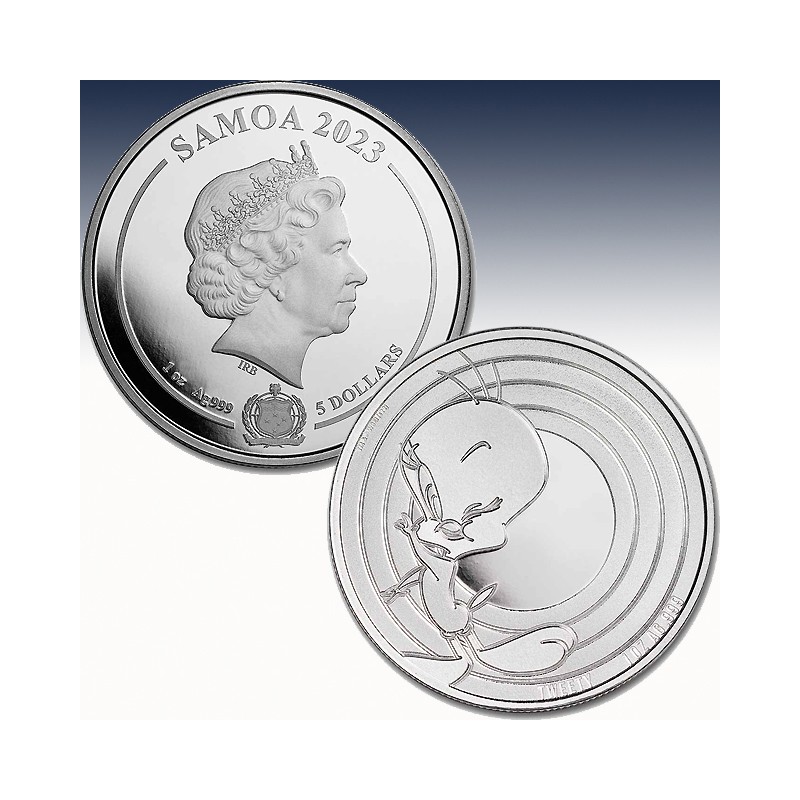 | | | |
| --- | --- | --- |
| Herkunft: |   | Samoa |
| Nennwert: |   | 5 Dollar |
| Prägung: |   | Stempelglanz |
| Stückelung: |   | 1 x 1 oz |
| Material: |   | Silber |
| Feinheit: |   | 999/1000 |
| Gewicht: |   | 31,103 |
| Durchmesser: |   | 39,00 mm |
| Auflage: |   | 15.000 Stück |