Gold 1.818,17 Eur
Silber 22,02 Eur
Platin 955,51 Eur
Palladium 1.299,32 Eur
(49) 2935 - 3 390 375
Europaweite Lieferung
Europaweite Lieferung
Gold 1.818,17 Eur
Silber 22,02 Eur
Platin 955,51 Eur
Palladium 1.299,32 Eur
SILBER 15,39 EUR
PLATIN 853,48 EUR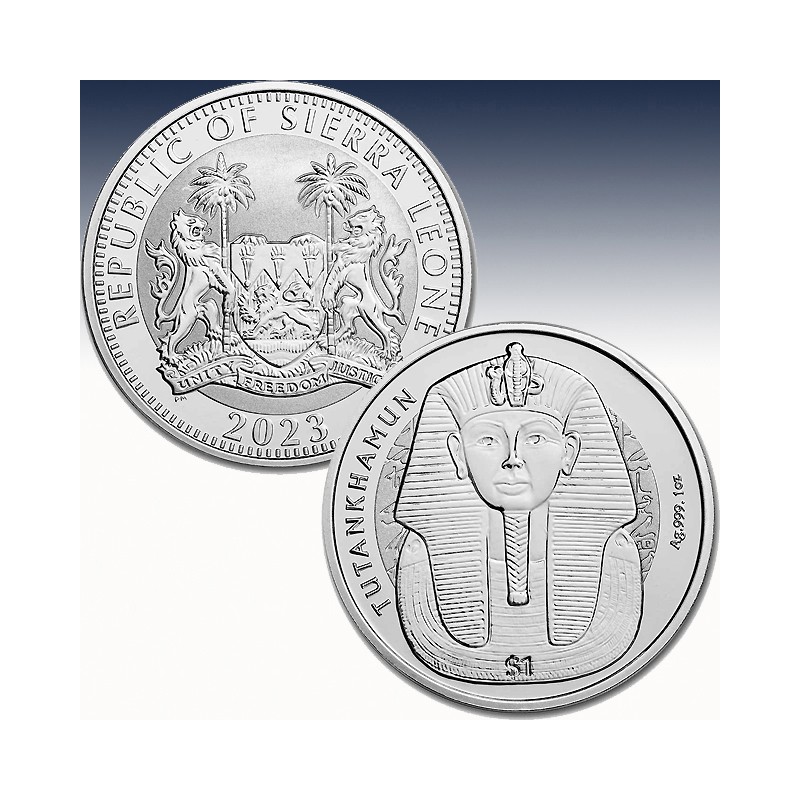  
1 x 1 Oz Silbermünze 1$ Rep. of Sierra Leone "King Tut - Reverse Frosted 2023" -BU-
| | | |
| --- | --- | --- |
| Hersteller: |   | PopJoy Mint |
| Steuersatz: |   | 19% |
| Prägung: |   | Stempelglanz |
| Stückelung: |   | 1 x 1 Unze |
| Material: |   | Silber |
| Feinheit: |   | 999/1000 |
| Gewicht: |   | 31,103 Gramm |
| Durchmesser: |   | 38,60 |
| Auflage: |   | 10.000 Stück |
1 x 1 Unze (oz) Silbermünze 1$ Rep. of Sierra Leon
"Egyptian Gods 1# King Tut - Reverse Frosted 2023"

 
Celebrating King Tut, Egypt's youngest and most mysterious pharoah, this coin features his death mask with Egyptian hieroglyphs, commemorating the 100th anniversary of the opening of his tomb.
This 1 oz Silver coin commemorates the 100th anniversary of the opening of King Tut's sealed tomb by showcasing his world-renown death mask.

Coin Highlights:
Contains 1 oz of .999 fine Silver.
Limited mintage of 10,000 coins.
Obverse: Features the front-facing death mask of King Tut along with hieroglyphics and a $1 denomination.
Reverse: Displays the Republic of Sierra Leone national crest along with the date.
Unique reverse frosted design showcasing Egyptian hieroglyphs in the background.

King Tut's tomb was first discovered by British Egyptologists Howard Carter and George Herbert in 1922. The sealed tomb was finally opened in 1923. What stunned many at the time was the solid Gold coffin. Inside were the remains of a pharaoh who, to that date, had been relatively unknown and lost to the history of the world.

Tutankhamun came to power at the age of just 9 or 10, as part of Egypt's 18th dynasty, in 1332 B.C. His young age meant he likely had to rely on trusted advisers to help him rule over Ancient Egypt. One of his greatest achievements was reversing several changes made during his father's reign and restoring traditional Egyptian values.
Jede dieser wunderschönen Silvercoin enthält 999/1000 Feinsilber und wurde im wunderschönem "Brilliant uncirculated" geprägt.
Technische Daten
Gewicht

31.103

Material

Silber

Jahreszahl

2023

Preis-Addition

11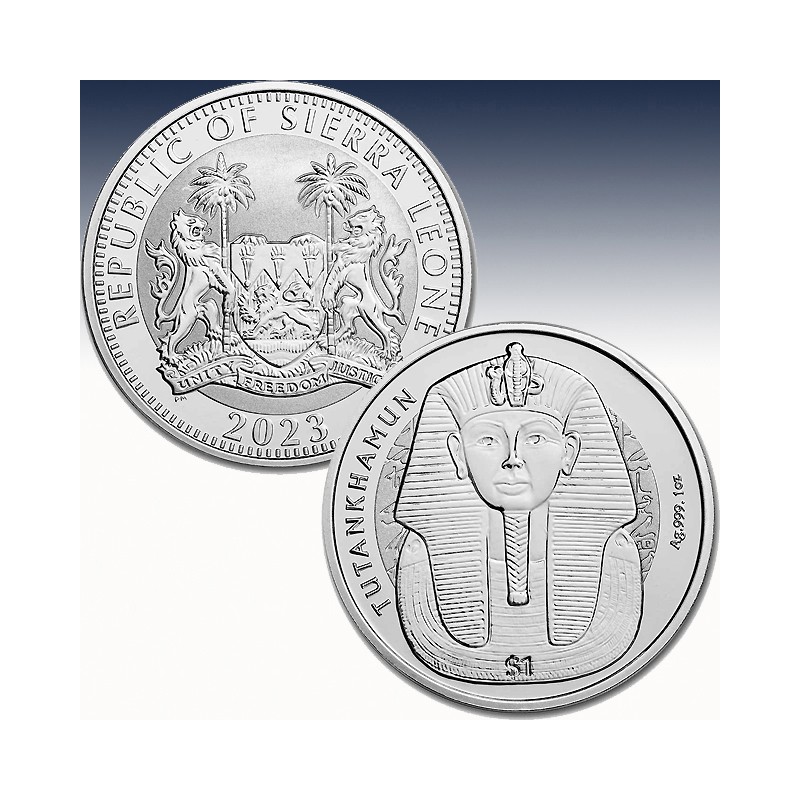 | | | |
| --- | --- | --- |
| Hersteller: |   | PopJoy Mint |
| Steuersatz: |   | 19% |
| Prägung: |   | Stempelglanz |
| Stückelung: |   | 1 x 1 Unze |
| Material: |   | Silber |
| Feinheit: |   | 999/1000 |
| Gewicht: |   | 31,103 Gramm |
| Durchmesser: |   | 38,60 |
| Auflage: |   | 10.000 Stück |