Gold 1.816,83 Eur
Silber 22,04 Eur
Platin 958,37 Eur
Palladium 1.302,41 Eur
(49) 2935 - 3 390 375
Europaweite Lieferung
Europaweite Lieferung
Gold 1.816,83 Eur
Silber 22,04 Eur
Platin 958,37 Eur
Palladium 1.302,41 Eur
SILBER 15,39 EUR
PLATIN 853,48 EUR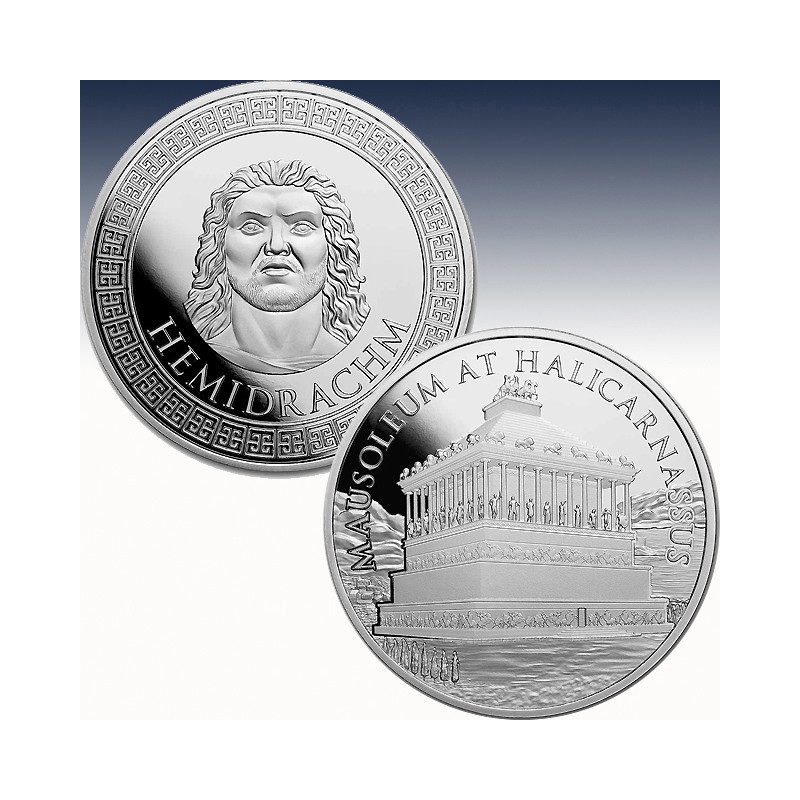  
1 x 1 Oz Silver Round Tetradrachm "7 Wonders of the Ancient World - Mausoleum at Halicarnassus"
| | | |
| --- | --- | --- |
| Hersteller: |   | Royal Mint |
| Nennwert: |   | 5 Pfd |
| Prägejahr: |   | 2020 |
| Stückelung: |   | 1 x 2 Unze |
| Material: |   | Silber/teilvergoldet |
| Feinheit: |   | 999/1000 |
| Gewicht: |   | 62,206 Gramm |
| Verpackung: |   | gekapselt |
| Durchmesser: |   | 38,61x6 mm |
1 x 1 Unze (oz) Silver Round Tetradrachm
"7 Wonders of the Ancient World - Mausoleum at Halicarnassus"
The Seven Wonders of the Ancient World are among the most famous landmarks in human history. The 7 Wonders series highlights each wonder with a limited mintage release of Gold and Silver rounds, each displaying a landmark, effigy and denomination.

Round Highlights:

Contains 1 oz of .999 fine Silver.
APMEXclusive® series.
Limited mintage of 7,777 rounds.
Rounds come in capsules. Multiples of 20 are packaged in a heat-sealed roll.
Features edge mark with weight and purity, unique for a bullion round.
Obverse: Showcases the ancient Mausoleum at Halicarnassus adorned with its various sculptural columns and reliefs.
Reverse: Features an effigy of Mausolus, a ruler for which the tomb was built. The round carries a denomination of 1 Hemidrachm.

The Mausoleum at Halicarnassus
This beautiful tomb built to honor Mausolus, a ruler of Caria and satrap of the Achaemenid empire, was built in the city of Halicarnassus, located in modern-day Turkey. The tomb, built between 353 and 350 BC, stood at 45 meters (148 feet) high and was adorned with sculptural reliefs on all four sides. The sculptures and columns were built by the famed Greek sculptors Leochares, Bryaxis, Scopas and Timotheus.

The Mausoleum was destroyed by earthquakes between the 12th and 15th century, and was the last surviving of the six destroyed wonders, leaving only the Pyramid at Giza remaining to modern day. The Mausoleum lives on through various inspired structures around the world, and ruins of the tomb can still be seen at its resting place to this day. The word "mausoleum" is now used to describe any above-ground tomb.

Seven Wonders of the Ancient World
APMEX is proud to present the Seven Wonders of the Ancient World series. This exciting series will include seven releases featuring limited mintages of 7,777 Silver and 77 Gold, respectively. Each release of Silver and Gold rounds features a beautiful design of a mystical wonder of the ancient world and an effigy of a historical figure relevant to the subject, along with a denomination applicable to the period.
Specification
Jede dieser wunderschönen Silvercoin enthält 999/1000 Feinsilber und wurde im wunderschönem "Brilliant uncirculated" geprägt.
Technische Daten
Gewicht

31.103

Material

Silber

Jahreszahl

2023

Preis-Addition

9.25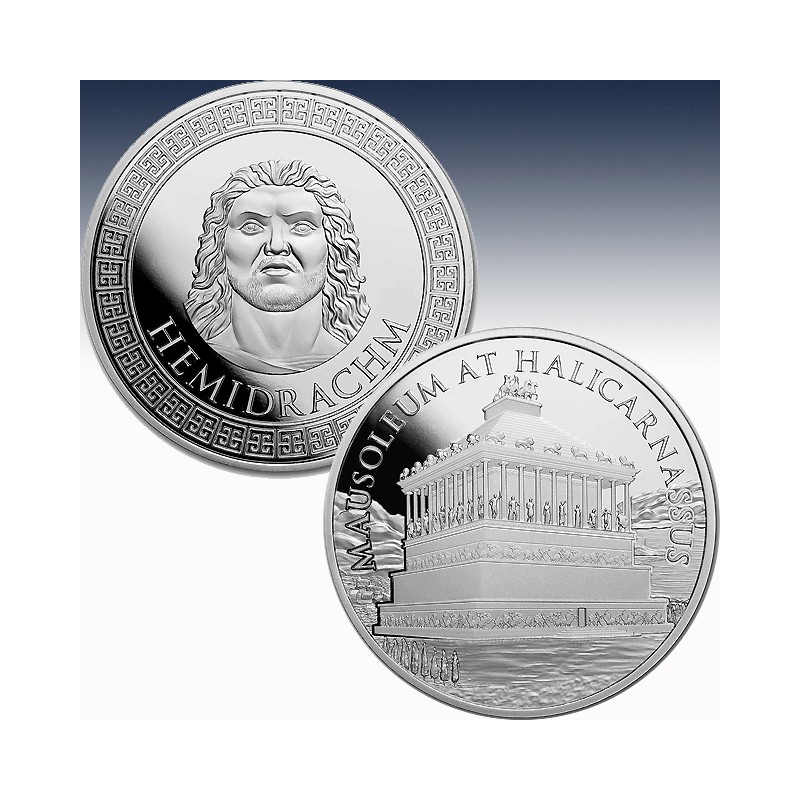 | | | |
| --- | --- | --- |
| Hersteller: |   | Royal Mint |
| Nennwert: |   | 5 Pfd |
| Prägejahr: |   | 2020 |
| Stückelung: |   | 1 x 2 Unze |
| Material: |   | Silber/teilvergoldet |
| Feinheit: |   | 999/1000 |
| Gewicht: |   | 62,206 Gramm |
| Verpackung: |   | gekapselt |
| Durchmesser: |   | 38,61x6 mm |