Gold 1.760,72 Eur
Silber 21,35 Eur
Platin 923,53 Eur
Palladium 1.490,29 Eur
(49) 2935 - 3 390 375
Europaweite Lieferung
Europaweite Lieferung
Gold 1.760,72 Eur
Silber 21,35 Eur
Platin 923,53 Eur
Palladium 1.490,29 Eur
SILBER 15,39 EUR
PLATIN 853,48 EUR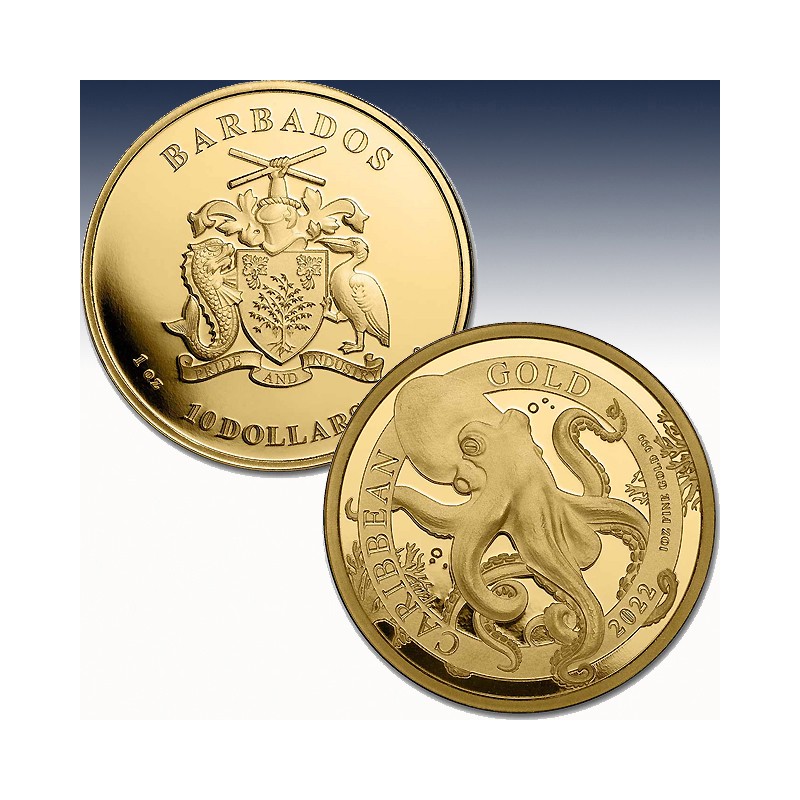  
1 x 1 oz Goldmünze 10$ Barbados "Caribbean Octopus 2022" -BU-
| | | |
| --- | --- | --- |
| Hersteller: |   | Caribbean Pelican |
| Nennwert: |   | 10 AUD |
| Prägung: |   | Stempelglanz |
| Stückelung: |   | 1 x 1 Unze |
| Material: |   | Gold |
| Feinheit: |   | 999/1000 |
| Gewicht: |   | 31,103 Gramm |
| Durchmesser: |   | 32,60 mm |
1 x 1 Unze (oz) Goldmünze 10$ Barbados "Caribbean Octopus  2022"
This bullion Gold coin issued by the country of Barbados is the newest in the Caribbean series. This APMEXclusive® has a limited mintage of 100 coins.

Coin Highlights:

Contains 1 oz of .999 fine Gold.
Limited mintage of 100 coins.
Coin comes in box with a certificate of authenticity.
Obverse: Displays the Barbados coat of arms along with the face value and purity. The golden shield of the arms carries two Pride of Barbados flowers (the national flower) and the bearded fig tree (ficus Citrifolia). On either side of the shield are the supporters – on the right is a dolphin, symbolic of the fishing industry and on the left is a pelican, after Pelican Island, a small outcrop later incorporated into the Deep Water Harbour development. Above the shield is a helmet and mantling. On a wreath is the arm and hand of a Bajan holding two crossed pieces of sugar cane, symbolic of the sugar industry. The coat of arms carries the motto, "Pride and Industry."
Reverse: Features an image of a an octopus with some of its tentacles wrapped around the circle of the design. Surrounding the octopus are images of the plants. The name of the coin, purity and year of issue are also on the reverse.
Sovereign coin backed by the Barbados government.


Caribbean Series
This is the newest design in this series which has included the seahorse and pelican. The octopus uses its legs, or tentacles, for eating, moving, hunting, tasting and mating. Octopus are also masters of disguise and can alter their skin to take on different colors and textures to blend in with their surroundings.

MDM Mint
MDM, short for Münzhandelsgesellschaft mbH & Co. KG German Coin, is one of the largest international mints and is also a member of the Richard Borek Group. Founded in 1893, this group is an internationally active coin trading company that is one of the world market leaders for Precious Metal collectibles.
Technische Daten
Gewicht

31.103

Material

Gold

Jahreszahl

2022

Preis-Addition

485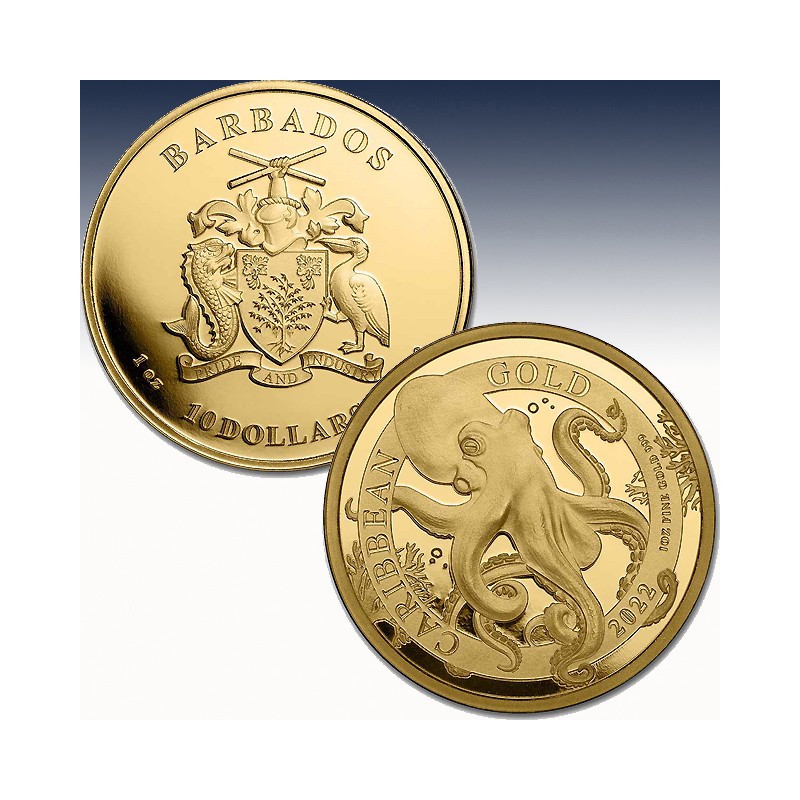 | | | |
| --- | --- | --- |
| Hersteller: |   | Caribbean Pelican |
| Nennwert: |   | 10 AUD |
| Prägung: |   | Stempelglanz |
| Stückelung: |   | 1 x 1 Unze |
| Material: |   | Gold |
| Feinheit: |   | 999/1000 |
| Gewicht: |   | 31,103 Gramm |
| Durchmesser: |   | 32,60 mm |