Gold 1.863,05 Eur
Silber 21,38 Eur
Platin 855,59 Eur
Palladium 879,72 Eur
(49) 2935 - 3 390 375
Europaweite Lieferung
Europaweite Lieferung
Gold 1.863,05 Eur
Silber 21,38 Eur
Platin 855,59 Eur
Palladium 879,72 Eur
SILBER 15,39 EUR
PLATIN 853,48 EUR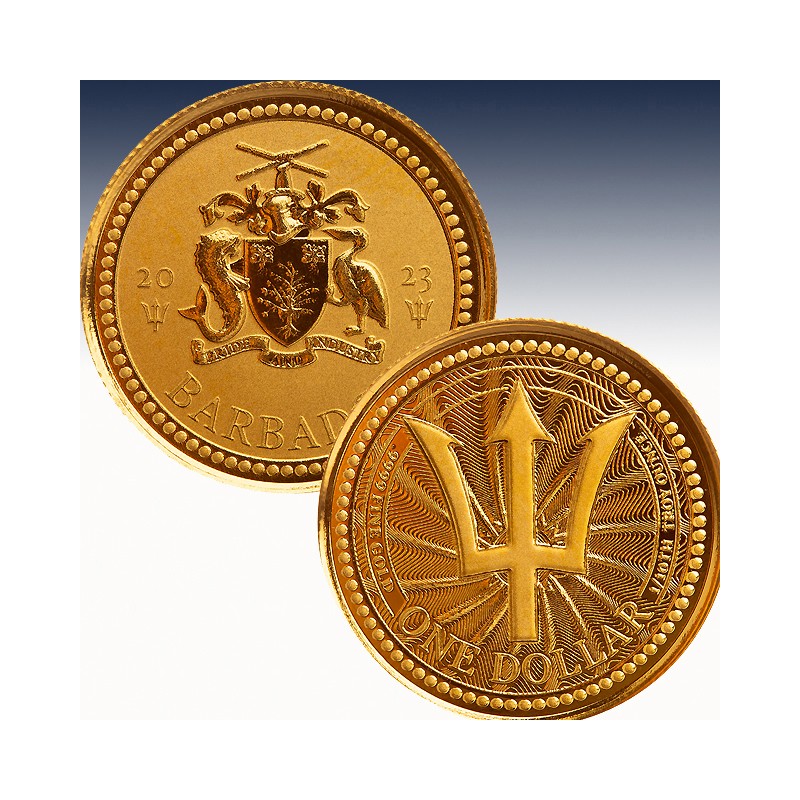  
1 x 1/10 oz Goldmünze 1$ Barbados "Trident 2023" -PL-Kapsel-
| | | |
| --- | --- | --- |
| Herkunftsland: |   | Barbados |
| Nennwert: |   | 1$ |
| Prägung: |   | Spiegelglanz |
| Stückelung: |   | 1 x 1/10 Unze |
| Material: |   | Gold |
| Feinheit: |   | 999/1000 |
| Gewicht: |   | 3,103 gramm |
| Durchmesser: |   | 16,50 mm |
| Verpackung: |   | gekapselt |
| Auflage: |   | 10.000 Stück |
1 x 1/10 Unze (oz) Goldmünze 1$ Barbados "Trident 2023"
The Trident is most famously known as the weapon of the mythical god Poseidon. However, the Trident is also the national symbol of Barbados, representing strength, power, and the sea.

The Barbadian Trident, as seen on the national flag, differs from a standard trident in that it features a broken shaft. The broken shaft symbolizes Barbados' historic break and eventual independence from the United Kingdom in 1966.
Die wechselnde Motive stellen in wunderschönen Motiven, sind ein absolutes MUSS für alle Münzsammler.
Diese Sammlermünze wird als ganze Unze herausgegeben und besteht aus 999,9 Prozent Feingold in der wundervollen Prägung "PROOF-LIKE"!
Diese Silbermünze gilt als gesetzliches Zahlungsmittel in ihren Herausgeberland Barbados.
Geliefert wird diese anmutende Goldmünze "TRIDENT" im Originalkapsel.
Technische Daten
Gewicht

3.103

Material

Gold

Jahreszahl

2023

Preis-Addition

40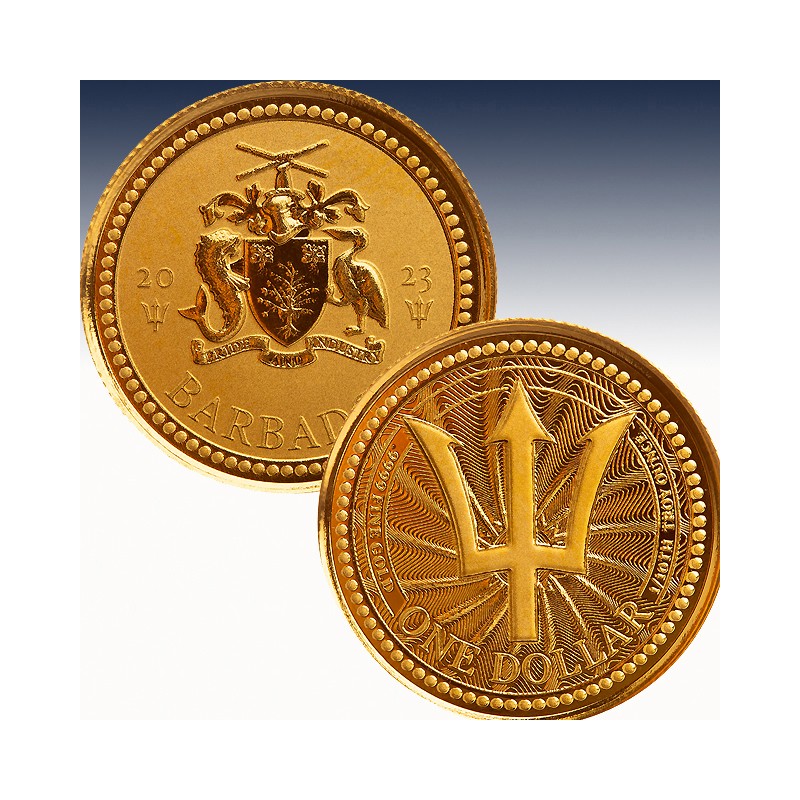 | | | |
| --- | --- | --- |
| Herkunftsland: |   | Barbados |
| Nennwert: |   | 1$ |
| Prägung: |   | Spiegelglanz |
| Stückelung: |   | 1 x 1/10 Unze |
| Material: |   | Gold |
| Feinheit: |   | 999/1000 |
| Gewicht: |   | 3,103 gramm |
| Durchmesser: |   | 16,50 mm |
| Verpackung: |   | gekapselt |
| Auflage: |   | 10.000 Stück |