Gold 1.733,89 Eur
Silber 20,23 Eur
Platin 862,39 Eur
Palladium 1.827,00 Eur
(49) 2935 - 3 390 375
Europaweite Lieferung
Europaweite Lieferung
Gold 1.733,89 Eur
Silber 20,23 Eur
Platin 862,39 Eur
Palladium 1.827,00 Eur
SILBER 15,39 EUR
PLATIN 853,48 EUR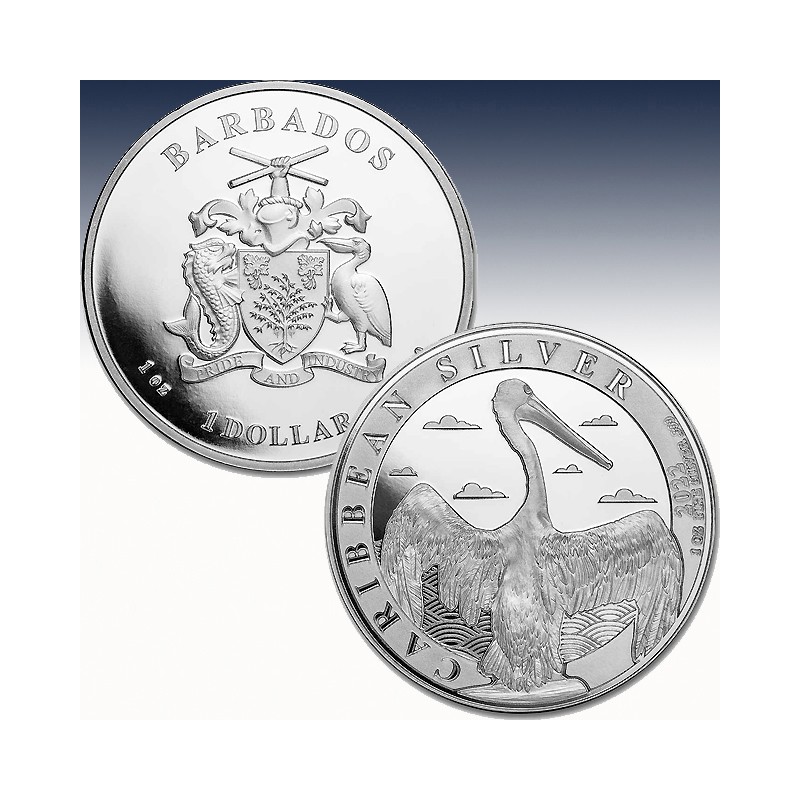  
1 x 1 Oz Silber 1$ Barbados "Caribbean Pelican 2022" -BU-*
| | | |
| --- | --- | --- |
| Herkunft: |   | Barbados |
| Bezeichnung: |   | Caribbean Pelican |
| Prägung: |   | Stempelglanz |
| Stückelung: |   | 1 x 1 Unze |
| Material: |   | Silber |
| Feinheit: |   | 999/1000 |
| Gewicht: |   | 31,103 Gramm |
| Verpackung: |   | zip-Tüte |
| Durchmesser: |   | 38,0 mm |
| Auflage: |   | 10.000 Stück |
1 x 1 Unze (oz) Silber 1$ Barbados "Caribbean Pelican 2022"
 (diff.besteuert nach §25a UStG)
This Caribbean Pelican has a limited mintage of 10,000 coins. This bullion Silver coin issued by the country of Barbados features one of the icons featured in the Barbados coat of arms, the pelican.

Coin Highlights:

Contains 1 oz of .999 fine Silver.
Mintage of 10,000.
Single coins are in plastic capsules. Multiples of 20 coins come in heat-sealed rolls.
Obverse: Displays the Barbados coat of arms along with the face value and purity. The Golden Shield of the Arms carries two Pride of Barbados flowers (the national flower) and the bearded fig tree (ficus citrifolia). On either side of the shield are the supporters – on the right is a dolphin, symbolic of the fishing industry and on the left is a pelican, after Pelican Island, a small outcrop later incorporated into the Deep Water Harbour development. Above the shield is a helmet and mantling and on a wreath is the arm and hand of a Bajan holding two crossed pieces of sugar cane, symbolic of the sugar industry. The coat of arms carries the motto "Pride and Industry."
Reverse: Features a view of a pelican from behind with its wings spanned out, standing on a pier post. Above the pelican are graphic images representing the clouds and below are waves of the ocean. The inscription "CARIBBEAN SILVER," purity, and year of issue are also on the reverse.
Sovereign coin backed by the Barbados government.
Caribbean Series
This is the third release in this series featuring the national bird of Barbados, the brown pelican. Brown pelicans have a dark body, an oversized bill, and a sinuous neck. This pelican is the smallest pelican species with an average length of 4-feet. Also featured in this series is the seahorse, which like the pelican features a yearly changing design. This series of Caribbean Gold and Silver has become very popular amongst investors and collectors and is exclusively available at

MDM Mint
has partnered with MDM Mint to bring you these beautiful Caribbean pelican coins. MDM, short for Münzhandelsgesellschaft mbH & Co. KG German Coin, is one of the largest international mints and is also a member of the Richard Borek Group. Founded in 1893, this group is an internationally active coin trading company that is one of the world market leaders for Precious Metal collectibles.
Technische Daten
Gewicht

31.103

Material

Silber

Jahreszahl

2022

Preis-Addition

11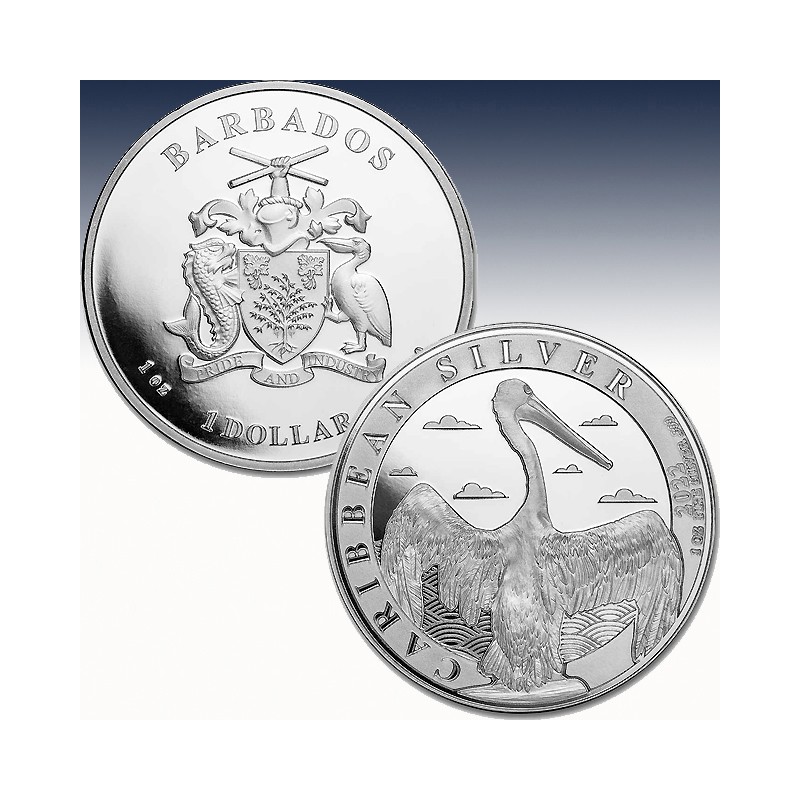 | | | |
| --- | --- | --- |
| Herkunft: |   | Barbados |
| Bezeichnung: |   | Caribbean Pelican |
| Prägung: |   | Stempelglanz |
| Stückelung: |   | 1 x 1 Unze |
| Material: |   | Silber |
| Feinheit: |   | 999/1000 |
| Gewicht: |   | 31,103 Gramm |
| Verpackung: |   | zip-Tüte |
| Durchmesser: |   | 38,0 mm |
| Auflage: |   | 10.000 Stück |