Gold 1.816,78 Eur
Silber 22,03 Eur
Platin 958,05 Eur
Palladium 1.301,45 Eur
(49) 2935 - 3 390 375
Europaweite Lieferung
Europaweite Lieferung
Gold 1.816,78 Eur
Silber 22,03 Eur
Platin 958,05 Eur
Palladium 1.301,45 Eur
SILBER 15,39 EUR
PLATIN 853,48 EUR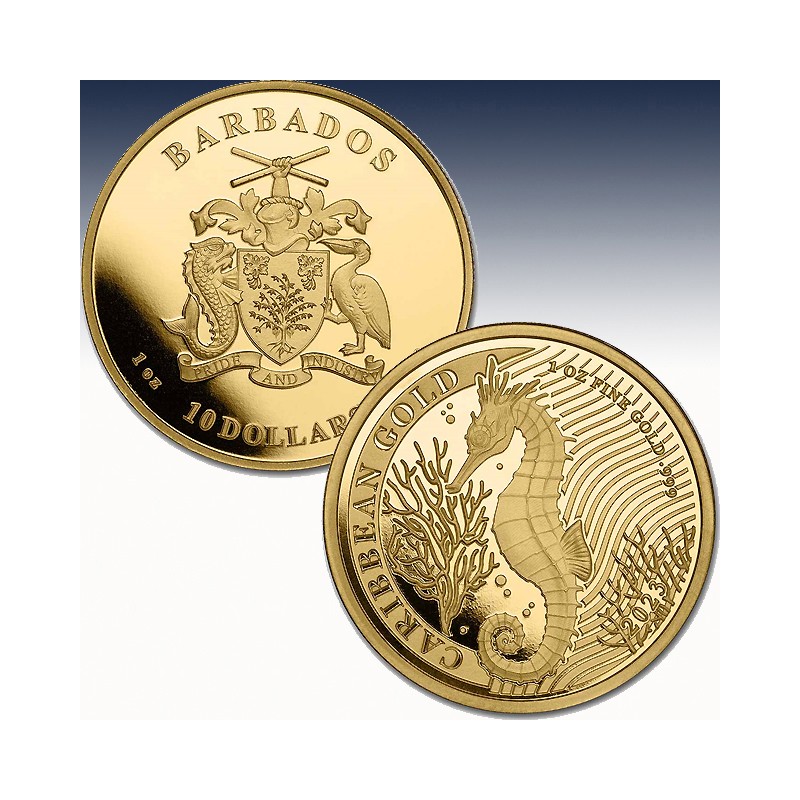  
1 x 1 oz Goldmünze 100$ Barbados "Seahorse 2023" -BU-
| | | |
| --- | --- | --- |
| Herkunftsland: |   | Barbados |
| Nennwert: |   | 100$ |
| Prägung: |   | Spiegelglanz |
| Stückelung: |   | 1 x 1 Unze |
| Material: |   | Gold |
| Feinheit: |   | 999/1000 |
| Gewicht: |   | 31,103 gramm |
| Durchmesser: |   |  32,00 mm |
| Verpackung: |   | gekapselt |
| Auflage: |   | 100 Stück |
1 x 1 Unze (oz) Goldmünze 100$ Barbados "Seahorse 2023"
This bullion Gold coin, issued by the country of Barbados, is the fifth Gold coin in the series and features one of the most unique fish in the ocean, the seahorse. This Barbados Caribbean Series has a limited mintage of 100 coins.

Coin Highlights:
Contains 1 oz of .999 fine Gold.
Mintage of 100.
Coin comes in a capsule in a box with a certificate of authenticity.
Obverse: Displays the Barbados coat of arms along with the face value and purity. The Golden Shield of the Arms carries two Pride of Barbados flowers (the national flower) and the bearded fig tree (ficus Citrifolia). On either side of the shield are the supporters – on the right is a dolphin, symbolic of the fishing industry and on the left is a pelican, for Pelican Island, a small outcrop later incorporated into the Deep Water Harbor development. Above the shield is a helmet and mantling, and on a wreath is the arm and hand of a Bajan holding two crossed pieces of sugar cane that are symbolic of the sugar industry. The coat of arms carries the motto, "Pride and Industry."
Reverse: Features an image of an adult seahorse. In the background are graphics representing the waves of the ocean and ocean plants. The name of the coin, purity and year of issue are also on the reverse.
Sovereign coin backed by the Barbados government.


Seahorses propel themselves by using a small fin on their back that flutters up to 35 times per second. Smaller pectoral fins located near the back of the head are used for steering.

There are 40 known species of the small marine fish, and they are named due to their head and neck resembling a horse. Seahorses prefer to swim in pairs with their tails linked together and mate for life.
Barbados Seahorse Series
This is the fifth coin in the Caribbean Gold series featuring the unique seahorse. Each year, a new design features the seahorse - in this year's coin, it is a single adult seahorse. The Gold coin was added on the third year of this series because of the popularity of the Silver, and APMEX wanted to give customers another option for their collection. All previous coins in this program have sold out and are difficult to find in the market.
Technische Daten
Gewicht

31.103

Material

Gold

Jahreszahl

2023

Preis-Addition

350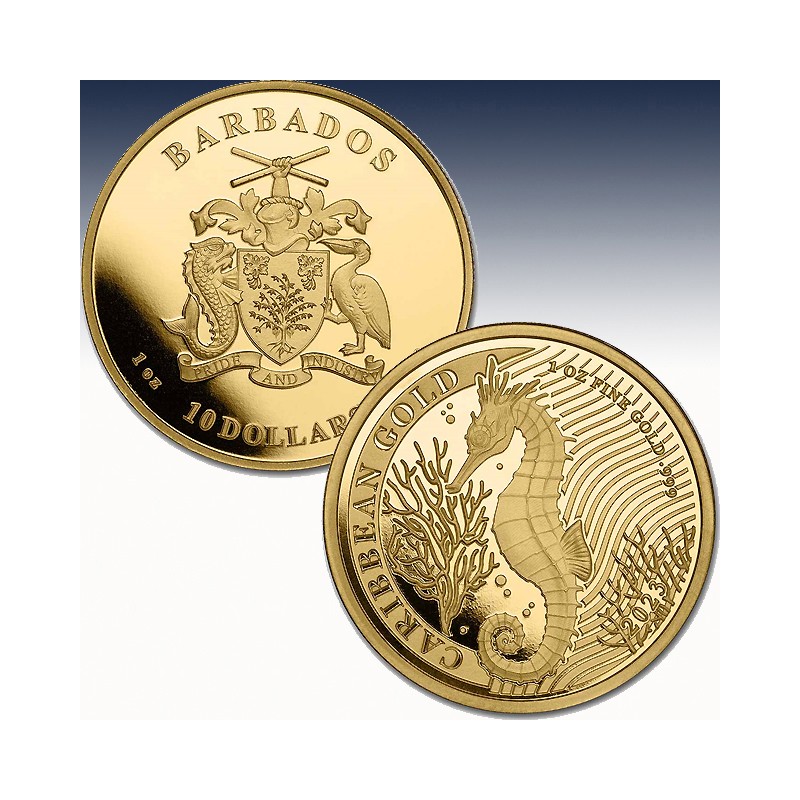 | | | |
| --- | --- | --- |
| Herkunftsland: |   | Barbados |
| Nennwert: |   | 100$ |
| Prägung: |   | Spiegelglanz |
| Stückelung: |   | 1 x 1 Unze |
| Material: |   | Gold |
| Feinheit: |   | 999/1000 |
| Gewicht: |   | 31,103 gramm |
| Durchmesser: |   |  32,00 mm |
| Verpackung: |   | gekapselt |
| Auflage: |   | 100 Stück |