Gold 1.863,05 Eur
Silber 21,38 Eur
Platin 855,59 Eur
Palladium 879,72 Eur
(49) 2935 - 3 390 375
Europaweite Lieferung
Europaweite Lieferung
Gold 1.863,05 Eur
Silber 21,38 Eur
Platin 855,59 Eur
Palladium 879,72 Eur
SILBER 15,39 EUR
PLATIN 853,48 EUR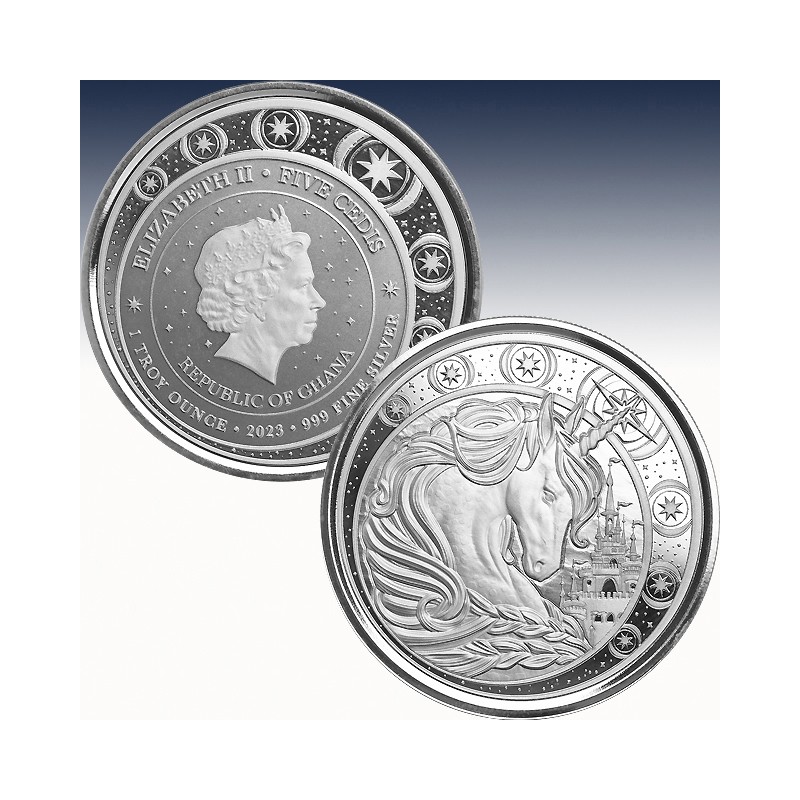  
1 x 1 oz Silbermünze 5 Cedis Ghana "Unicorn 2023" -PL-*
| | | |
| --- | --- | --- |
| Herkunft: |   | Ghana |
| Prägung: |   | Stempelglanz |
| Prägejahr: |   | 2023 |
| Stückzahl: |   | 1 x 1 oz |
| Material: |   | Silber |
| Feinheit: |   | 999/1000 |
| Gewicht: |   | 31,103 Gramm |
| Durchmesser: |   | 39.00 mm |
| Verpackung: |   | gekapselt |
| Auflage: |   | 15.000 Stück |
1 x 1 Unze (oz) Silbermünze 5 Cedis Ghana "Unicorn 2023"
Introducing our Unicorn Coin: A Symbol of Magic and Dreams
Step into a forest where magic and wonder prevail. A young girl, patient and fearless, awaits her ultimate prize—the majestic unicorn. This legendary creature, often likened to the mightiest of lions, can only be tamed by the purity and innocence of a maiden. In this enchanting tale, the girl aims not to conquer through force, but to tame with grace.
Surrounded by woodland creatures and serenaded by bluebirds, she discovers the true essence of this mythical beast. As she rests against a moss-covered tree, a gentle breeze carries the scent of leaves and wildflowers, lulling her into slumber. Hours later, she awakens to a reverential silence. At her feet lies the King of the forest—a dappled-gray Unicorn with a spiraled horn reaching for the stars. Together, they embark on a journey of dreams and possibilities.
The unicorn, a symbol of the impossible, healing, and grace, comes to life in our first-ever Unicorn Coin. Crafted in three exquisite colors, this coin features a radiant unicorn surrounded by a galaxy, its horn piercing the largest star. On the reverse side, Queen Elizabeth II's profile shines amidst a celestial backdrop. Embrace the magic, celebrate your dreams, and seize this precious unicorn before it disappears into the forest for good!
Technische Daten
Gewicht

31.103

Material

Silber

Jahreszahl

2023

Preis-Addition

6.4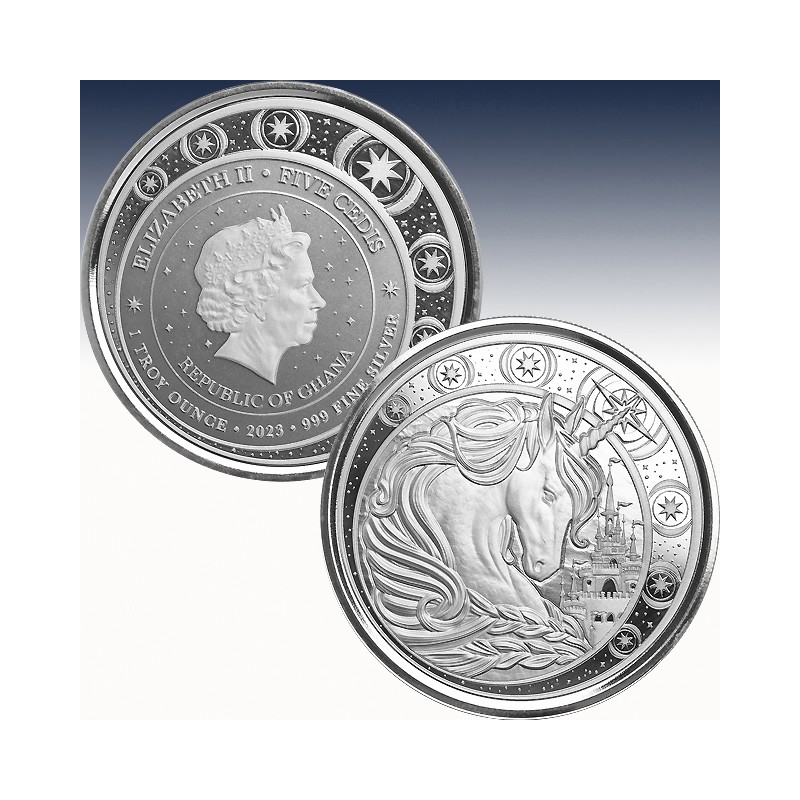 | | | |
| --- | --- | --- |
| Herkunft: |   | Ghana |
| Prägung: |   | Stempelglanz |
| Prägejahr: |   | 2023 |
| Stückzahl: |   | 1 x 1 oz |
| Material: |   | Silber |
| Feinheit: |   | 999/1000 |
| Gewicht: |   | 31,103 Gramm |
| Durchmesser: |   | 39.00 mm |
| Verpackung: |   | gekapselt |
| Auflage: |   | 15.000 Stück |