(49) 2935 - 3 390 375
Europaweite Lieferung
Europaweite Lieferung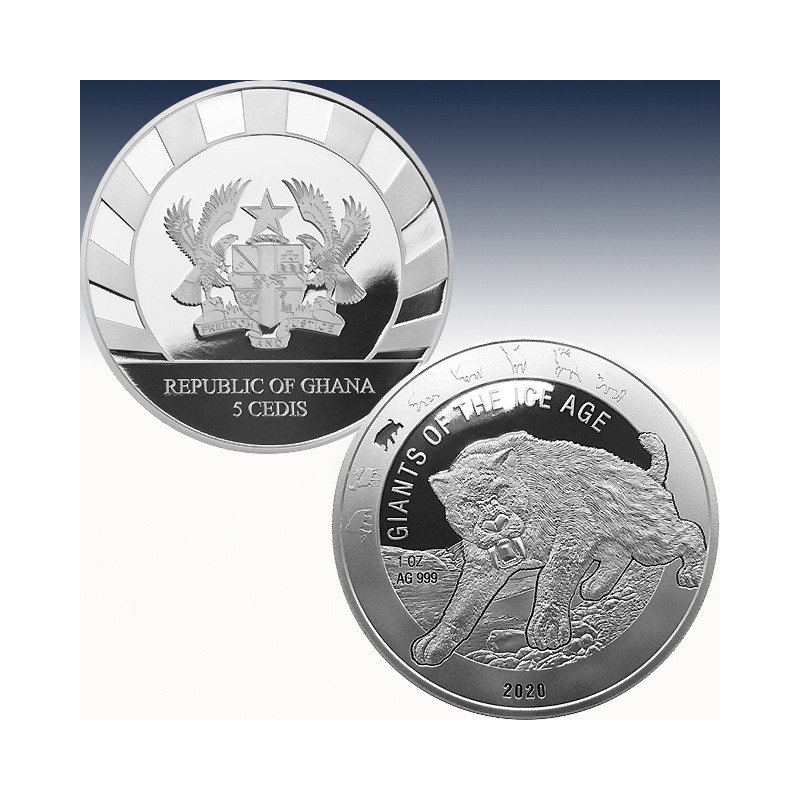  
1 x 1 oz Silbermünze 5 Cedis Ghana "Giants of Ice Age Series - Saber-Toothed Tiger 2020" -BU-*
| | | |
| --- | --- | --- |
| Herkunft: |   | Ghana |
| Prägung: |   | Stempelglanz |
| Prägejahr: |   | 2020 |
| Stückzahl: |   | 1 x 1 oz |
| Material: |   | Silber |
| Feinheit: |   | 999/1000 |
| Gewicht: |   | 31,103 Gramm |
| Durchmesser: |   | 38.60 mm |
| Verpackung: |   | gekapselt |
| Auflage: |   | 15.000 Stück |

Lieferbedingungen (bearbeiten im Modul "Kundenvorteile")

Rücksendebedingungen (bearbeiten im Modul "Kundenvorteile")
1 x 1 Unze (oz) Silbermünze 5 Cedis Ghana
"Giganten der Eiszeit - 3# Säbelzahntiger 2020"
 (diff.besteuert nach §25a UStG)
Neuausgabe einer neuen Serie "The Giants of Ice Age". Die gesamte Serie umfasst 8 Tiere in einem Zeitraum von 4 Jahren. Die weltweite Auflage beträgt nur 15.000 Stück. Die Münzen werden einzeln in einer Kapsel ausgeliefert.
Coin Highlights:
Contains 1 oz of .999 fine Silver.
Limited mintage of only 15,000 coins.
First release of 'The Giants of Ice Age' series.
Coins will be in Brilliant Uncirculated condition and delivered in a protective capsule.
Obverse: Features a facing Megaloceros. Legend surrounding 'GIANTS OF ICE AGE',
Reverse: Depicts the Republic of Ghana coat of arms and denomination.
Struck at LEV - Leipziger Edelmetallverarbeitung GmbH.

Megaloceros (auch Riesenhirsche) war eine Gattung sehr großer Hirsche, die während der Zeit des späten Pleistozäns und des frühen Holozäns in Eurasien und dem nördlichen Afrika lebte.
Diese edle Sammlermünze wird als 1 Unze herausgegeben und besteht aus 99,9 Prozent Feinsilber.
Diese Wunderschöne Silbermünze hat einen Durchmesser von 38,6 mm, wiegt 31,103 Gramm.
Jede dieser wunderschönen Silverround enthält 999/1000 Feinsilber und wurde im wunderschönem Brilliant uncirculated geprägt.
Geliefert wird dieses Sammlerstück, mit einer limitierten Auflage von nur 15.000 Stück,
Geliefert wird diese Sammlermünze in der 10'ner Rolle
eingeschweißt, inklusive Kapsel
Technische Daten
Gewicht

31.103

Material

Silber

Jahreszahl

2020

Preis-Addition

10.6