Gold 1.735,35 Eur
Silber 20,29 Eur
Platin 865,44 Eur
Palladium 1.824,00 Eur
(49) 2935 - 3 390 375
Europaweite Lieferung
Europaweite Lieferung
Gold 1.735,35 Eur
Silber 20,29 Eur
Platin 865,44 Eur
Palladium 1.824,00 Eur
SILBER 15,39 EUR
PLATIN 853,48 EUR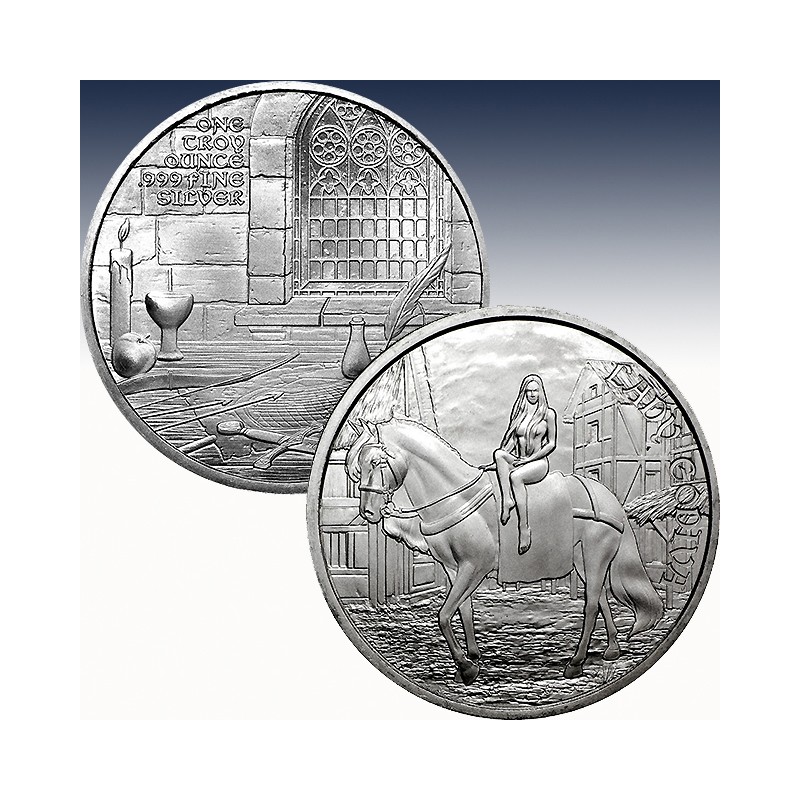  
1 x 1 oz Silverround SilverTowne "Medieval Legends Lady Godiva 2022" -BU-
| | | |
| --- | --- | --- |
| Herskunft: |   | USA |
| Steuersatz: |   | 19% |
| Prägung: |   | Stempelglanz |
| Stückelung: |   | 1 x 1 Unze |
| Material: |   | Silber |
| Feinheit: |   | 999/1000 |
| Gewicht: |   | 31,103 Gramm |
| Durchmesser: |   | 38,6mm |
| Auflage: |   | -,- Stück |
1 x 1 Unze (oz) Silverround SilverTowne "Medieval Legends Lady Godiva 2022"
The impressive Medieval Legends Series continues with a release focused on a real figure from history with legendary exploits that remain the subject of questions. In an era when women were controlled by men and largely left out of politics, Lady Godiva bravely spoke out against taxation in 11th-century England by brazenly riding through town on horseback, naked. Provident Metals now has 1 oz Silver Medieval Legends Lady Godiva Rounds available to you for purchase online.
Highlights:
Arrives with plastic flips, acrylic tubes of 20, or boxes of 500 silver rounds!
3rd release in the Medieval Legends Silver Rounds
New obverse portrait captures Lady Godiva in her famous protest!

Contains 1 Troy oz of .999 pure silver.

The obverse features Lady Godiva naked on horseback.

On the reverse field of the round is a table setting from a room in a Medieval castle, with relics spread out on the table representing each figure in the Medieval Legends Series.
When you purchase a 1 oz Silver Medieval Legends Lady Godiva Round in this Provident Metals listing, you will receive a round that is packaged individually or in bulk. Individual rounds are offered with plastic flips, while multiples of 20 come in an acrylic tube. Multiples of 500 rounds arrive in a box with 25 tubes of 20 rounds each.
Obverse
The obverse design of the Silver Medieval Legends Lady Godiva Round features the image of Lady Godiva on horseback. The wife of Leofric, Earl of Mercia, Lady Godiva was a patron of various churches and monasteries in England at the time. Though she was a noblewoman, she was also a bold and independent figure. Legend has it that she famously protested an oppressive tax imposed on the people by her own husband with an epic public display. She is said to have ridden on horseback through the center of Coventry in the nude, with only her long hair draped down her figure in strategic places. That moment is captured in this latest design in the series.
Reverse
On the reverse side of 1 oz Silver Lady Godiva Rounds is the same visual element that has featured in the previous releases. Here, a table is set in the room of a Medieval castle with various relics spread across the surface. However, these relics are not randomly chosen. Each one represents the figures that will appear in the Medieval Legends Series.
History
Lady Godivas date of birth is unknown to history, but her existence as the wife of Leofric and her status as a noblewoman are well-recorded in English history. As the wife of Leofric, Earl of Mercia, her name is first captured in English written records in the 12th century, with the legend of her naked ride first recorded in the 13th century, well after her death in the late-11th century.
Die Silverrounds bestechen durch eine hervorragende "Brilliant uncirculated" Prägequalität und einem außergewöhnlich schönem Design. Jede dieser wunderschönen Silver Round enthält 999/1000 Feinsilber.
Technische Daten
Gewicht

31.103

Material

Silber

Jahreszahl

2022

Preis-Addition

6.8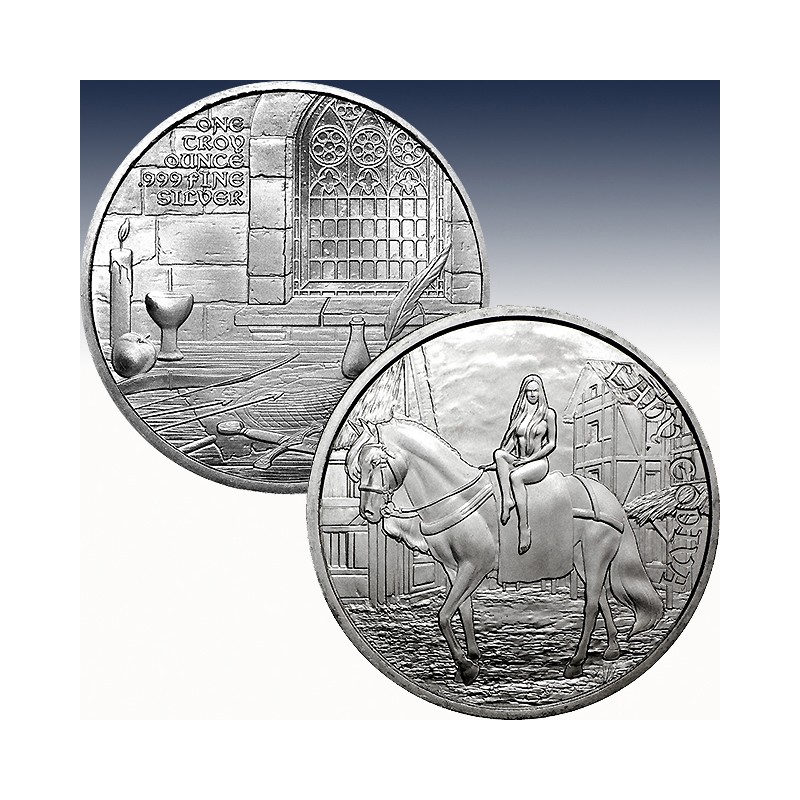 | | | |
| --- | --- | --- |
| Herskunft: |   | USA |
| Steuersatz: |   | 19% |
| Prägung: |   | Stempelglanz |
| Stückelung: |   | 1 x 1 Unze |
| Material: |   | Silber |
| Feinheit: |   | 999/1000 |
| Gewicht: |   | 31,103 Gramm |
| Durchmesser: |   | 38,6mm |
| Auflage: |   | -,- Stück |