Gold 1.816,94 Eur
Silber 22,06 Eur
Platin 958,86 Eur
Palladium 1.303,59 Eur
(49) 2935 - 3 390 375
Europaweite Lieferung
Europaweite Lieferung
Gold 1.816,94 Eur
Silber 22,06 Eur
Platin 958,86 Eur
Palladium 1.303,59 Eur
SILBER 15,39 EUR
PLATIN 853,48 EUR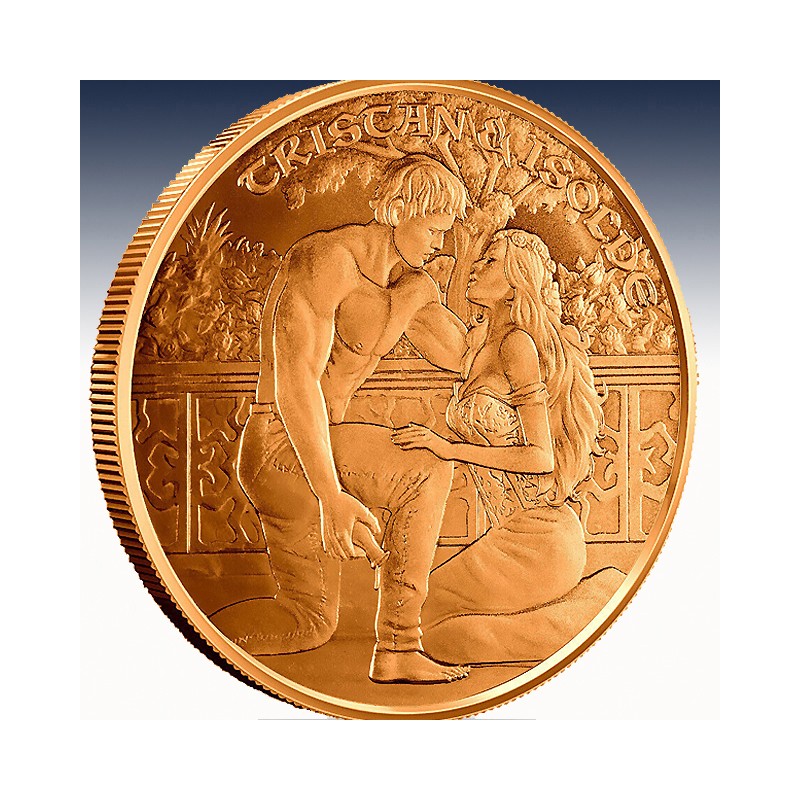  
1 x 1 oz Copper Round Silver Towne "Medieval Legends Tristan and Isolde 2023" -BU-
| | | |
| --- | --- | --- |
| Hersteller: |   | Silver Towne |
| Steuersatz: |   | 19% |
| Prägung: |   | Stempelglanz |
| Stückelung: |   | 1 x 1 Unze |
| Material: |   | Kupfer |
| Feinheit: |   | 999/1000 |
| Gewicht: |   | 28.349 Gramm |
| Verpackung: |   | zip-Tüte |
| Durchmesser: |   | 39 mm |
1 x 1 Unze (oz) Copper Round Silver Towne
"Medieval Legends 5# Tristan and Isolde 2023"
The Medieval Legends Series is back and brings with it a perfectly timed design for the season of love. As Valentine's Day approaches, the latest design in this series offers a glimpse at two of history's most famous lovers: Tristan and Isolde. Right now, 1 oz Medieval Legends Tristan and Isolde Copper Rounds are available to purchase online from JM Bullion.
Round Highlights:
Arrives inside plastic flips, protective tubes of 20 rounds, or boxes of 500 rounds!
5th release in the Medieval Legends Series!
All-new imagery depicting Tristan and Isolde!
Contains 1 AVDP oz of .999 pure copper.
Tristan and Isolde gaze lovingly at one another in the obverse design.
The table setting with relics representing each main figure of the Medieval Legends Series is on the reverse.
Each of the 1 oz Medieval Legends Tristan and Isolde Copper Rounds available in this listing comes to you with a brand-new design for the fifth release. These copper rounds are packaged individually in plastic flips, with multiples of 20 rounds housed in a protective tube and multiples of 500 rounds in boxes.
Tristan and Isolde represent one of the oldest tales from European folklore to feature in this series. The story of Tristan and Isolde dates back to the 12th century and is a familiar concept in Western culture. Boiled down to its essence, Tristan and Isolde is the tale of forbidden love between two people, both of whom are seduced by the beauty and charm of another, with a dash of love potion for added effect.
In the obverse design of the Medieval Legends Tristan and Isolde Copper Round, you will find a depiction of the titular characters. Here, the two figures are shown on a terrace with shrubs and a tree in the background. A shirtless Tristan is on bended knee as he reaches for his love, Isolde.
For the reverse field of the 1 oz Tristan and Isolde Copper Round, the series continues with its common reverse design. Here, a humble table setting offers a glimpse to the keen observer of the designs featured in this series. Each relic on the table represents a different tale from popular folklore.
Einzigartig in ihrer Art und bereits jetzt schon Kult in den Vereinigten Staaten.

Jede dieser wunderschönen Silverround enthält 999/1000 Feinsilber und wurde in einem wunderschönem Stempelglanz geprägt.
Technische Daten
Gewicht

KFIXRSZBQ

Material

Kupfer

Jahreszahl

2023

Preis-Addition

4.4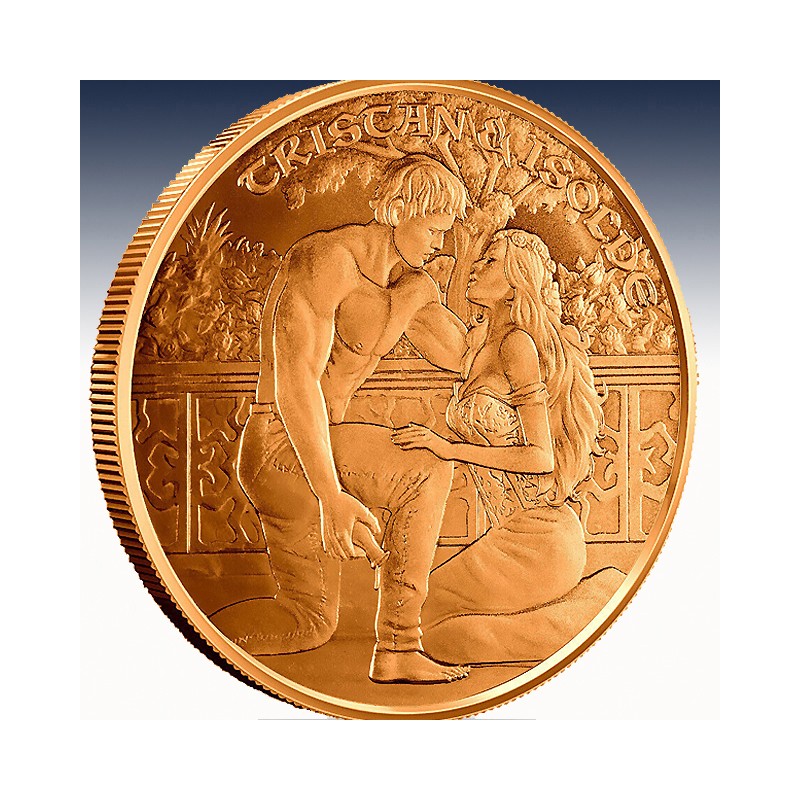 | | | |
| --- | --- | --- |
| Hersteller: |   | Silver Towne |
| Steuersatz: |   | 19% |
| Prägung: |   | Stempelglanz |
| Stückelung: |   | 1 x 1 Unze |
| Material: |   | Kupfer |
| Feinheit: |   | 999/1000 |
| Gewicht: |   | 28.349 Gramm |
| Verpackung: |   | zip-Tüte |
| Durchmesser: |   | 39 mm |