Gold 1.759,87 Eur
Silber 21,36 Eur
Platin 922,96 Eur
Palladium 1.498,09 Eur
(49) 2935 - 3 390 375
Europaweite Lieferung
Europaweite Lieferung
Gold 1.759,87 Eur
Silber 21,36 Eur
Platin 922,96 Eur
Palladium 1.498,09 Eur
SILBER 15,39 EUR
PLATIN 853,48 EUR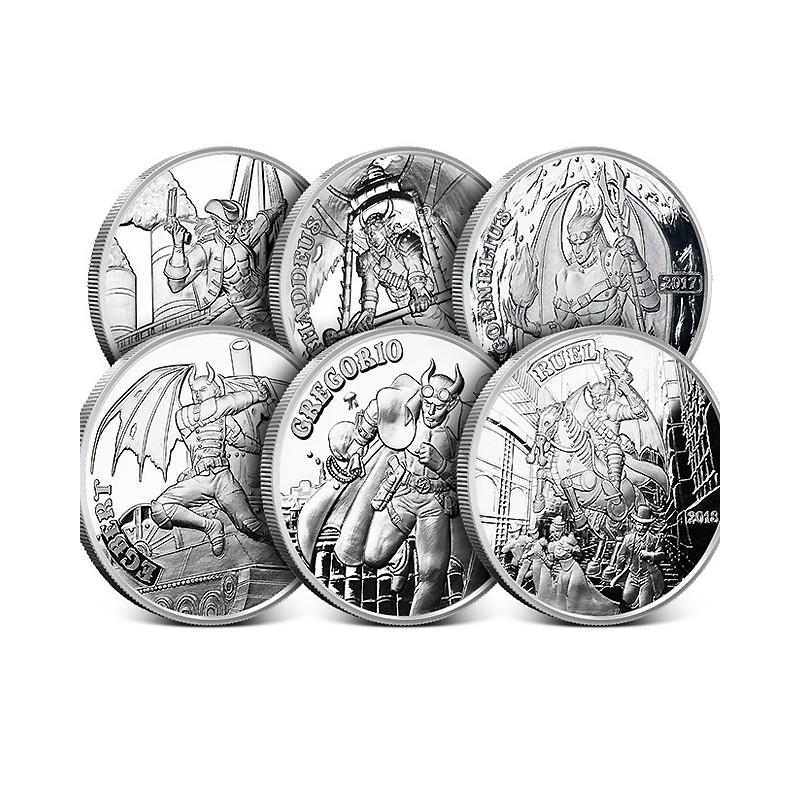  
1 x 6 x 1 oz Silver Proof Demons 6 Piece Set - Angels & Demons Steampunk Collection
| | | |
| --- | --- | --- |
| Herskunft: |   | USA |
| Steuersatz: |   | 19% |
| Prägung: |   | Stempelglanz |
| Stückelung: |   | 6 x 1 Unze |
| Material: |   | Silber |
| Feinheit: |   | 999/1000 |
| Gewicht: |   | 186,62 Gramm |
| Durchmesser: |   | je39mm |
| Auflage: |   | -,- Stück |
1 x 6 x 1 oz Silver Proof Demons 6 Piece Set 
Angels & Demons Steampunk Collection
(diff.besteuert nach §25a UStG)
Mint: Osborne Mint
Year of Issue: 2017 to 2018
Composition: Each round contains one troy ounce of .999 fine silver
Finish: Proof
Each round in this set carries a matching serial number within the first 50

Learn more

about this series and the steampunk movement
Obverse
Each demon round in the Angels and Demons Steampunk series features one of six steampunk-themed demons on the obverse. These characters include:
Each round's obverse is inscribed with the featured demon's name and the year of issue.
Reverse
The shared reverse of the series features a border of gears and hardware encircling the series name of "ANGELS & DEMONS." There's an additional inscription of "STEAMPUNK SPIRITS," along with the purity and weight.
Angels and Demons Steampunk Series
The Osborne Mint's Angels and Demons Steampunk series of silver rounds has come to a conclusion with six angels and six demons, for a total of twelve designs. Each design is available in both proof and vintage (antiqued) finishes.
This set includes all six demon rounds with a proof finish for a shiny appearance.
Technische Daten
Gewicht

186,62

Material

Silber

Preisaktualisierer

Inaktiv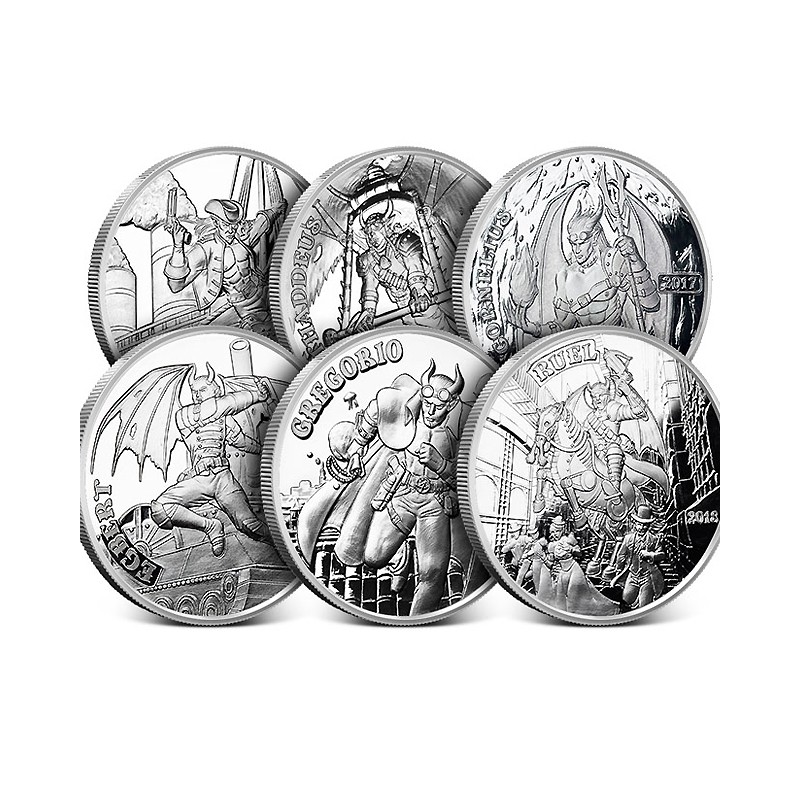 | | | |
| --- | --- | --- |
| Herskunft: |   | USA |
| Steuersatz: |   | 19% |
| Prägung: |   | Stempelglanz |
| Stückelung: |   | 6 x 1 Unze |
| Material: |   | Silber |
| Feinheit: |   | 999/1000 |
| Gewicht: |   | 186,62 Gramm |
| Durchmesser: |   | je39mm |
| Auflage: |   | -,- Stück |