Gold 1.863,05 Eur
Silber 21,38 Eur
Platin 855,59 Eur
Palladium 879,72 Eur
(49) 2935 - 3 390 375
Europaweite Lieferung
Europaweite Lieferung
Gold 1.863,05 Eur
Silber 21,38 Eur
Platin 855,59 Eur
Palladium 879,72 Eur
SILBER 15,39 EUR
PLATIN 853,48 EUR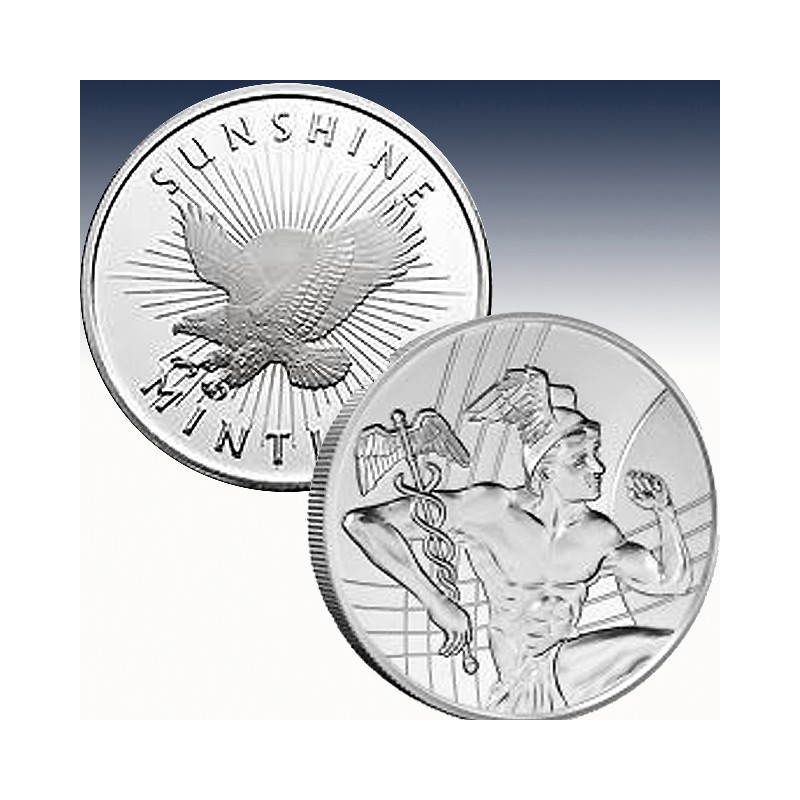  
1 x 1 oz Silverround Sunshine Minting "Mercury" -BU-
| | | |
| --- | --- | --- |
| Hersteller: |   | Sunshine Minting |
| Steuersatz: |   | 19% |
| Prägung: |   | Stempelglanz |
| Stückelung: |   | 1 x 1 Unze |
| Material: |   | Silber |
| Feinheit: |   | 999/1000 |
| Gewicht: |   | 31,103 Gramm |
| Verpackung: |   | zip Tüte |
| Durchmesser: |   | 39 mm |
1 x 1 Unze (oz) Silver Round Sunshine Minting "Badlands Bullion"
Sunshine Mint's new Mercury lineup of bullion products includes gold bars, as well as silver bars and silver rounds for sale. Within the collection, the silver round is one of the smallest options available and it come with individual or bulk packaging options. Today, 1 oz Sunshine Mercury Silver Rounds are available to you online at JM Bullion.
Round Highlights:
Available to ship to you in plastic flips or tubes of 20 rounds!
Beautiful new Mercury design!
Enhanced SMI Security Features!
Contains 1 Troy oz of .999 pure silver.
The obverse features the Roman god mercury.
On the reverse is the SMI logo with the eagle MintMark SI.
Mercury is most well-known as the messenger god in Roman mythology, but that was not his only role. In addition to his role as a messenger, Mercury was also the god of travel, trade, and commerce. He was often associated with merchants and travelers and was considered their protector.
All of these 1 oz Sunshine Mercury Silver Rounds are available to you in plastic flips or in tubes of 20 rounds. The rounds in this series include Enhanced SMI Security features.
The obverse of the Sunshine Mercury Silver Round includes a depiction of the mighty messenger god, Mercury. The image captures Mercury in motion with a muscular physique and his famous winged helmet. Mercury is shown here with his left arm flexed in front of him as his right arm extends behind his figure.
On the reverse side of 1 oz Mercury Silver Rounds, you will find the image of the SMI logo. This field includes the identifying hallmarks of the round with the SMI eagle at the center serving as the security feature.
Jede dieser wunderschönen Silverround enthält 999/1000 Feinsilber und wurde im wunderschönem Brilliant uncirculated geprägt.
Technische Daten
Gewicht

31.103

Material

Silber

Preis-Addition

7.5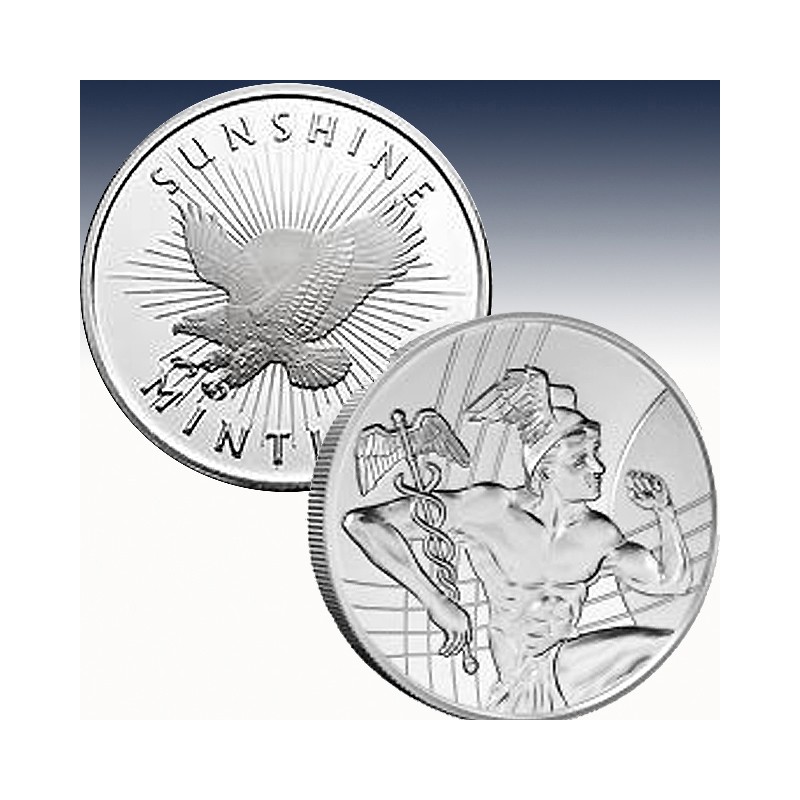 | | | |
| --- | --- | --- |
| Hersteller: |   | Sunshine Minting |
| Steuersatz: |   | 19% |
| Prägung: |   | Stempelglanz |
| Stückelung: |   | 1 x 1 Unze |
| Material: |   | Silber |
| Feinheit: |   | 999/1000 |
| Gewicht: |   | 31,103 Gramm |
| Verpackung: |   | zip Tüte |
| Durchmesser: |   | 39 mm |