Gold 1.863,05 Eur
Silber 21,38 Eur
Platin 855,59 Eur
Palladium 879,72 Eur
(49) 2935 - 3 390 375
Europaweite Lieferung
Europaweite Lieferung
Gold 1.863,05 Eur
Silber 21,38 Eur
Platin 855,59 Eur
Palladium 879,72 Eur
SILBER 15,39 EUR
PLATIN 853,48 EUR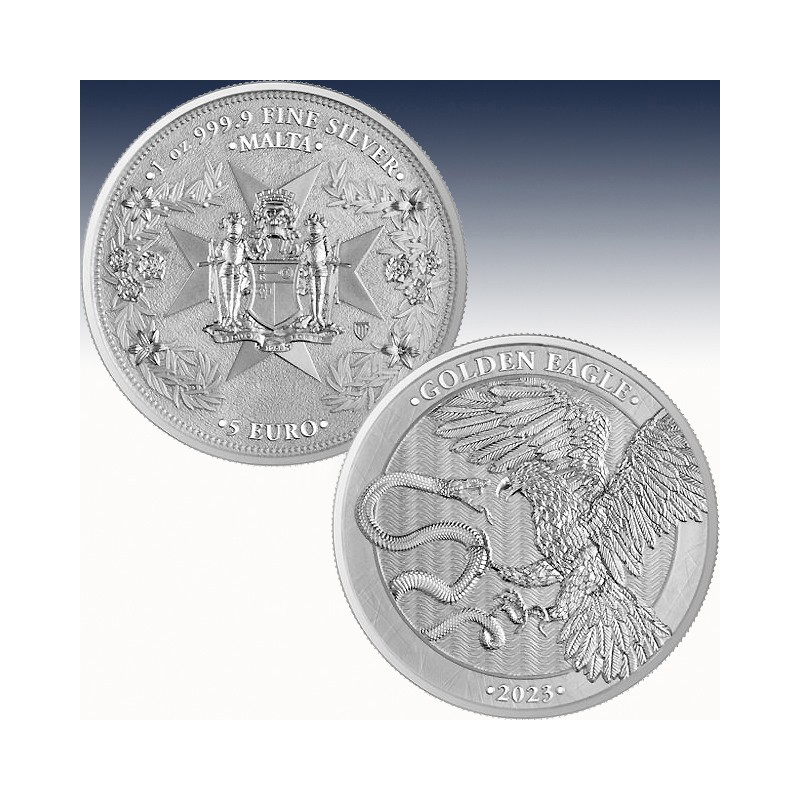  
1 x 1oz Silbermünze 5€ Malta "Golden Eagle 2023" -BU-*
| | | |
| --- | --- | --- |
| Hersteller: |   | Germania Mint |
| Nennwert: |   | 5 Euro |
| Prägung: |   | Stempelglanz |
| Material: |   | Silber |
| Feinheit: |   | 999/1000 |
| Gewicht: |   | 31,103 Gramm |
| Verpackung: |   | zip-Tüte |
| Durchmesser: |   | 38,61 mm |
| Auflage: |   | 100.000 Stück |
1 x 1 Unze (oz) Silbermünze 5€ Malta "Golden Eagle 2023"
(diff.besteuert nach §25a UStG)
Coin Highlights:

Contains 1 oz of .9999 fine Silver.
Coins will be delivered in protective packaging. Multiples of 20 delivered in rolles.
Obverse: The iconic Maltese cross, intricately designed, surrounded by radial lines to enhance this beautiful design. Also are the date of issue, metal, weight and purity.
Reverse: Features the official coat of arms of Malta, denomination of 5 Euro, and the official issuing authority, the Central Bank of Malta.
Limited to 100.000 Coins

Maltese CrossDies ist die erste 1 Oz Silber Bullion Münze der Germania Mint und zeigt den Kampf zwischen einem Steinadler und einer Schlange.

Die Münze besteht aus 1 Oz Feinsilber in der Prägequalität Stempelglanz BU und ist auf 100.000 Stück weltweit limitiert. Die Auslieferung erfolgt gekapselt.
Jede einzelne Sammlermedaille wird als ganze Unze herausgegeben und besteht aus 99,9 Prozent Feinsilber und haben jeweils einen Durchmesser von je 38,61 mm.Herausgegeben in der beeindruckenden Prägung "Brilliant uncirculated"!
Pro Einheit mit 20 Münzen erfolgt die
Lieferung in Original - PVC Münzrolle!
Technische Daten
Gewicht

31.103

Material

Silber

Jahreszahl

2023

Preis-Addition

9.25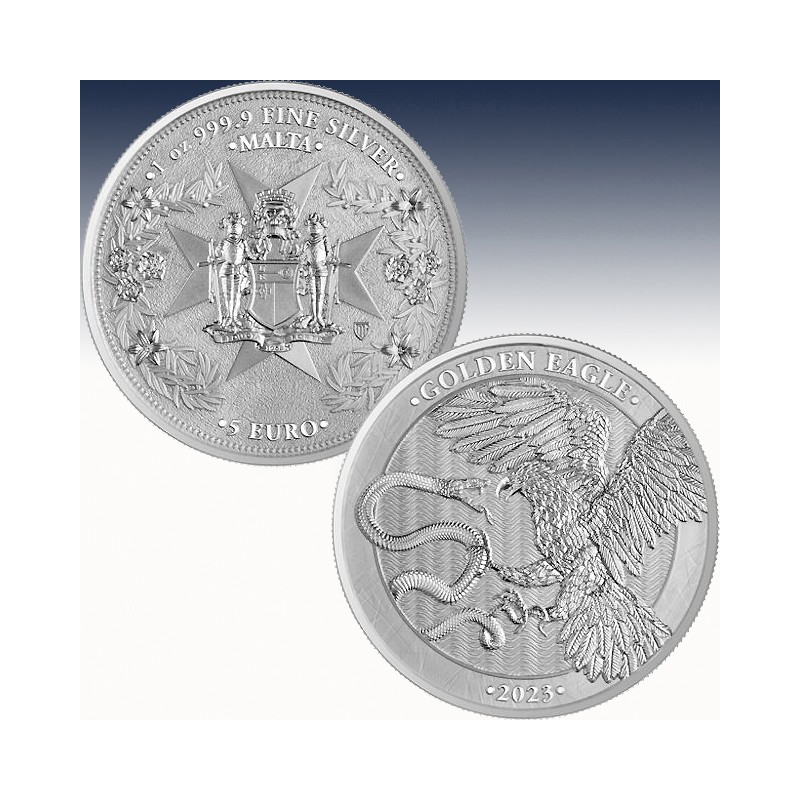 | | | |
| --- | --- | --- |
| Hersteller: |   | Germania Mint |
| Nennwert: |   | 5 Euro |
| Prägung: |   | Stempelglanz |
| Material: |   | Silber |
| Feinheit: |   | 999/1000 |
| Gewicht: |   | 31,103 Gramm |
| Verpackung: |   | zip-Tüte |
| Durchmesser: |   | 38,61 mm |
| Auflage: |   | 100.000 Stück |