Gold 1.479,90 Eur
Silber 0,00 Eur
Platin 1.022,06 Eur
Palladium 2.375,99 Eur
(49) 2935 - 3 390 375
Europaweite Lieferung
Europaweite Lieferung
Gold 1.479,90 Eur
Silber 0,00 Eur
Platin 1.022,06 Eur
Palladium 2.375,99 Eur
SILBER 15,39 EUR
PLATIN 853,48 EUR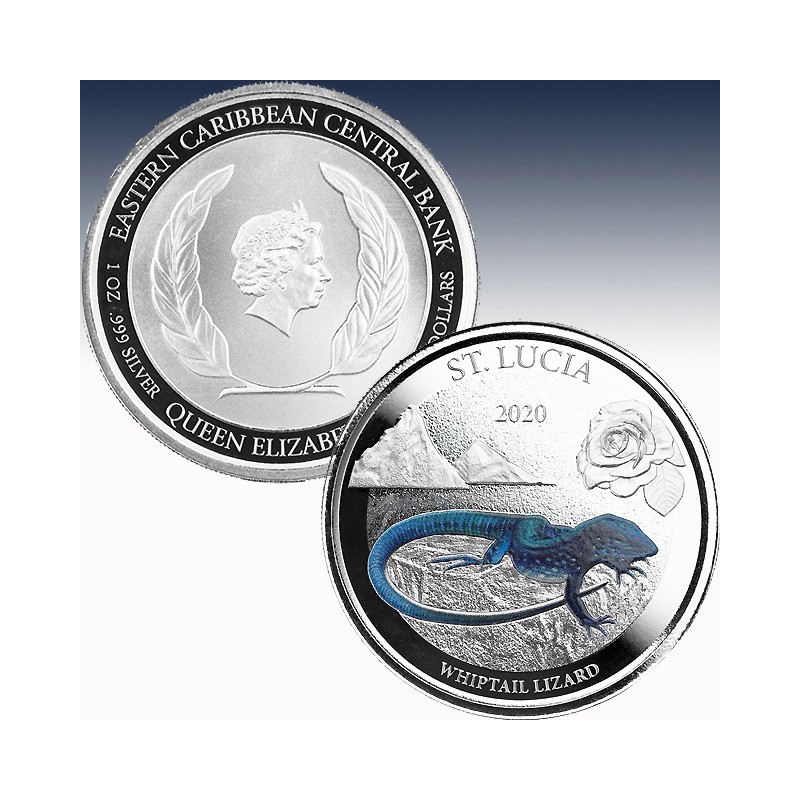  
1 x 1 oz Silber 2$ Eastern Caribbean St. Lucia "Whiptail Lizard 2020" -Colorized-*
| | | |
| --- | --- | --- |
| Herkunftsland: |   | St. Lucia |
| Nennwert: |   | 2$ |
| Prägung: |   | Spiegelglanz |
| Stückelung: |   | 1 x 1 Unze |
| Material: |   | Silber |
| Feinheit: |   | 999/1000 |
| Gewicht: |   | 31,103 gramm |
| Durchmesser: |   |  40,60 mm |
| Auflage: |   | 500 Stück |
1 x 1 Unze (oz) Silber 2$ Eastern Caribbean St. Lucia "Whiptail Lizard 2020"
 (diff.besteuert nach §25a UStG)
The 2020 EC8 St. Lucia coin depicts the many beautiful faces of this island that is truly blessed by nature.  The foreground prominently features the Whiptail Lizard (affectionately called "Zando" by locals), an endangered and iconic reptile species that is endemic to St. Lucia and the only whiptail species found in the entire Caribbean. 

The whiptail is set against a backdrop of the famous Gros and Petit Pitons rising up from the sea.  The volcanic peaks rise dramatically from the Caribbean Sea to approximately 750m and are classified as a World Heritage Site.  Finally the coin includes the national flower - the St. Lucia Rose - a nod to the abundant flora the island is so proud of.

Hergestellt wurde diese wunderschöne Münze von der Prägeanstalt Scottsdale Mint"

Diese Sammlermünze wird als ganze Unze herausgegeben und besteht aus 99,9 Prozent Feinsilber in der Prägung "Colorized"!
Diese Silbermünze gilt als gesetzliches Zahlungsmittel in ihren Herausgeberland Grenada.
Geliefert wird dieses besondere "Sammlermünze" in der Originalkapsel.
Die Proof-LIKE Prägung sorgt für ein detailreiches und schön anmutendes Motiv.
Technische Daten
Gewicht

31.103

Material

Silber

Jahreszahl

2019

Preis-Addition

40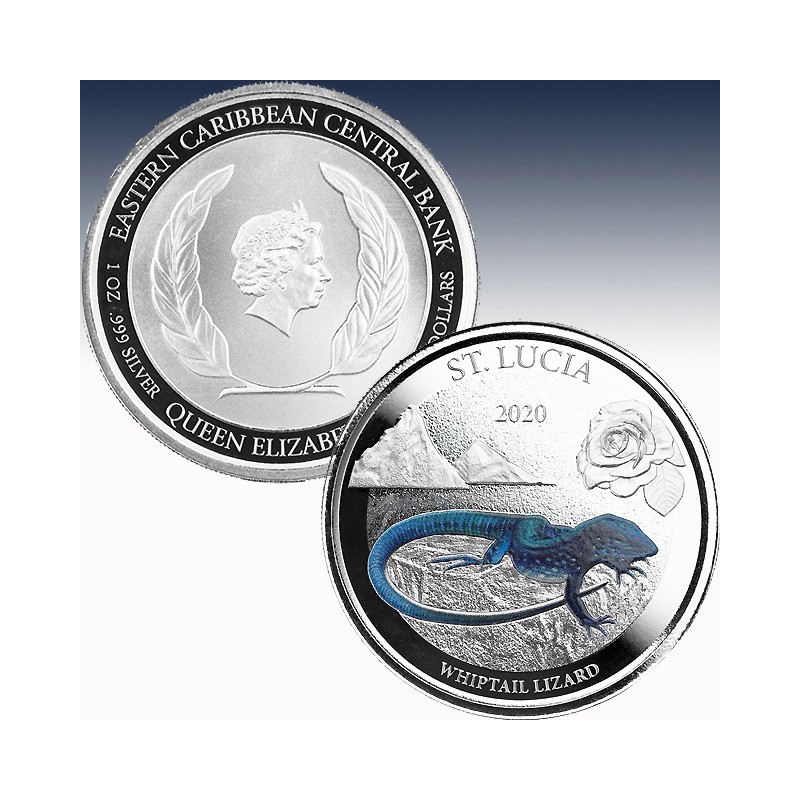 | | | |
| --- | --- | --- |
| Herkunftsland: |   | St. Lucia |
| Nennwert: |   | 2$ |
| Prägung: |   | Spiegelglanz |
| Stückelung: |   | 1 x 1 Unze |
| Material: |   | Silber |
| Feinheit: |   | 999/1000 |
| Gewicht: |   | 31,103 gramm |
| Durchmesser: |   |  40,60 mm |
| Auflage: |   | 500 Stück |