Gold 1.760,49 Eur
Silber 21,39 Eur
Platin 923,75 Eur
Palladium 1.491,06 Eur
(49) 2935 - 3 390 375
Europaweite Lieferung
Europaweite Lieferung
Gold 1.760,49 Eur
Silber 21,39 Eur
Platin 923,75 Eur
Palladium 1.491,06 Eur
SILBER 15,39 EUR
PLATIN 853,48 EUR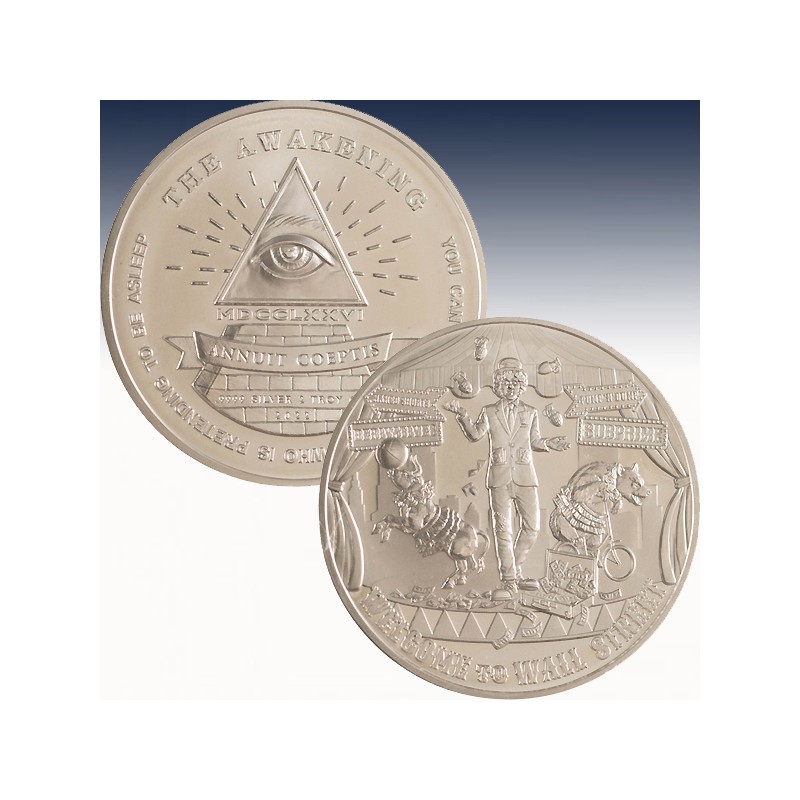  
1 x 2 oz Silverround "The Awakening Series - Welcome to Wall Street" -BU-
| | | |
| --- | --- | --- |
| Herkunft: |   | USA |
| Steuersatz: |   | 19% |
| Erhaltung: |   | Stempelglanz |
| Stückelung: |   | 1 x 2 oz |
| Material: |   | Silber |
| Feinheit: |   | 999/1000 |
| Feingewicht: |   | 62,206 Gramm |
| Durchmesser: |   | 39,0x6,0 mm |
| Auflage: |   | 20.000 Stück |
1 x 2 oz Silverround "The Awakening Series -
3# Welcome to Wall Street 2022"
One of the more thought-provoking collections on the market, The Awakening Series returns with the 2 oz version of the Welcome to Wall Street round. Featuring a wild circus display that serves as a metaphor for Wall Street, these rounds are sure to prompt plenty of intriguing conversations among collectors.
Round Highlights:
Available to you in a plastic capsule!
All-new design in the Awakening Series!
Individually numbered round!
Contains 2 Troy oz of .9999 pure silver.
Wall Street circus imagery is depicted on the obverse.
The Eye of Providence features in the reverse design.
High-relief specimen.
When you purchase 2022 2 oz The Awakening Series Welcome to Wall Street Rounds, you will receive a .9999 pure specimen in brand-new condition. Produced by Sunshine Mint in stunning high relief, these rounds are part of the popular Awakening Series that began in 2021. Upon arrival, you will find your round housed inside a protective plastic capsule.
An elaborate Wall Street circus display features on the obverse of 2022 The Awakening Series Welcome to Wall Street Silver Rounds. At the center we see a banker juggling grenades with a suitcase spilling with cash at his feet. We also see a bear on a bicycle and a bull balancing a ball on its nose as a reflection of the different directions markets can turn. Inscribed along the lower rim are the words Welcome to Wall Street.
The all-seeing eye appears on the reverse side of these 2022 2 oz Welcome to Wall Street Silver Rounds. Also known as The Eye of Providence, this image appears enlarged and sits atop a pyramid. Other details include the round's hallmarks as well as a provocative line from an old Navajo proverb reading You Can't Wake a Person Who is Pretending to be Asleep.
Who ultimately controls the financial world of Wall Street that is purportedly open to all? That is one of the questions asked by these new silver rounds in the Awakening Series. Another is to what extent do the people who do control the Street see it as a game, a high-stakes entertainment akin to a circus? The questions go on and on with no easy answers on offer. But that is one of the central ideas behind this series. It raises questions and leaves it to us to determine the truth.
OHNE Umverpackung & Zertifikat
Technische Daten
Gewicht

62.206

Material

Silber

Jahreszahl

2022

Preis-Addition

28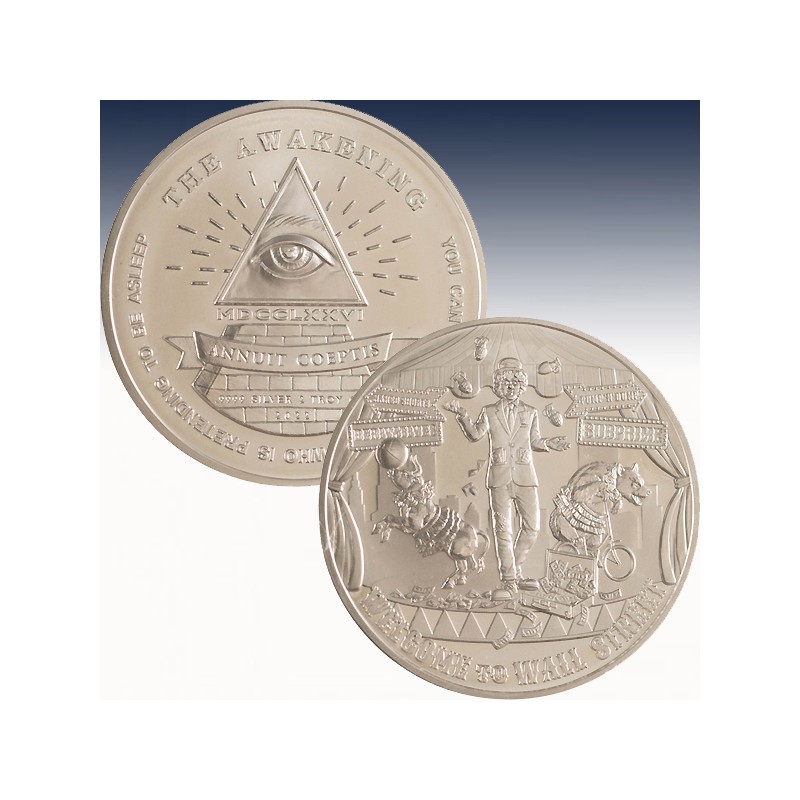 | | | |
| --- | --- | --- |
| Herkunft: |   | USA |
| Steuersatz: |   | 19% |
| Erhaltung: |   | Stempelglanz |
| Stückelung: |   | 1 x 2 oz |
| Material: |   | Silber |
| Feinheit: |   | 999/1000 |
| Feingewicht: |   | 62,206 Gramm |
| Durchmesser: |   | 39,0x6,0 mm |
| Auflage: |   | 20.000 Stück |