Gold 1.748,00 Eur
Silber 20,61 Eur
Platin 907,24 Eur
Palladium 1.864,50 Eur
(49) 2935 - 3 390 375
Europaweite Lieferung
Europaweite Lieferung
Gold 1.748,00 Eur
Silber 20,61 Eur
Platin 907,24 Eur
Palladium 1.864,50 Eur
SILBER 15,39 EUR
PLATIN 853,48 EUR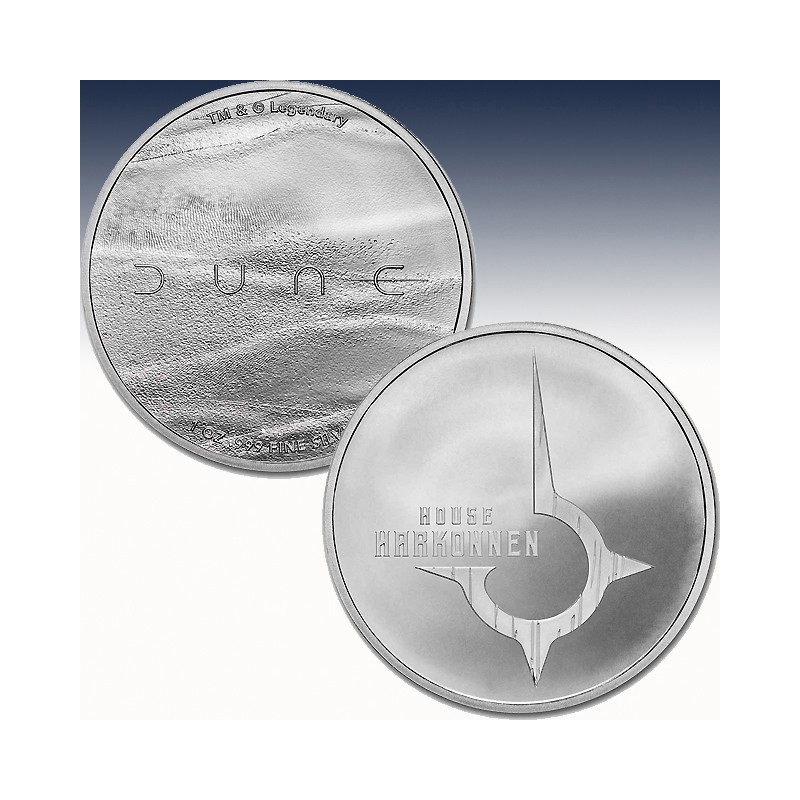  
1 x 1 Oz Silverround 9Fine Mint "DUNE® House Harkonnen" -BU-
| | | |
| --- | --- | --- |
| Hersteller: |   | 9Fine Mint |
| Steuersatz: |   | 19% |
| Prägung: |   | Stempelglanz |
| Stückelung: |   | 1 x 1 Unze |
| Material: |   | Silber |
| Feinheit: |   | 999/1000 |
| Gewicht: |   | 3,103 Gramm |
| Verpackung: |   | gekapselt |
| Durchmesser: |   | 39.3 mm |
| Ausgabe: |   | -,- Stück |
1 x 1 Unze (oz) Silverround 9Fine Mint "DUNE® House Harkonnen"
This collection celebrates the release of the new film DUNE®.

Round Highlights:

Contains 1 oz of .999 fine Silver.
DUNE® series in partnership with Legendary Entertainment.
Singles are packaged in capsules. Multiples of 20 are in heat-sealed rolls.
Obverse: Features the emblem of House Harkonnen, symbolic of a sharp of a weapon and their relentless force. 'HOUSE HARKONNEN' is displayed within the emblem.
Reverse: Features the DUNE® logo with weight and purity along the rim.

House Harkonnen
House Harkonnen is one of the Great Houses in the DUNE®. The feared and respected House is the villain of the saga, with notable members including Baron Vladimir and Glossu Rabban. The House is known for its greed and merciless conquests for power.

DUNE®
Created by novelist Frank Herbert in 1965, DUNE® is set on the barren desert planet, Arrakis. While its native people live in poverty, the planet is home to the most wanted resource in the galaxy: Spice Melange.This mysterious substance is mined and sold for large sums of money across the galaxy and is sought after for its physical and mental enhancing powers. The story explores the future of this planet as the Great Houses clash over who will control it.

DUNE® is a widely-anticipated major motion picture due to be out in theaters and for streaming in October 2021. This collection from APMEX and Legendary Entertainment includes DUNE® Silver rounds, colorized Silver rounds and Gold Spice set.

Legendary Entertainment is a leading media company with film (Legendary Pictures), television, (Legendary Television), comics (Legendary Comics) and digital media (Legendary Digital Networks) divisions dedicated to owning, producing and delivering content to worldwide audiences. Legendary has built a library of marquee media properties and has established itself as a trusted brand which consistently delivers high-quality, commercial entertainment including some of the world's most popular intellectual property. In aggregate, Legendary Pictures-associated productions have realized grosses of more than $17 billion worldwide at the box office.
Einzigartig in ihrer Art und bereits jetzt schon Kult in den Vereinigten Staaten.
Jede einzelne Sammlermedaille wird als ganze Unze herausgegeben und besteht aus 99,9 Prozent Feinsilber und haben jeweils einen Durchmesser von je 39,00 mm.Herausgegeben in der beeindruckenden Prägung "Brilliant uncirculated"!
Technische Daten
Gewicht

31.103

Material

Silber

Preis-Addition

5.5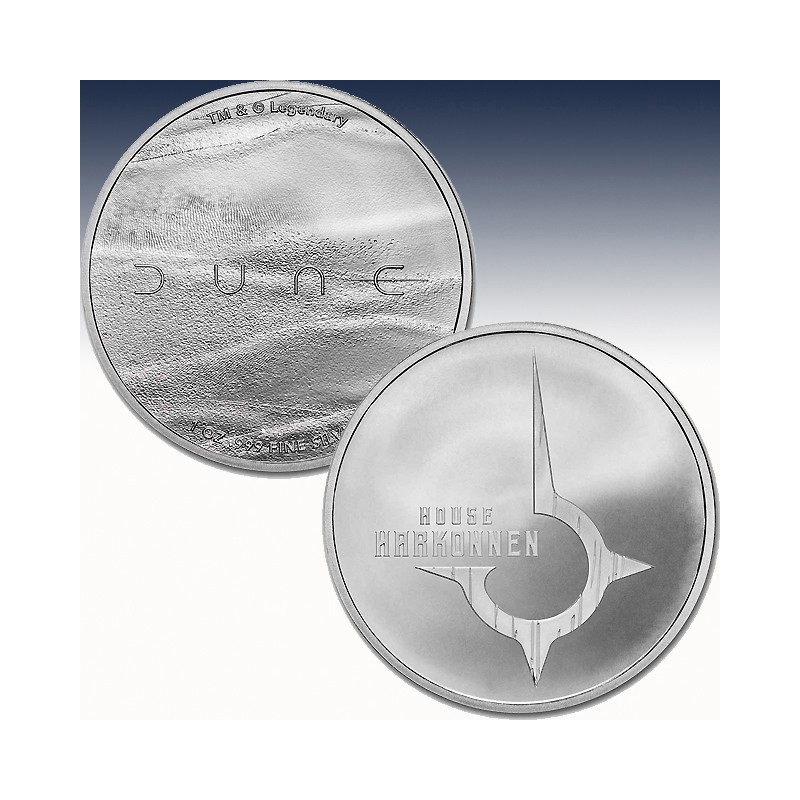 | | | |
| --- | --- | --- |
| Hersteller: |   | 9Fine Mint |
| Steuersatz: |   | 19% |
| Prägung: |   | Stempelglanz |
| Stückelung: |   | 1 x 1 Unze |
| Material: |   | Silber |
| Feinheit: |   | 999/1000 |
| Gewicht: |   | 3,103 Gramm |
| Verpackung: |   | gekapselt |
| Durchmesser: |   | 39.3 mm |
| Ausgabe: |   | -,- Stück |