Gold 1.480,84 Eur
Silber 21,77 Eur
Platin 1.023,93 Eur
Palladium 2.380,04 Eur
(49) 2935 - 3 390 375
Europaweite Lieferung
Europaweite Lieferung
Gold 1.480,84 Eur
Silber 21,77 Eur
Platin 1.023,93 Eur
Palladium 2.380,04 Eur
SILBER 15,39 EUR
PLATIN 853,48 EUR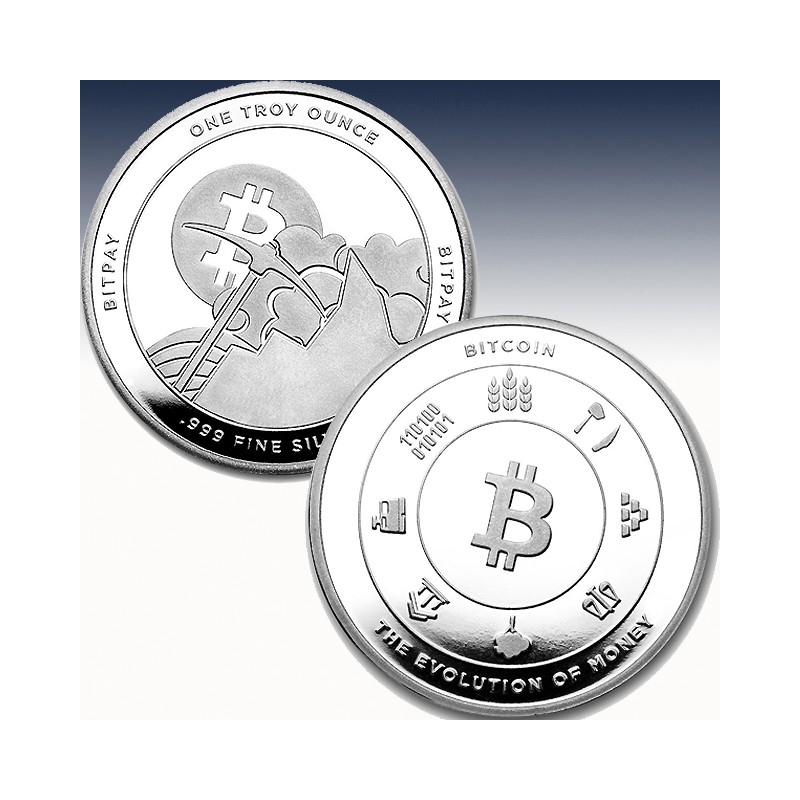  
1 x 1 Oz Silverround "Bitcoin Round - BitPay" -BU- (Kapsel)
| | | |
| --- | --- | --- |
| Hersteller: |   | 9Fine Mint |
| Steuersatz: |   | 19% |
| Prägung: |   | Stempelglanz |
| Stückelung: |   | 1 x 1 Unze |
| Material: |   | Silber |
| Feinheit: |   | 999/1000 |
| Gewicht: |   | 3,103 Gramm |
| Verpackung: |   | gekapselt |
| Durchmesser: |   | 39.3 mm |
| Ausgabe: |   | 500 Stück |
1 x 1 Unze (oz) Silverround "Bitcoin Round - BitPay"

Developed in collaboration with BitPay, these .999 fine bullion rounds are a great way to add physical Silver to your holdings.
Founded in 2011, Bitpay set out to optimize the way Bitcoin and other crypto is stored and transferred. APMEX has partnered with BitPay to create this exclusive Silver round, symbolizing the evolution of currency throughout history.

Round Highlights:
Contains 1 oz of .999 fine Silver.
Each round comes in protective packaging. Multiples of 20 are packaged in tubes.
Obverse: Displays a large B for Bitcoin and a pickaxe, symbolizing the mining process used to procure the virtual coins. The round reads "BitPay" on each side. Weight and purity are displayed along the rim.
Reverse: Features the Bitcoin logo surrounded by items used to symbolize historical forms of currency. Each round reads "The Evolution of Money" along the bottom edge.

Since its inception in 2009, Bitcoin has maintained its place as one of the most promising developments in the financial world. This decentralized currency works on a peer-to-peer blockchain system where balances are kept on a public ledger. BitPay has been a constant in the evolution of cryptocurrencies and continues to innovate in their mission to help revolutionize the financial industry.
Einzigartig in ihrer Art und bereits jetzt schon Kult in den Vereinigten Staaten.
Jede einzelne Sammlermedaille wird als ganze Unze herausgegeben und besteht aus 99,9 Prozent Feinsilber und haben jeweils einen Durchmesser von je 39,00 mm.Herausgegeben in der beeindruckenden Prägung "Brilliant uncirculated"!
Technische Daten
Gewicht

31.103

Material

Silber

Preis-Addition

8.8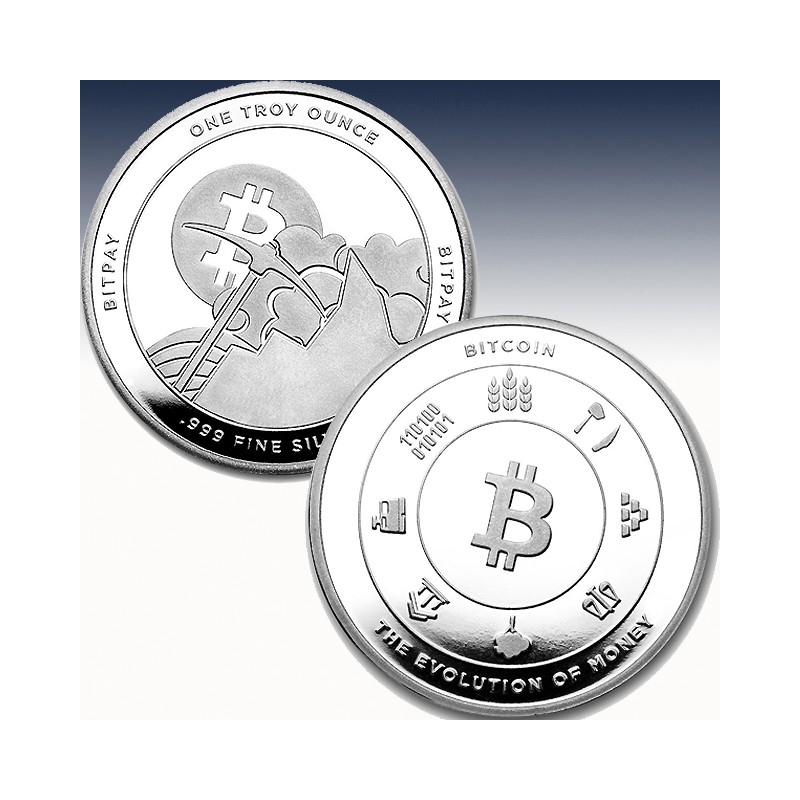 | | | |
| --- | --- | --- |
| Hersteller: |   | 9Fine Mint |
| Steuersatz: |   | 19% |
| Prägung: |   | Stempelglanz |
| Stückelung: |   | 1 x 1 Unze |
| Material: |   | Silber |
| Feinheit: |   | 999/1000 |
| Gewicht: |   | 3,103 Gramm |
| Verpackung: |   | gekapselt |
| Durchmesser: |   | 39.3 mm |
| Ausgabe: |   | 500 Stück |