Gold 1.863,05 Eur
Silber 21,38 Eur
Platin 855,59 Eur
Palladium 879,72 Eur
(49) 2935 - 3 390 375
Europaweite Lieferung
Europaweite Lieferung
Gold 1.863,05 Eur
Silber 21,38 Eur
Platin 855,59 Eur
Palladium 879,72 Eur
SILBER 15,39 EUR
PLATIN 853,48 EUR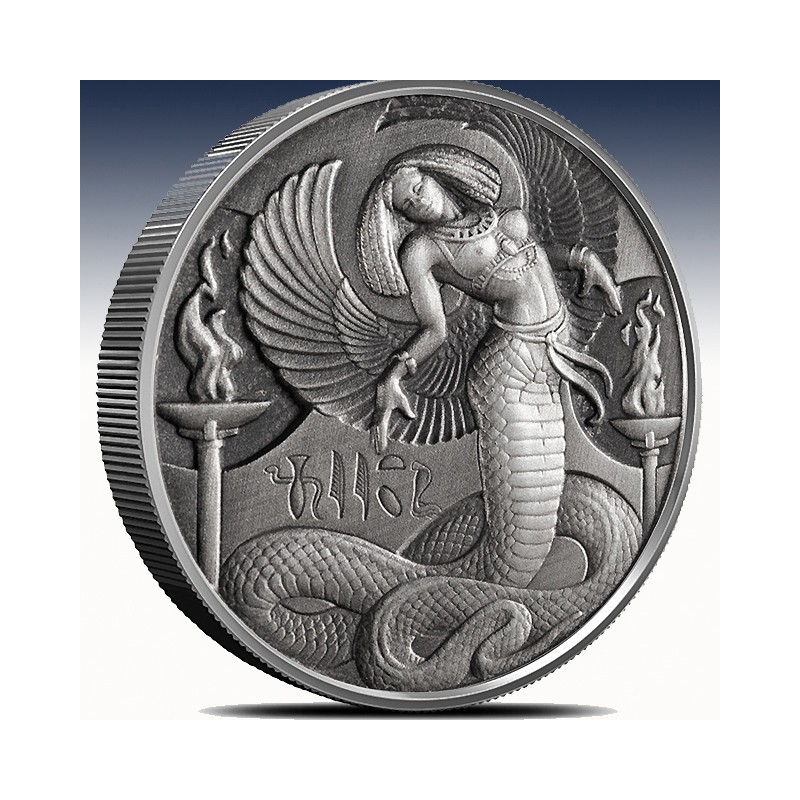  
1 x 2 oz Silverround Egyptian Gods Series "Wadjet Ultra High Relief Series" -AF-
| | | |
| --- | --- | --- |
| Hersteller: |   | Elemetal Mint |
| Steuersatz: |   | 19% |
| Prägung: |   | Stempelglanz |
| Stückelung: |   | 1 x 2 Unze |
| Material: |   | Silber |
| Feinheit: |   | 999/1000 |
| Gewicht: |   | 62,206 Gramm |
| Verpackung: |   | Tasche |
| Durchmesser: |   | - mm |
1 x 2 Unze (oz) Silverround Egyptian Gods Series
"Wadjet #9 Ultra High Relief Series"
START einer neuen Serie über Ägypten und Pharaonen in ULTRA HIGH RELIEF, 
Fortführend mit Wadjet  in wundervoller Stempelglanz Qualität.
Geplant sind insgesamt 10 Motive.

The popular Egyptian Series of silver rounds now features its ninth overall design with a depiction of the goddess Wadjet. Also spelled Uadjet, she is an ancient Egyptian goddess with a significant presence in Egyptian mythology and culture. She is often depicted as a cobra or a snake with an upright stance, often coiled around the sun disk and the hieroglyph for pharaoh. Right now, 2 oz Antique Wadjet Silver Rounds are available to purchase online from JM Bullion.
Wadjet was primarily associated with protection and was considered a guardian deity of Lower Egypt, particularly the northern region around the Nile Delta. She was believed to watch over the pharaohs and the land, serving as a symbol of royal power and authority. Her protective nature made her an important deity in both religious and political contexts.
All of these 2 oz Antique Wadjet Silver Rounds are available with individual flips or tubes for multiples of 10 rounds. These rounds have high-relief visuals that deliver greater visual depth to the background field and greater 3D relief on the designs. The antique polish creates a sense of old-world charm for each round.
The obverse of the 2 oz Wadjet Silver Round features the goddess in a blended form. Here, she has a long serpent's body from the waist down. From the waist up, she has the form of an elegant woman with intricate wings behind her figure.
On the reverse of 2 oz Antique Wadjet Silver Rounds, you will find a depiction of the goddess in her serpent form. She is shown here as a cobra on a ceremonial altar with a large bowl beneath the body of the serpent. Wings are again featured behind the figure. The cobra or snake was a prominent symbol of Wadjet. The cobra's ability to strike with deadly accuracy was likened to her protective nature, which could swiftly defend against threats to the pharaoh and the Egyptian people.
Diese Silverround ist mit einer der außergewöhnlichen von "Element Mint" und dem Design von Heidi Wastweet.
Einzigartig in ihrer Art und bereits jetzt schon Kult in den Vereinigten Staaten.

Jede dieser wunderschönen Silverround enthält 999/1000 Feinsilber und wurde in einem wunderschönem Stempelglanz geprägt.
Pro Einheit mit 10 Münzen erfolgt die
Lieferung im Original - Münztube!
Technische Daten
Gewicht

62.206

Material

Silber

Jahreszahl

2023

Preis-Addition

26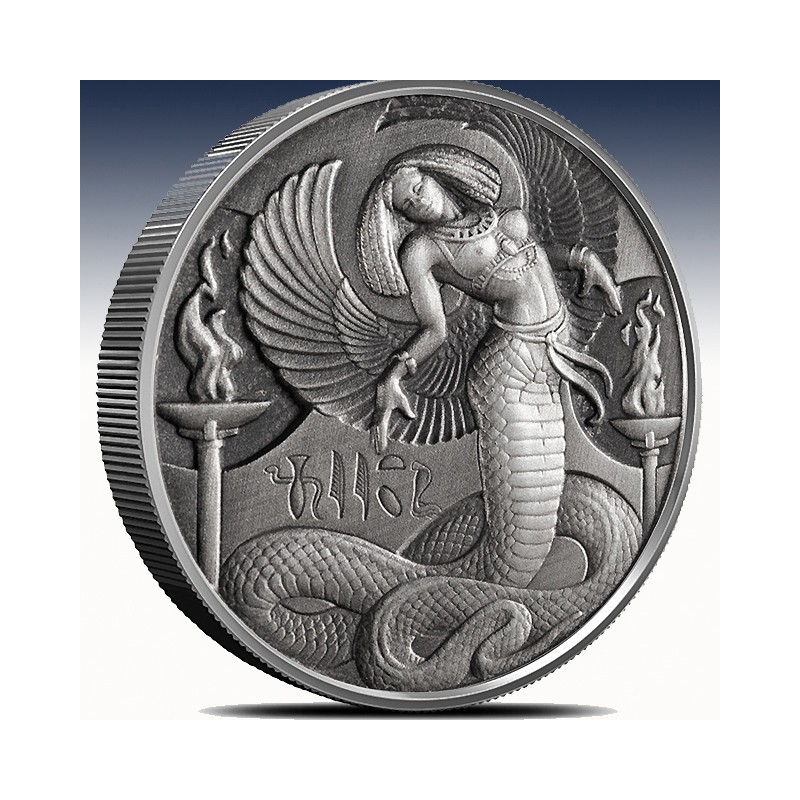 | | | |
| --- | --- | --- |
| Hersteller: |   | Elemetal Mint |
| Steuersatz: |   | 19% |
| Prägung: |   | Stempelglanz |
| Stückelung: |   | 1 x 2 Unze |
| Material: |   | Silber |
| Feinheit: |   | 999/1000 |
| Gewicht: |   | 62,206 Gramm |
| Verpackung: |   | Tasche |
| Durchmesser: |   | - mm |