Gold 1.863,05 Eur
Silber 21,38 Eur
Platin 855,59 Eur
Palladium 879,72 Eur
(49) 2935 - 3 390 375
Europaweite Lieferung
Europaweite Lieferung
Gold 1.863,05 Eur
Silber 21,38 Eur
Platin 855,59 Eur
Palladium 879,72 Eur
SILBER 15,39 EUR
PLATIN 853,48 EUR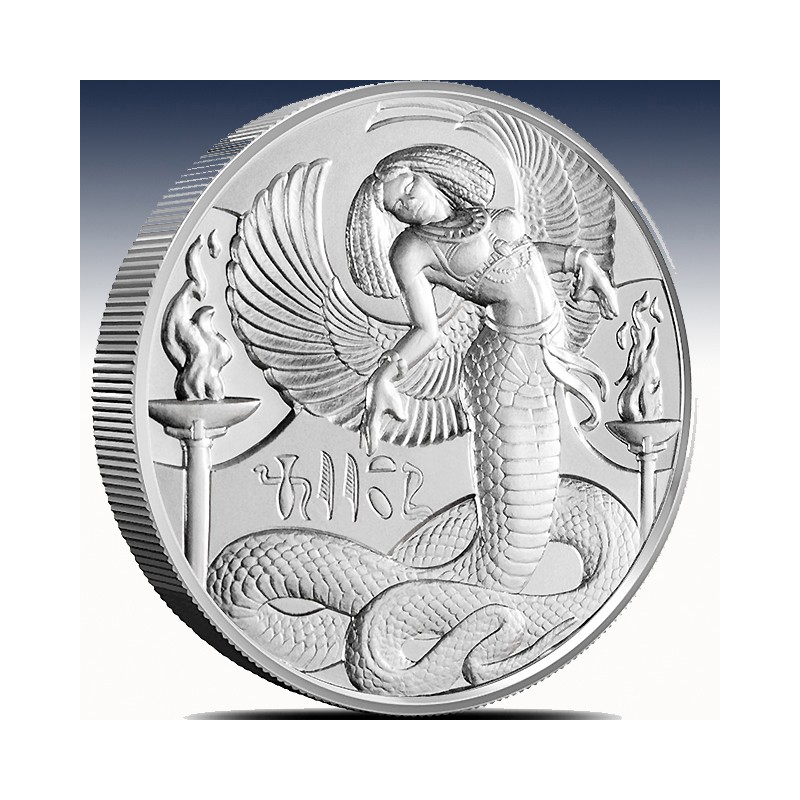  
1 x 2 oz Silverround Egyptian Gods Series "Wadjet Ultra High Relief Series" -BU-
| | | |
| --- | --- | --- |
| Hersteller: |   | Elemetal Mint |
| Steuersatz: |   | 19% |
| Prägung: |   | Stempelglanz |
| Stückelung: |   | 1 x 2 Unze |
| Material: |   | Silber |
| Feinheit: |   | 999/1000 |
| Gewicht: |   | 62,206 Gramm |
| Verpackung: |   | Tasche |
| Durchmesser: |   | - mm |
1 x 2 Unze (oz) Silverround Egyptian Gods Series
"Wadjet #9 Ultra High Relief Series"
START einer neuen Serie über Ägypten und Pharaonen in ULTRA HIGH RELIEF, 
Fortführend mit Wadjet  in wundervoller Stempelglanz Qualität.
Geplant sind insgesamt 10 Motive.

In the ninth issue of the Egyptian Gods Series, collectors are introduced to a powerful protector goddess known as Wadjet. Her influence and worship spanned several periods of ancient Egyptian history, and she was considered an essential figure in the Egyptian pantheon. Her symbolic significance extended beyond religious contexts and had political and societal implications, especially in relation to the pharaoh's authority and the unity of Egypt. Now, 2 oz Wadjet Silver Rounds are available to you for purchase online at JM Bullion.
Wadjet was closely associated with the Eye of Ra or the Eye of Horus, both of which represented the concept of divine and royal protection. The Eye of Ra was often depicted as a cobra emerging from a sun disk, while the Eye of Horus had a similar symbolic significance. The eyes were also connected to concepts of healing and restoration.
She was also sometimes associated with other goddesses, such as Nekhbet, who was the vulture goddess of Upper Egypt. Together, they were often referred to as the "Two Ladies" and represented the unification of Upper and Lower Egypt under the rule of the pharaoh.
The obverse of the 2 oz Wadjet Silver Round comes with a depiction of the goddess in her combined female-serpent form. Like many Egyptian deities, the human form of Wadjet is most commonly shown as half human and half beast. In this case, from her waist upward, she appears as a beautiful woman, while her lower body from the waist downward is that of a serpent.
On the reverse of 2 oz Wadjet Rounds, you will find the goddess in her full animal form. Here, Wadjet is depicted as a cobra poised atop an altar with a large bowl beneath. The background offers the familiar pyramid design theme with hieroglyphs within the field.
These 2 oz Wadjet Silver Rounds are available individually in flips, with multiples of 10 rounds housed in acrylic tubes. These ultra-high-relief rounds have impressive visual depth to the background field and raised, 3D relief on the design elements.
Diese Silverround ist mit einer der außergewöhnlichen von "Element Mint" und dem Design von Heidi Wastweet.
Einzigartig in ihrer Art und bereits jetzt schon Kult in den Vereinigten Staaten.

Jede dieser wunderschönen Silverround enthält 999/1000 Feinsilber und wurde in einem wunderschönem "Brilliant uncirculated" geprägt.
Pro Einheit mit 10 Münzen erfolgt die
Lieferung im Original - Münztube!
Technische Daten
Gewicht

62.206

Material

Silber

Jahreszahl

2023

Preis-Addition

21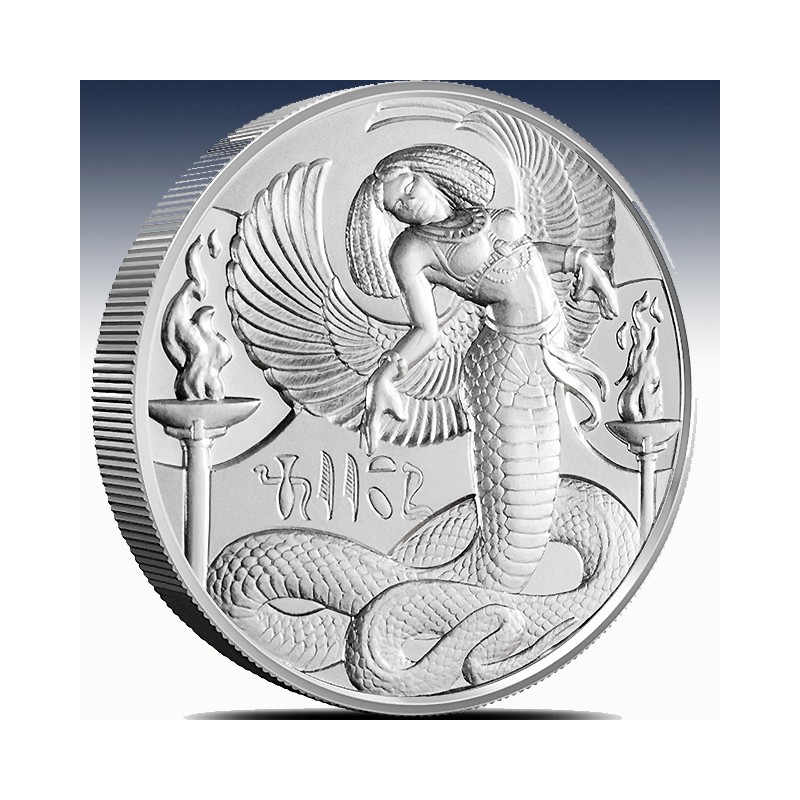 | | | |
| --- | --- | --- |
| Hersteller: |   | Elemetal Mint |
| Steuersatz: |   | 19% |
| Prägung: |   | Stempelglanz |
| Stückelung: |   | 1 x 2 Unze |
| Material: |   | Silber |
| Feinheit: |   | 999/1000 |
| Gewicht: |   | 62,206 Gramm |
| Verpackung: |   | Tasche |
| Durchmesser: |   | - mm |