Gold 1.863,05 Eur
Silber 21,38 Eur
Platin 855,59 Eur
Palladium 879,72 Eur
(49) 2935 - 3 390 375
Europaweite Lieferung
Europaweite Lieferung
Gold 1.863,05 Eur
Silber 21,38 Eur
Platin 855,59 Eur
Palladium 879,72 Eur
SILBER 15,39 EUR
PLATIN 853,48 EUR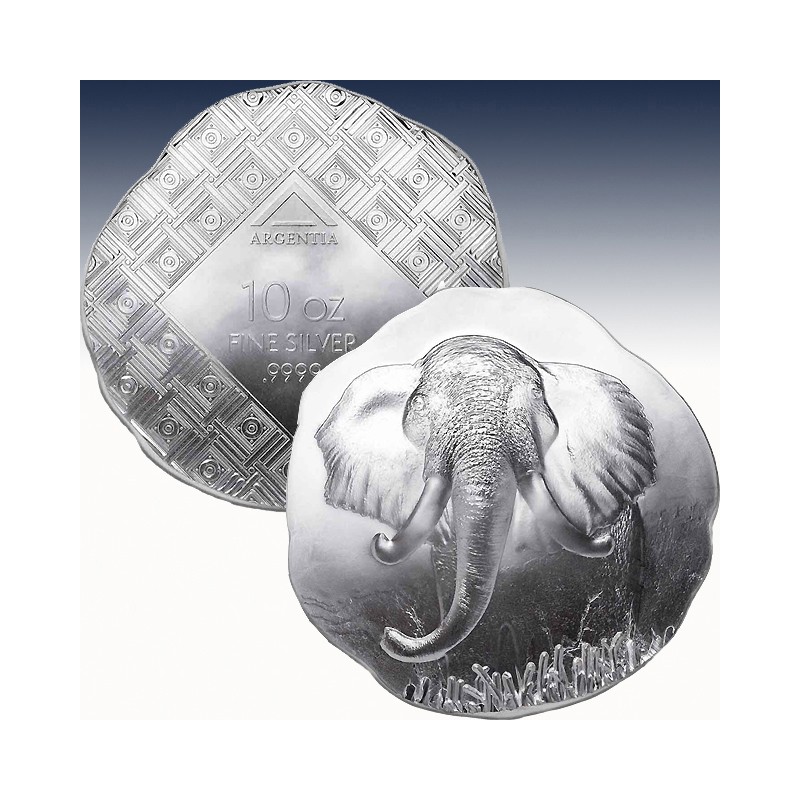  
1 x 10 oz Silver Bar "Argentia Elephant - Ultra High Relief" -BU-
| | | |
| --- | --- | --- |
| Hersteller: |   | Argentia Precious Metals |
| Steuersatz: |   | 19% |
| Prägung: |   | Stempelglanz |
| Stückelung: |   | 1 x 10 Unze |
| Material: |   | Silber |
| Feinheit: |   | 999/1000 |
| Gewicht: |   | 311,03 Gramm |
| Verpackung: |   | Box |
| Durchmesser: |   | -.-mmx-.-mm |
| Dicke: |   | -.- mm |
1 x 10 oz Silver Bar "Argentia Elephant - Ultra High Relief"
The Sculptural Arts Collection is a popular series of rounds and bars from Argentia Precious Metals. The latest release in the collection features the African elephant in a spectacular ultra-high relief design. With their three-dimensional visuals and unique live-edge aesthetic, these will certainly attract plenty of attention while on display!
Round Highlights:
Arrives in a protective sleeve!
Beautiful new round in the Sculptural Arts Collection!
Contains 10 Troy oz of .9999 pure silver.
The obverse contains the Argentia logo and round hallmarks.
On the reverse field, there is an African elephant.
Ultra-high relief design.
All 10 oz Argentia Elephant Rounds in this JM Bullion listing online will arrive in protective mylar sleeves. These sleeves include a holographic seal as well featuring the official Argentia logo. This round was crafted with a free-flowing metal process, which results in a stunning live-edge quality. It also means that no two rounds in the listing will look quite the same. Produced in .9999 pure silver, these rounds are considered brand-new.
Though native to only Africa and Asia, the elephant is beloved by animal enthusiasts across the globe. These magnificent creatures are arguably the most recognizable land animal on the planet. While their tusks attract plenty of attention, it is usually their unique trunk that gets people talking the most. The trunk of the elephant alone is longer than most humans and serves a wide range of purposes. With over 40,000 muscles, the trunk can be used for feeding, drinking, and of course for the iconic trumpet call to indicate excitement.
The obverse of 10 oz Elephant Silver Rounds contains the identifying hallmarks and brand logo. The hallmarks consist of the round's weight, purity, and metal type. The logo contains a stylized triangular design along with the word "Argentia" inscribed below it. These details are complemented by a unique background pattern resembling Greek meander art.
On the reverse of 10 oz Argentia Silver Rounds, there is an African Elephant design. In this original rendering, the elephant appears in closeup, facing directly toward us. This gives us a great look at its giant ears, trunk, and magnificent tusks.
Viele der Silberbarren, die von der Monarch Precious Metals hergestellt werden, sind mit Symbolen der Piraten
versehen -  dem Totenkopf oder der Piratenflagge oder aber im Look einer Schatztruhe.

Einzigartig in ihrer Art und bereits jetzt schon ein Kult in den Vereinigten Staaten.
Jede dieser wunderschönen Silverbar enthält 999/1000 Feinsilber und wurde in einem wunderschönem Stempelglanz geprägt.
Technische Daten
Gewicht

311.03

Material

Silber

Preis-Addition

110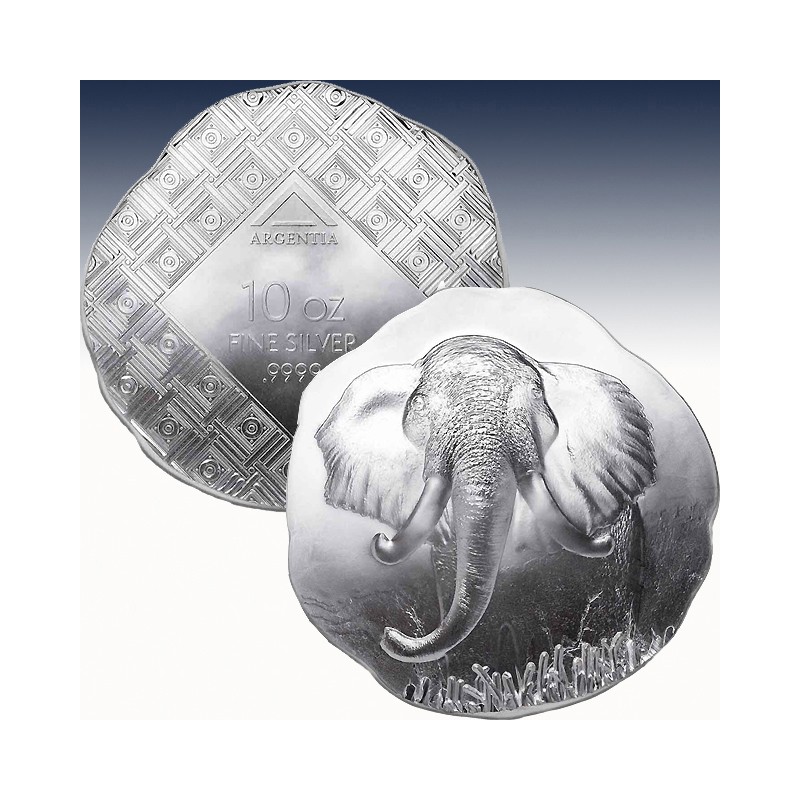 | | | |
| --- | --- | --- |
| Hersteller: |   | Argentia Precious Metals |
| Steuersatz: |   | 19% |
| Prägung: |   | Stempelglanz |
| Stückelung: |   | 1 x 10 Unze |
| Material: |   | Silber |
| Feinheit: |   | 999/1000 |
| Gewicht: |   | 311,03 Gramm |
| Verpackung: |   | Box |
| Durchmesser: |   | -.-mmx-.-mm |
| Dicke: |   | -.- mm |