Gold 1.759,95 Eur
Silber 21,42 Eur
Platin 923,53 Eur
Palladium 1.494,38 Eur
(49) 2935 - 3 390 375
Europaweite Lieferung
Europaweite Lieferung
Gold 1.759,95 Eur
Silber 21,42 Eur
Platin 923,53 Eur
Palladium 1.494,38 Eur
SILBER 15,39 EUR
PLATIN 853,48 EUR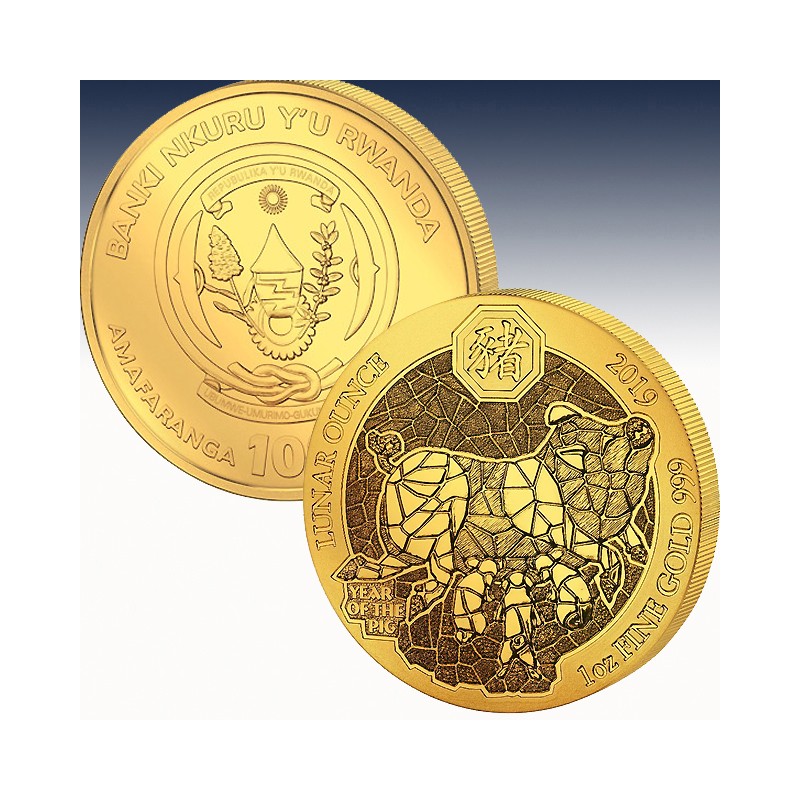  
1 x 1 Oz Goldmünze 100 RWF Ruanda "Ruanda Jahr des Schweines 2019" -BU-
| | | |
| --- | --- | --- |
| Herkunft: |   | Ruanda |
| Nennwert: |   | 100 Ruanda Francs |
| Stückelung: |   | 1 x 1 Unze |
| Material: |   | Silber |
| Feinheit: |   | 999/1000 |
| Gewicht: |   | 31,10 g |
| Verpackung: |   |  Originalverpackung |
| Durchmesser: |   | 40,0x2,0 mm |
| Produktion: |   | 188 Stück |
1 x 1 Unze (oz) 100 RWF  Ruanda "Lunar Serie - Jahr des Schweines 2019"

The Rwanda African Wildlife series has been incredibly popular with intricate designs and a history of premium appreciation. For the very first time in 2017, the Rwanda Lunar Ounce was launched with the year of the Rooster.

Coin Highlights:
Contains 1 oz of .999 fine Gold.
Coin will be delivered in capsule with a box and certificate of authenticity.
Second release of the Lunar Ounce series.
Very small mintage of 188 pieces worldwide.
Obverse: Features a stylized Pig in the center of the coin. The inscriptions "Lunar Ounce", "2019", the Chinese sign for dog and the purity are listed along the rim.
Reverse: Displays the official seal of Rwanda and the face value of 100 Francs.


In 2019 the successful series will be continued with the Year of the Pig. Because of the protective packaging from the mint, these coins all arrive in phenomenal condition. This is the perfect coin for growing any Silver collection. Add this 1 oz Gold Rwanda Lunar Year of the Dog coin to your cart today!

The very limited mintage of 188 coins worldwide makes these Lunar Ounce Year of the Pig coins exclusive and ensuring a premium appreciation. Auction results of the previous Rwanda 1 oz Gold Year of the Rooster achieved multiples of their initial issue price.
Technische Daten
Gewicht

31.103

Material

Gold

Jahreszahl

2019

Preis-Addition

325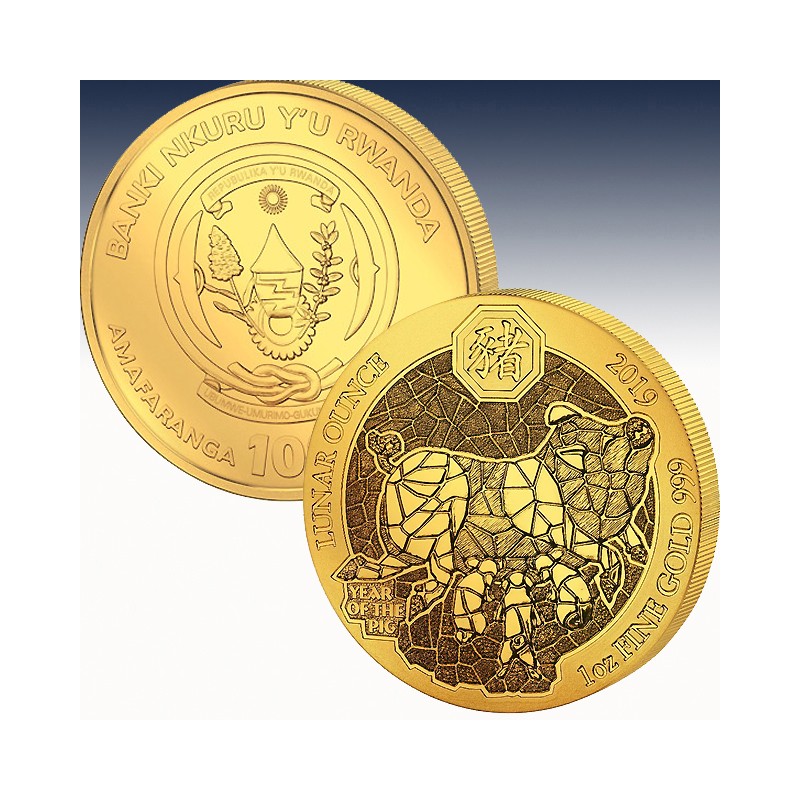 | | | |
| --- | --- | --- |
| Herkunft: |   | Ruanda |
| Nennwert: |   | 100 Ruanda Francs |
| Stückelung: |   | 1 x 1 Unze |
| Material: |   | Silber |
| Feinheit: |   | 999/1000 |
| Gewicht: |   | 31,10 g |
| Verpackung: |   |  Originalverpackung |
| Durchmesser: |   | 40,0x2,0 mm |
| Produktion: |   | 188 Stück |