Gold 1.755,20 Eur
Silber 20,27 Eur
Platin 926,49 Eur
Palladium 2.200,00 Eur
(49) 2935 - 3 390 375
Europaweite Lieferung
Europaweite Lieferung
Gold 1.755,20 Eur
Silber 20,27 Eur
Platin 926,49 Eur
Palladium 2.200,00 Eur
SILBER 15,39 EUR
PLATIN 853,48 EUR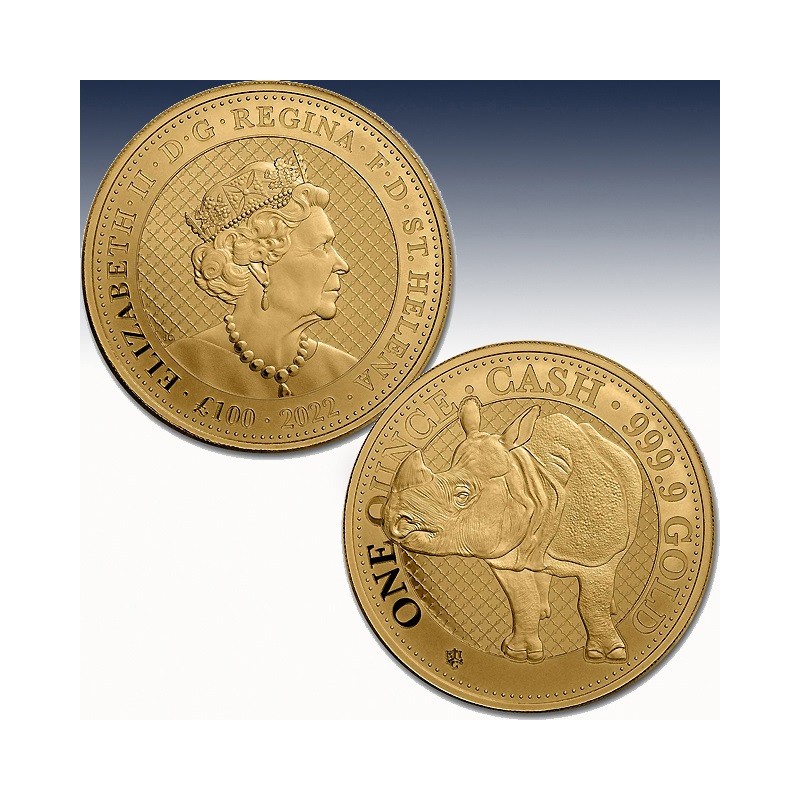  
1 x 1 oz Gold £100 St.Helena "India Wildlife - Rhino 2022" -BU- (Kapsel)
| | | |
| --- | --- | --- |
| Hersteller: |   | Saint Helena Mint |
| Nennwert: |   | £100 |
| Prägung: |   | Stempelglanz |
| Stückelung: |   | 1 x 1 Unze |
| Material: |   | Gold |
| Feinheit: |   | 999/1000 |
| Gewicht: |   | 31,103 Gramm |
| Verpackung: |   | Box+Zertifikat |
| Durchmesser: |   | 38,6 mm |
| Auflage: |   | 200 Stück |
1 x 1 Unze (oz) Goldmünze £100 St.Helena
"India Wildlife - 5# Das Nashorn 2022"
A new series in .999 fine Gold celebrates the wildlife of India in a Cash bullion coin series.

The Cash Indian Wildlife Series continues with a .9999 fine Gold version of the rhino. There is an extremely limited mintage of only 200, and each is accompanied with a numbered certificate and a display box.

Coin Highlights:

Contains 1 oz of .9999 fine Gold.
Extremely limited mintage of 200 coins.
Accompanied with a display box and numbered certificate of authenticity.
APMEXclusive® worldwide.
Obverse: Depiction of Queen Elizabeth II with the date and face value set against a patterned background.
Reverse: Features a rhino against a patterned background with an intricately detailed relief. Also included is the Gold weight and purity.

Treasures of India Wildlife Series

"CASH" coins were currency units used during the time of British rule in India. While the origin of the word "CASH" is somewhat up for debate, one theory is that it was derived from the Sanskrit word "karsa" and equals a weight of Gold equal to 1/400 of a "tola."
Diese Sammlermünze wird als 31,103 gramm herausgegeben und besteht aus 99,99% Prozent FeinGold!
Sie hat einen Durchmesser von 38,60 mm.
Auch diese Silbermünze gilt als gesetzliches Zahlungsmittel in ihren Herausgeberland St.Helena.
Die "Brilliant uncirculated" sorgt für ein besonders detailreiches und schön anmutendes Motiv.
Technische Daten
Gewicht

31.103

Material

Gold

Jahreszahl

2022

Preis-Addition

490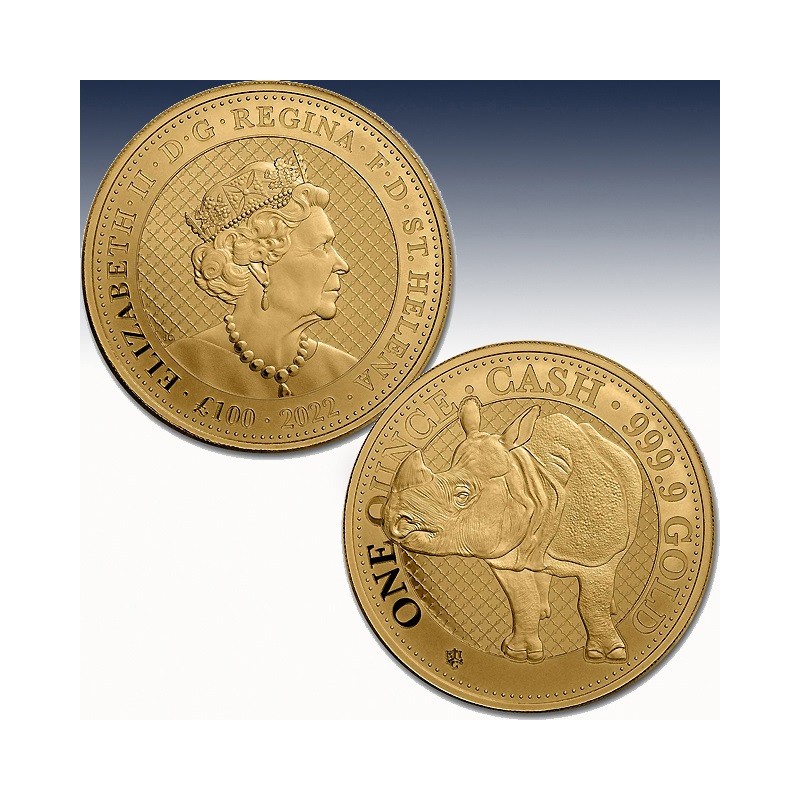 | | | |
| --- | --- | --- |
| Hersteller: |   | Saint Helena Mint |
| Nennwert: |   | £100 |
| Prägung: |   | Stempelglanz |
| Stückelung: |   | 1 x 1 Unze |
| Material: |   | Gold |
| Feinheit: |   | 999/1000 |
| Gewicht: |   | 31,103 Gramm |
| Verpackung: |   | Box+Zertifikat |
| Durchmesser: |   | 38,6 mm |
| Auflage: |   | 200 Stück |