Gold 1.493,28 Eur
Silber 21,77 Eur
Platin 879,30 Eur
Palladium 2.099,48 Eur
(49) 2935 - 3 390 375
Europaweite Lieferung
Europaweite Lieferung
Gold 1.493,28 Eur
Silber 21,77 Eur
Platin 879,30 Eur
Palladium 2.099,48 Eur
SILBER 15,39 EUR
PLATIN 853,48 EUR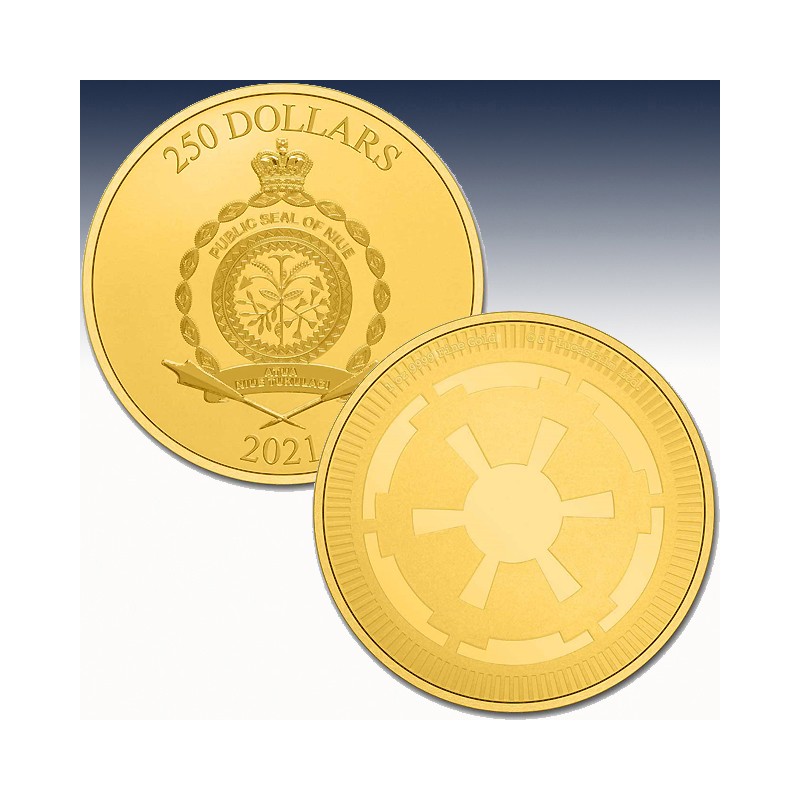  
1 x 1 oz Goldmünze 250$ Niue "Star Wars - Galactic Empire 2021" -BU-
| | | |
| --- | --- | --- |
| Herkunftsland: |   |  Niue |
| Nennwert: |   | 250 NZ-Dollar |
| Prägung: |   | Stempelglanz |
| Stückelung: |   | 1 x 1 Unze |
| Material: |   | Silber/farbig |
| Feinheit: |   | 999/1000 |
| Gewicht: |   | 31,106 Gramm |
| Durchmesser: |   | 32,00mm |
| Auflage: |   |  250 Stück |
1 x 1 Unze (oz) Goldmünze 250$ Niue "Star Wars - Galactic Empire 2021"

Product Details
Following the Mandalorian Mythosaur coin, APMEX releases the second in its exclusive Symbols of Star Wars Series with the Galactic Empire Bullion. This coin features the officially licensed Imperial Crest of the mighty Galactic Empire in .9999 fine Gold.

Coin Highlights:
Contains 1 oz of .9999 fine Gold.
Worldwide mintage of only 250 coins!
Coin comes in a protective capsule.
Obverse: Displays the Niue coat of arms along with the face value and the year of issue.
Reverse: Features the officially licensed Imperial Crest of the Galactic Empire in Star Wars. The reverse also features the metal content, purity, and the Lucasfilm copyright for further authentication.
Issued by the sovereign government of Niue.


Star Wars Galactic Empire
When Sith Lord, Sheev Palpatine created the Galactic Empire from the ashes of the Galactic Republic he refashioned the Republic's 8-spoked cog into the 6-spoked symbol that came to represent the most feared and mighty empire the Galaxy had ever seen. Palpatine understood the power of symbols in branding his new empire and projecting strength throughout the galaxy. The similarities and differences to the symbol of the Old Republic simultaneously maintained a familiarity necessary for acceptance while also indicating a clear transition to a new order. The Galactic Imperial Crest would appear on flags, spacecraft, administrative buildings, currency and more. Now you can invest in real life official Galactic Empire Bullion Gold.
Niue ist eine isolierte Koralleninsel im Südpazifik in der Nähe von Tonga, 2.400 km nordöstlich von Neuseeland. Sie liegt südlich von Samoa und westlich der Cookinseln.

Der Nennwert beträgt 2$. Diese wunderschöne Goldapplikation hat einen Anteil von 99,9% Feinsilber mit einem Durchmesser von 32,00mm, wiegt 31,103 Gramm und wurde in einer wunderschönen "Brilliant uncirculated" Version Produziert.

Technische Daten
Gewicht

31.103

Material

Gold

Jahreszahl

2021

Preis-Addition

240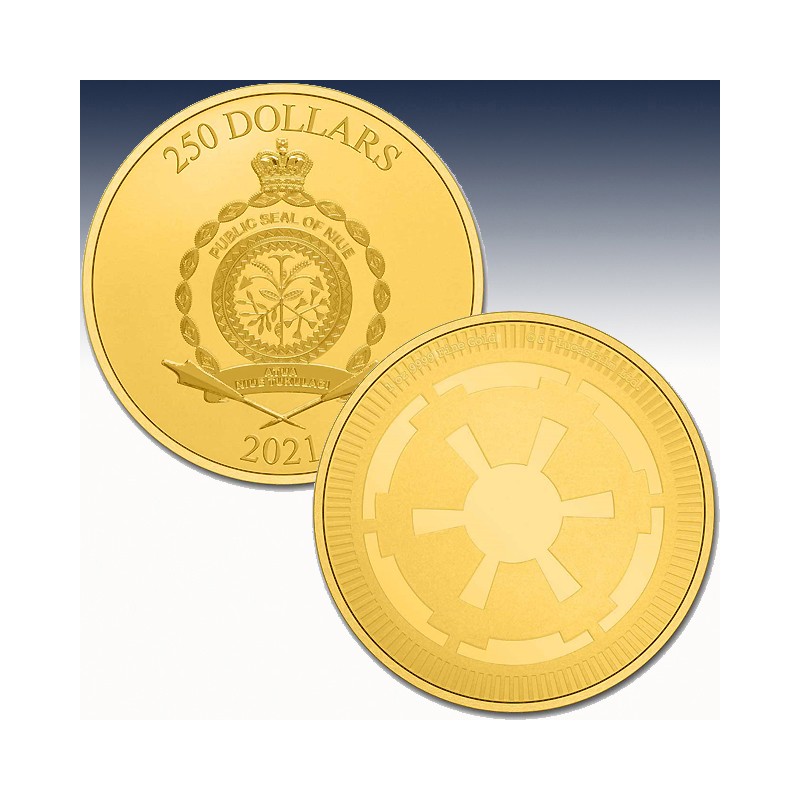 | | | |
| --- | --- | --- |
| Herkunftsland: |   |  Niue |
| Nennwert: |   | 250 NZ-Dollar |
| Prägung: |   | Stempelglanz |
| Stückelung: |   | 1 x 1 Unze |
| Material: |   | Silber/farbig |
| Feinheit: |   | 999/1000 |
| Gewicht: |   | 31,106 Gramm |
| Durchmesser: |   | 32,00mm |
| Auflage: |   |  250 Stück |