Gold 1.863,05 Eur
Silber 21,38 Eur
Platin 855,59 Eur
Palladium 879,72 Eur
(49) 2935 - 3 390 375
Europaweite Lieferung
Europaweite Lieferung
Gold 1.863,05 Eur
Silber 21,38 Eur
Platin 855,59 Eur
Palladium 879,72 Eur
SILBER 15,39 EUR
PLATIN 853,48 EUR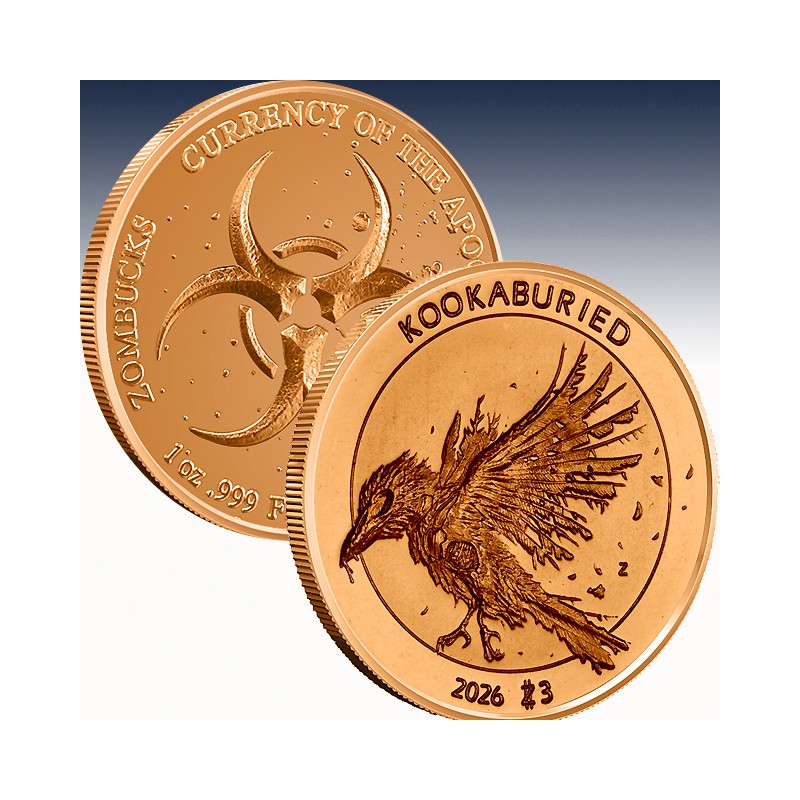  
1 x 1 Oz Copper Round "Zombucks World Kookaburied 2023" -BU-
| | | |
| --- | --- | --- |
| Hersteller: |   | Provident Mint |
| Steuersatz: |   | 19% |
| Prägung: |   | Stempelglanz |
| Stückelung: |   | 1 x 1 Unze |
| Material: |   | Silber |
| Feinheit: |   | 999/1000 |
| Gewicht: |   | 28,349 Gramm |
| Verpackung: |   | zip-Tüte |
| Durchmesser: |   | 39 mm |
                   1 x 1 Unze (oz) Copper Round "Zombucks World 2# Kookaburied"


Fans of the zombie apocalypse can rejoice in the return of the Zombucks Series. This time around, the zombie apocalypse has gone global and is infecting animal species from around the world. Following the successful launch of the Pandamonium design, we now find that the birds in the sky are infected as well. Today, 1 oz Zombucks World Kookaburied Copper Rounds are available to you online at JM Bullion.
Round Highlights:
Available to you inside flips, acrylic tubes of 20 rounds, or boxes of 500 rounds!
2nd release in the Zombucks World Series Series of rounds!
Contains 1 AVDP oz of .999 pure copper.
Includes a nominal value of 3 Zombucks.
Obverse features a zombified kookaburra.
Reverse includes the biohazard symbol from the original collection.
Design minted for a limited period of time!
The zombie apocalypse results in a post-apocalyptic world where infrastructure collapses, governments crumble, and chaos ensues. Survivors face immense challenges as they try to stay alive and navigate through the remnants of society. Survivors must contend with scarce resources such as food, water, and shelter, leading to intense competition and conflicts among groups. With Zombucks in your corner, you'll have the currency you need to fight for resources.
All of these 1 oz Zombucks World Kookaburied Copper Rounds are available to you in new condition. The rounds are packaged individually in flips, by multiples of 20 rounds in acrylic tubes, and by multiples of 500 rounds in boxes. Each box holds 25 separate 20-round tubes.
In the obverse design of the Zombucks World Kookaburied Copper Round, you will find the second design of the collection. Infection during the apocalypse spreads rapidly, leading to a breakdown of society as the number of zombies grows exponentially. The infection is often transmitted through bites or scratches from zombies, turning the victims into zombies themselves. Here, we can see the infection has taken flight as the kookaburra is infected and its body deteriorates around it.
Technische Daten
Gewicht

KFIXRSZBQ

Material

Kupfer

Jahreszahl

2023

Preis-Addition

4.5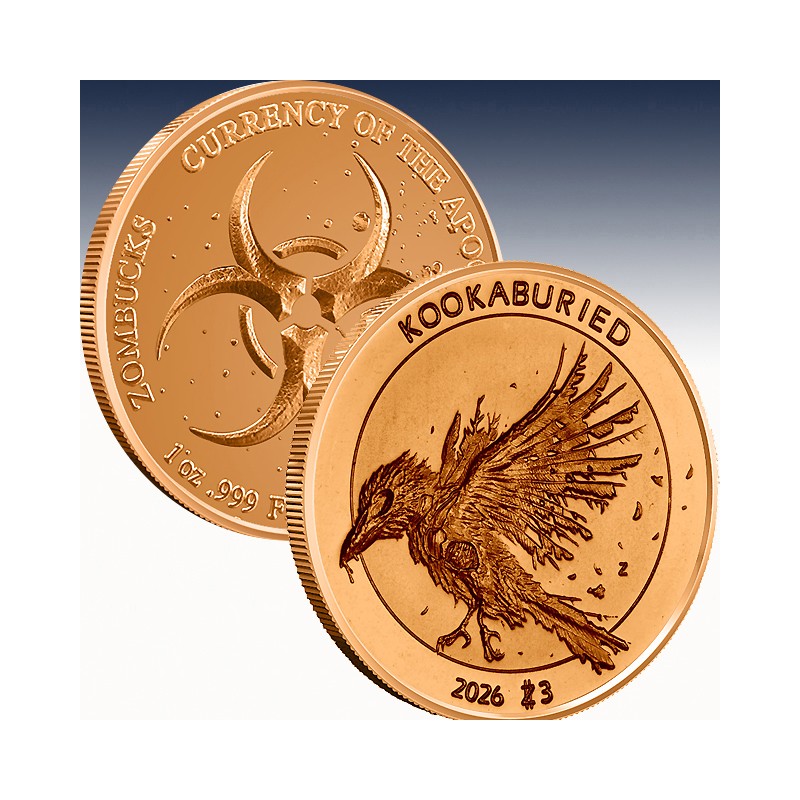 | | | |
| --- | --- | --- |
| Hersteller: |   | Provident Mint |
| Steuersatz: |   | 19% |
| Prägung: |   | Stempelglanz |
| Stückelung: |   | 1 x 1 Unze |
| Material: |   | Silber |
| Feinheit: |   | 999/1000 |
| Gewicht: |   | 28,349 Gramm |
| Verpackung: |   | zip-Tüte |
| Durchmesser: |   | 39 mm |