Gold 1.863,05 Eur
Silber 21,38 Eur
Platin 855,59 Eur
Palladium 879,72 Eur
(49) 2935 - 3 390 375
Europaweite Lieferung
Europaweite Lieferung
Gold 1.863,05 Eur
Silber 21,38 Eur
Platin 855,59 Eur
Palladium 879,72 Eur
SILBER 15,39 EUR
PLATIN 853,48 EUR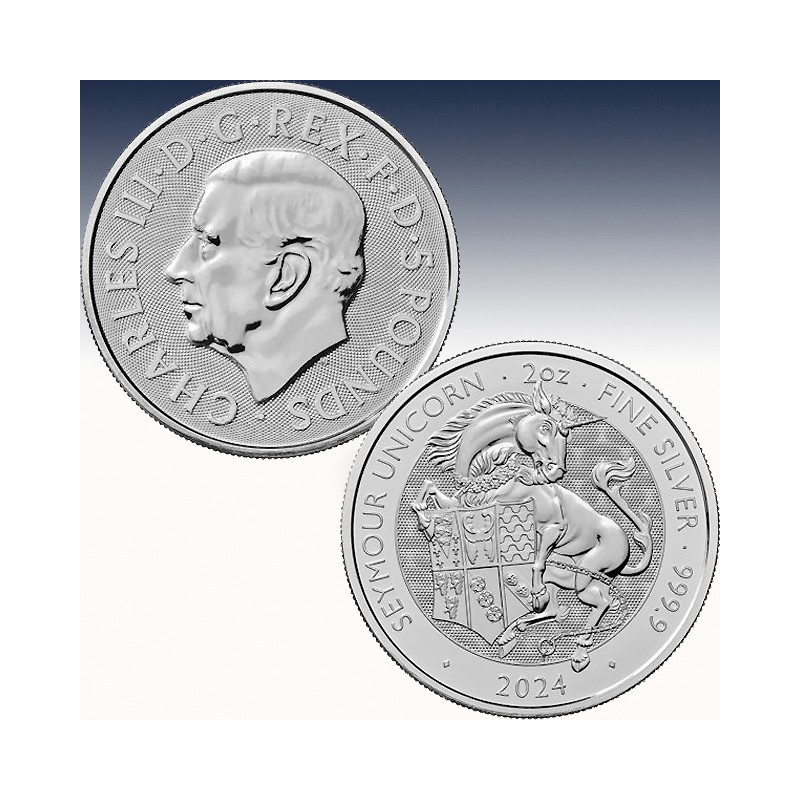  
1 x 2 Oz Silbermünze 5 Pfd Vereinigtes Königreich The Tudor Beasts "The Seymour Unicorn 2024" -BU-*
| | | |
| --- | --- | --- |
| Hersteller: |   | Royal Mint |
| Nennwert: |   | 5 Pfd |
| Prägejahr: |   | 2022 |
| Stückelung: |   | 1 x 2 Unze |
| Material: |   | Silber |
| Feinheit: |   | 999/1000 |
| Gewicht: |   | 62,206 Gramm |
| Verpackung: |   | Zip-Tüte |
| Durchmesser: |   | 38,61x6 mm |
1 x 2 Unze (oz) Silbermünze 5 Pfd Vereinigtes Königreich
The Tudor Beasts "Das Seymour Einhorn 2024 #4"
(diff.besteuert nach §25a UStG)
The fifth release in The Royal Tudor Beasts collection features The Seymour Unicorn. This .999 fine silver proof coin has a limited availability of only 5,500 coins in this limited-edition presentation style along with a certificate of authenticity.

Coin Highlights:

Contains 1 oz of .999 fine silver.
Obverse: Displays the image of His Majesty King Charles III along with the face value of 2 pounds.
Reverse: Created by David Lawrence, the design showcases The Seymour Unicorn, a heraldic beast representing purity and fertility which was giving to Jane Seymour by Henry VIII. Lawrence's design is based upon the original stone beast at Hampton Court Palace.
This 1 oz proof release also features an edge inscription, "Hampton Court Palace - Royal Tudor Beasts."
Sovereign coin minted by The Royal Mint and backed by the British government.

The Royal Tudor Beasts from The Royal Mint
Starting off in 2022 to follow the conclusion of their widely popular series The Queen's Beasts, The Royal Mint released The Royal Tudor Beasts series opening with the Seymour Panther followed shortly after by the Lion of England. This long awaited 10-coin series will include gold and silver proofs, among them this 1 oz silver proof, that feature these heraldic beasts of the Tudor legacy: The Seymour Panther, The Lion of England, The Bull of Clarence, The Tudor Dragon, The Greyhound of Richmond, The Royal Dragon, The Yale of Beaufort, The Seymour Unicorn, The Queen's Panther and The Queen's Lion.
Technische Daten
Gewicht

62.206

Material

Silber

Jahreszahl

2024

Preis-Addition

18.5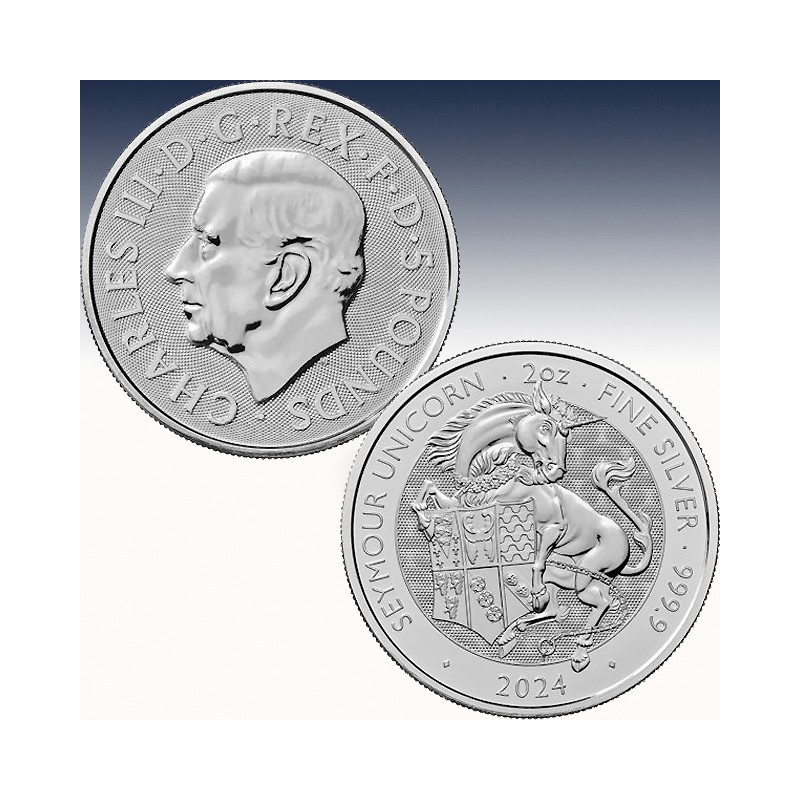 | | | |
| --- | --- | --- |
| Hersteller: |   | Royal Mint |
| Nennwert: |   | 5 Pfd |
| Prägejahr: |   | 2022 |
| Stückelung: |   | 1 x 2 Unze |
| Material: |   | Silber |
| Feinheit: |   | 999/1000 |
| Gewicht: |   | 62,206 Gramm |
| Verpackung: |   | Zip-Tüte |
| Durchmesser: |   | 38,61x6 mm |