Gold 1.688,05 Eur
Silber 21,34 Eur
Platin 958,18 Eur
Palladium 1.792,00 Eur
(49) 2935 - 3 390 375
Europaweite Lieferung
Europaweite Lieferung
Gold 1.688,05 Eur
Silber 21,34 Eur
Platin 958,18 Eur
Palladium 1.792,00 Eur
SILBER 15,39 EUR
PLATIN 853,48 EUR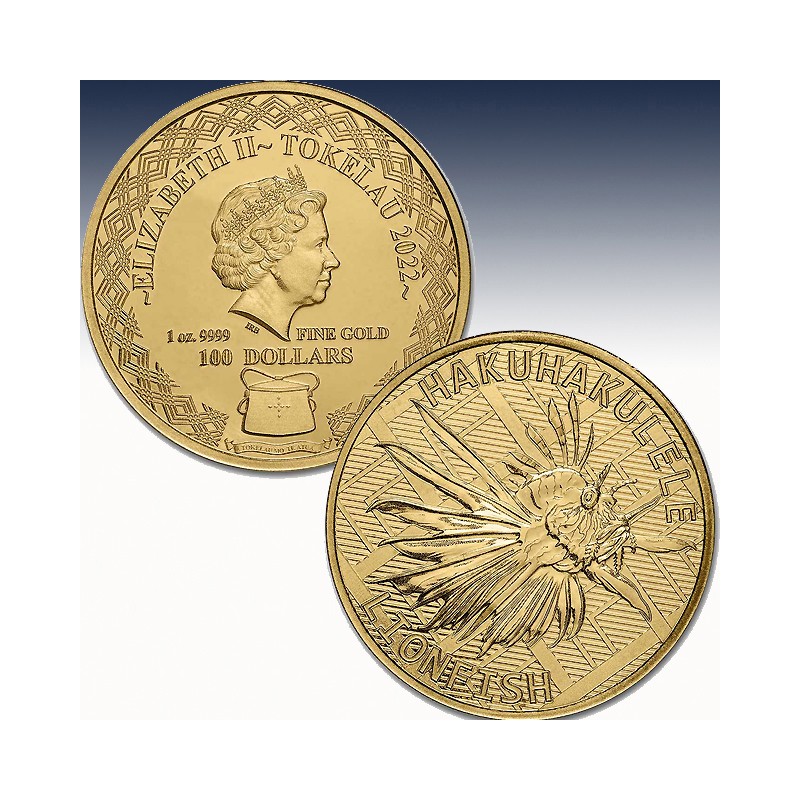  
1 x 1 Oz Gold Tokelau 100$ "Lionfish 2022" -BU-
| | | |
| --- | --- | --- |
| Herkunftsland: |   |  Tokelau |
| Nennwert: |   | 100 TK-Dollar |
| Prägung: |   | Stempelglanz |
| Stückelung: |   | 1 x 1 Unze |
| Material: |   | Gold |
| Feinheit: |   | 999/1000 |
| Gewicht: |   | 31,135 Gramm |
| Durchmesser: |   | 34,00mm |
| Auflage: |   |  100 Stück |
1 x 1 Unze (OZ) Godmünze 100$ Tokelau "Lionfish 2022" -BU-
This Lionfish has a limited mintage of only 100 coins worldwide and is the third issue of this popular series in 1 oz of .9999 fine Gold. This 2022 coin from the tropical New Zealand territory of Tokelau features a Lionfish.

Coin Highlights

Contains 1 oz of .9999 fine Gold.
Mintage of only 100 worldwide.
Coins will be in protective capsules.
Obverse: The likeness of Queen Elizabeth II along with the national symbol of Tokelau, Tuluma. Tuluma is a wooden tackle box used by the fishermen of Tokelau, inscribed with "Tokelau mot e Atua," meaning "Tokelau for God," referencing the impact of Christianity in Tokelau.
Reverse: Features a Lionfish, a fish with tentacles above their eyes and below their mouth with fan-like pectoral fins and long spines, and graphics in the background to represent the water of the ocean.
Sovereign coin backed by the government of Tokelau.
2022 Tokelau Fish Series: 1 oz Gold Lionfish
The Tokelau Fish Series began in 2014, quickly gaining popularity and recognition. In 2020, the program updated to include limited mintages and updated modern artwork as well as becoming a series exclusive to APMEX. The reverse design changes annually to feature a variety of species of fish, making this series even more popular and collectible. Along with the new designs, the program has now created Gold coins for the previous three releases – providing collectors with more options than ever before!

Tokelau
The country of issue, Tokelau, is comprised of three small coral atolls located in the South Pacific Ocean. Schools of fish are attracted to these isolated islands, including many different species like ruby snapper, yellowfin tuna, dolphinfish and sharks. In 2011, Tokelau declared 123,178 square miles to become a shark sanctuary. This sanctuary prohibits commercial fishing of all sharks and reduces shark mortality in its waters while causing an increase on all series of fish because they feel safer there due to the sanctuary status.
Tokelau gilt als einer der abgeschiedensten Orte der Welt. Die Bevölkerung von Tokelau lebt in drei Dörfern auf den jeweiligen Atollen. Tokelau ist ein von Neuseeland unabhängiges Gebiet mit 1411 Einwohnern (Oktober 2011) und einer Fläche von 12 km². 
Die Bewohner versorgen sich durch Fischfangund die Nutzung der Kokospalmenzum großen Teil selbst. Die Gewässer um Tokelau besitzen große Thunfischbestände. Ärztliche Leistungen und Medikamente sind für die Tokelauer kostenlos. Deshalb benötigen sie nur wenig Geld. Tokelau war das letzte Land der Erde, in dem Bargeld eingeführt wurde.
Bekannt geworden ist Tokelau im Internetdurch die kostenlose Vergabe der Top-Level-Domain.tk. Es ist aber nicht der Inselstaat selbst, der die Top-Level-Domains vergibt, sondern ein Investor, der das Nutzungsrecht an der Adresse erwarb.
Technische Daten
Gewicht

31.103

Material

Gold

Jahreszahl

2022

Preis-Addition

275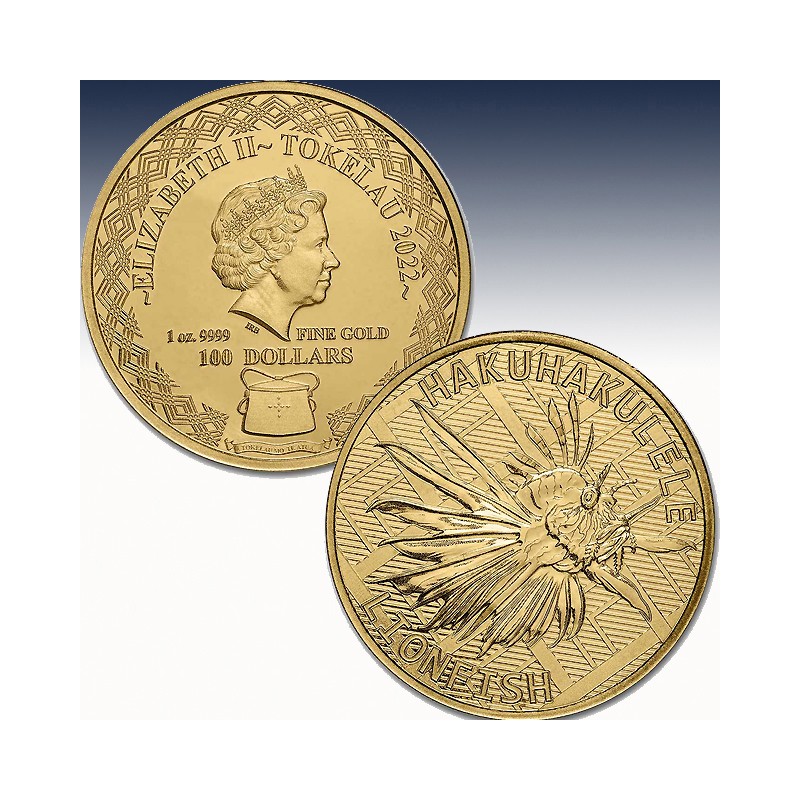 | | | |
| --- | --- | --- |
| Herkunftsland: |   |  Tokelau |
| Nennwert: |   | 100 TK-Dollar |
| Prägung: |   | Stempelglanz |
| Stückelung: |   | 1 x 1 Unze |
| Material: |   | Gold |
| Feinheit: |   | 999/1000 |
| Gewicht: |   | 31,135 Gramm |
| Durchmesser: |   | 34,00mm |
| Auflage: |   |  100 Stück |