Gold 1.735,85 Eur
Silber 20,28 Eur
Platin 864,72 Eur
Palladium 1.826,00 Eur
(49) 2935 - 3 390 375
Europaweite Lieferung
Europaweite Lieferung
Gold 1.735,85 Eur
Silber 20,28 Eur
Platin 864,72 Eur
Palladium 1.826,00 Eur
SILBER 15,39 EUR
PLATIN 853,48 EUR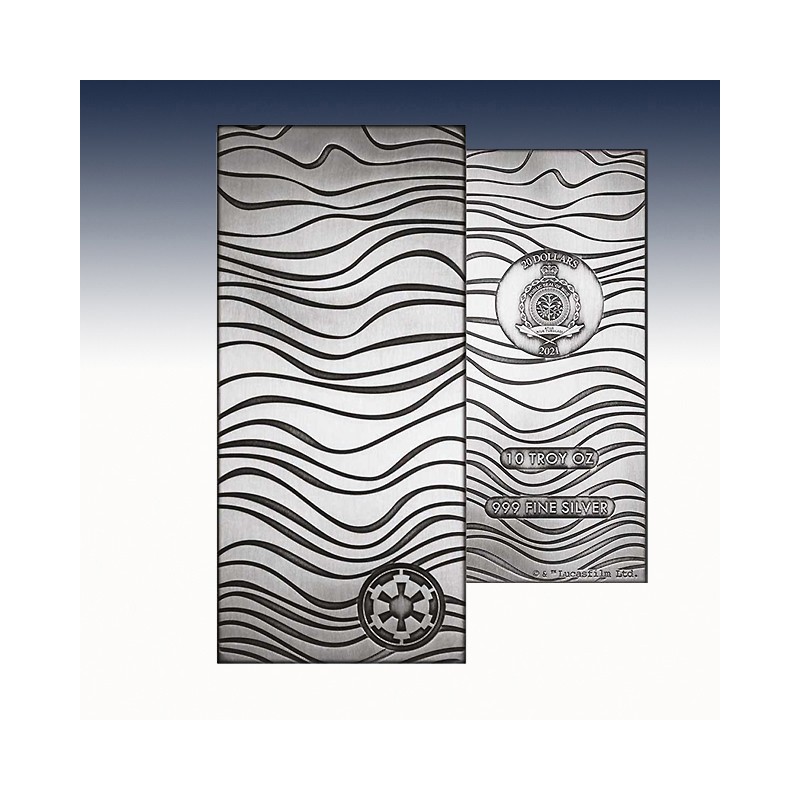  
1 x 10 Oz Silberbarren 20$ Niue "Star Wars - Mandalorian Beskar Bar 2022" -BU-*
| | | |
| --- | --- | --- |
| Hersteller: |   | New Zealand Mint |
| Nennwert: |   | 20 AUD |
| Prägung: |   | Stempelglanz |
| Stückelung: |   | 1 x 10 Unze |
| Material: |   | Silber |
| Feinheit: |   | 999/1000 |
| Gewicht: |   | 311,03 Gramm |
| Durchmesser: |   |  110x49.50 mm |
| Auflage: |   | 3.000 Stück |
1 x 10 Oz Silberbarren 20$ "20$ Niue
"Star Wars - Mandalorian Beskar Bar 2022"

(diff.besteuert nach §25a UStG)
Mandalorian body armor is made of one of the most precious metals in the galaxy. When not being used to protect the famed bounty hunter they are melted down into Beskar ingots for exchange. Now you can own precious metal "Beska

Coin Highlights:
Contains 10 oz of .999 fine Silver.
The only officially licensed precious metal Beskar ingots worldwide are APMEXclusive
Worldwide mintage of 3,000 Beskar bar coins.
Coin comes in protective packaging.
Obverse: Displays the Niue coat of arms along with the face value, the year of issue, weight, purity and official copyright of Lucasfilm for further authentication.
Reverse: Features the officially licensed rippled surface and Galactic Imperial stamp of a Beskar ingot as seen in The Mandalorian series on Disney Plus.
Issued by the sovereign government of Niue.
This officially licensed STAR WARS™ - Mandalorian™ Antique finish coin was struck from 10 ounces of 99.9% silver and replicates an ingot of Mandalorian iron Beskar.
The coin features the characteristic wave shape that Beskar ingots are stamped with, and also includes the logo of the Galactic Empire. The reverse features the Niue coat of arms as well as the denomination, year of issue, weight, fineness and official copyright.
Beskar is an extremely strong alloy that was used in Mandalorian armor and was characterized by a high tolerance to damage of various kinds.
Thus, the metal was durable enough to withstand a direct blaster shot and repel lightsaber strikes.
It is not without reason that Beskar is one of the most valuable metals in the entire galaxy.
The Mandalorians have an almost religious relationship with Beskar and are convinced that it belongs exclusively in the hands of their people.
With this highlight for fans of the STAR WARS™ - Mandalorian™ series, collectors and investors now have the opportunity to bring the legendary bar into their possession.
The uniquely shaped Antique Finish coin is delivered in a protective coin capsule.
Niue ist eine isolierte Koralleninsel im Südpazifik in der Nähe von Tonga, 2.400 km nordöstlich von Neuseeland. Sie liegt südlich von Samoa und westlich der Cookinseln.
Technische Daten
Gewicht

311.03

Material

Silber

Jahreszahl

2022

Preis-Addition

365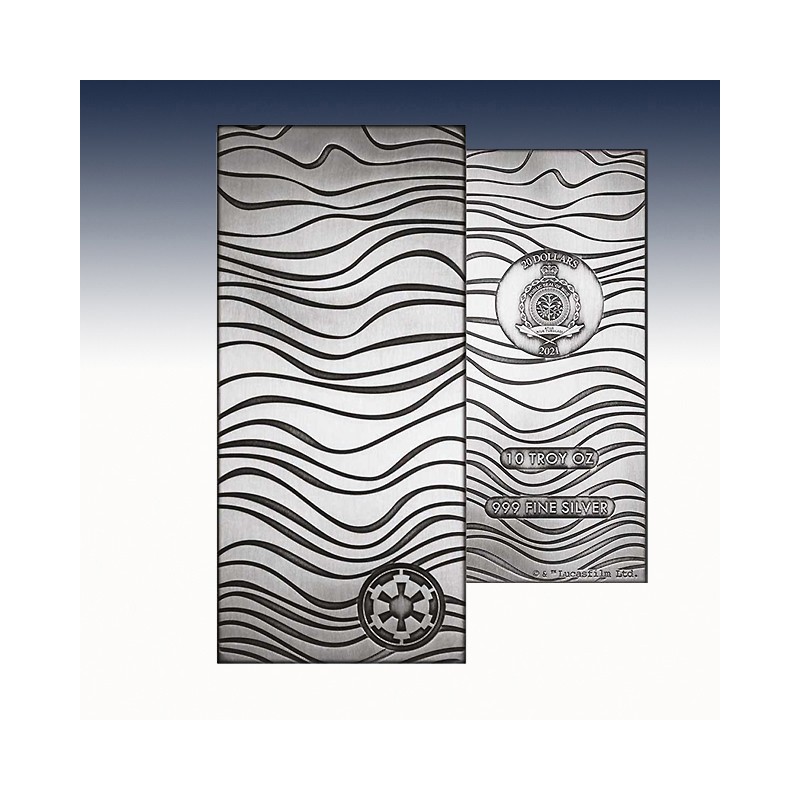 | | | |
| --- | --- | --- |
| Hersteller: |   | New Zealand Mint |
| Nennwert: |   | 20 AUD |
| Prägung: |   | Stempelglanz |
| Stückelung: |   | 1 x 10 Unze |
| Material: |   | Silber |
| Feinheit: |   | 999/1000 |
| Gewicht: |   | 311,03 Gramm |
| Durchmesser: |   |  110x49.50 mm |
| Auflage: |   | 3.000 Stück |