Gold 1.688,86 Eur
Silber 21,33 Eur
Platin 958,38 Eur
Palladium 1.798,00 Eur
(49) 2935 - 3 390 375
Europaweite Lieferung
Europaweite Lieferung
Gold 1.688,86 Eur
Silber 21,33 Eur
Platin 958,38 Eur
Palladium 1.798,00 Eur
SILBER 15,39 EUR
PLATIN 853,48 EUR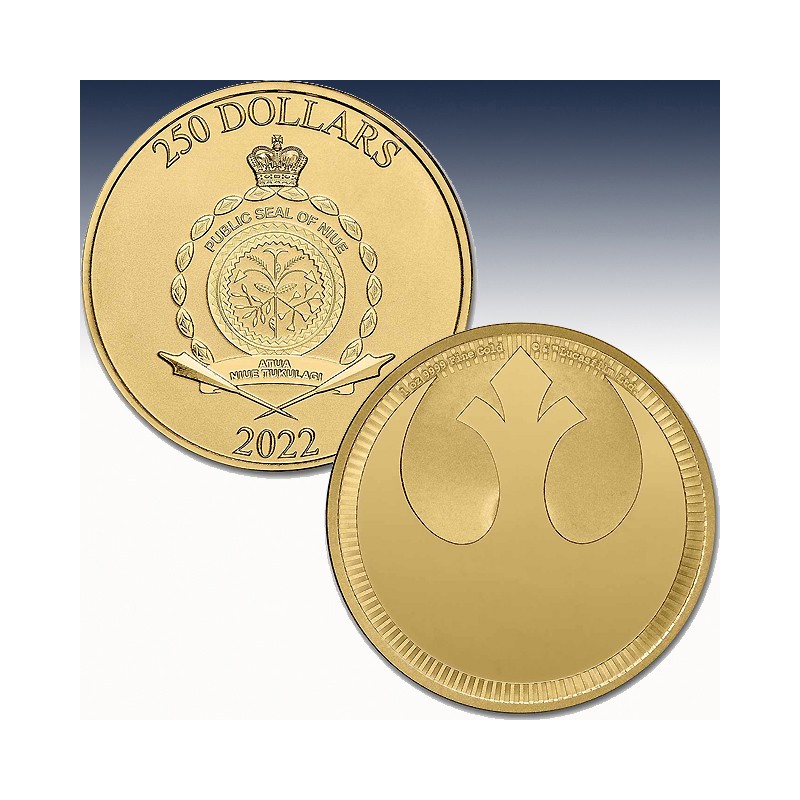  
1 x 1 oz Goldmünze 250$ Niue "Star Wars - Rebel Alliance Bullion 2022" -BU-
| | | |
| --- | --- | --- |
| Herkunft: |   | Niue |
| Nennwert: |   | 250$ NZD |
| Prägung: |   | Stempelglanz |
| Stückelung: |   | 1 x 1 Unze |
| Material: |   | Gold |
| Feinheit: |   | 999,9/1000 |
| Gewicht: |   | 31,10 Gramm |
| Verpackung: |   | gekapselt |
| Durchmesser: |   | 32,00 mm |
| Auflage: |   | 250 Stück |
1 x 1 Unze (oz) Goldmünze 250$ Niue Star Wars - Rebel Alliance Bullion 2022"
Following the Galactic Empire Bullion comes the third release in the Symbols of Star Wars series exclusively from APMEX. This coin features the officially licensed Symbol of the Galactic Rebel Alliance in .9999 fine Gold!

Coin Highlights:

Contains 1 oz of .9999 fine Gold.
Worldwide mintage of only 250 coins.
Coin comes in a protective capsule.
Obverse: Displays the Niue coat of arms along with the face value and the year of issue.
Reverse: Features the officially licensed Rebel Alliance Starbird Symbol from Star Wars. The reverse also features the metal content, purity, and the Lucasfilm copyright for further authentication.
Issued by the sovereign government of Niue.


Be sure to grab this highly collectible coin stamped in .9999 fine Gold. These official Star Wars Rebel Alliance coins make the perfect gift for Star Wars fans, numismatists and investors.


Star Wars Rebel Alliance Starbird

Following the collapse of the Galactic Republic into the Galactic Empire, an alliance of star systems rebelled and thus began the Galactic Civil War. As a symbol of that alliance, rebel leaders such as Leia Organa would adopt the starbird or phoenix which had appeared informally in anti-Imperial graffiti, in response to the demise of Galen Marek whose family crest bore the same symbol. Marek, an apprentice to Darth Vader, turned from the Dark side and sacrificed himself to protect the leaders who would go on to found the Rebel Alliance. This symbol would appear on the helmets, starships and other equipment of the alliance. Thanks to the leadership of Leia Organa, Admiral Ackbar, Han Solo, Luke Skywalker and many others the Rebellion would eventually be victorious.
Technische Daten
Gewicht

31.103

Material

Gold

Jahreszahl

2022

Preis-Addition

330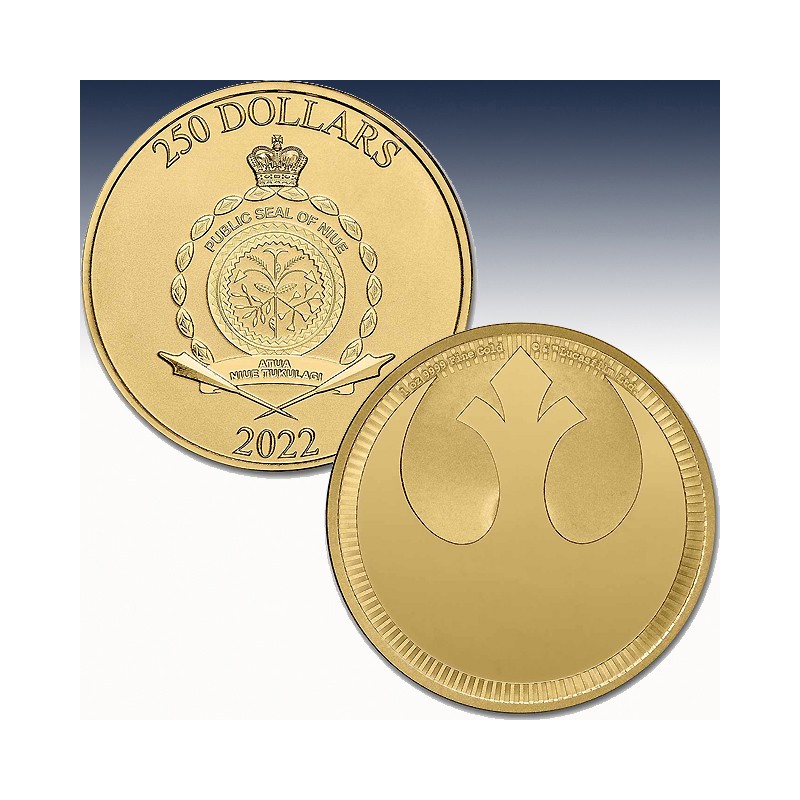 | | | |
| --- | --- | --- |
| Herkunft: |   | Niue |
| Nennwert: |   | 250$ NZD |
| Prägung: |   | Stempelglanz |
| Stückelung: |   | 1 x 1 Unze |
| Material: |   | Gold |
| Feinheit: |   | 999,9/1000 |
| Gewicht: |   | 31,10 Gramm |
| Verpackung: |   | gekapselt |
| Durchmesser: |   | 32,00 mm |
| Auflage: |   | 250 Stück |