Gold 1.758,51 Eur
Silber 21,34 Eur
Platin 923,29 Eur
Palladium 1.487,39 Eur
(49) 2935 - 3 390 375
Europaweite Lieferung
Europaweite Lieferung
Gold 1.758,51 Eur
Silber 21,34 Eur
Platin 923,29 Eur
Palladium 1.487,39 Eur
SILBER 15,39 EUR
PLATIN 853,48 EUR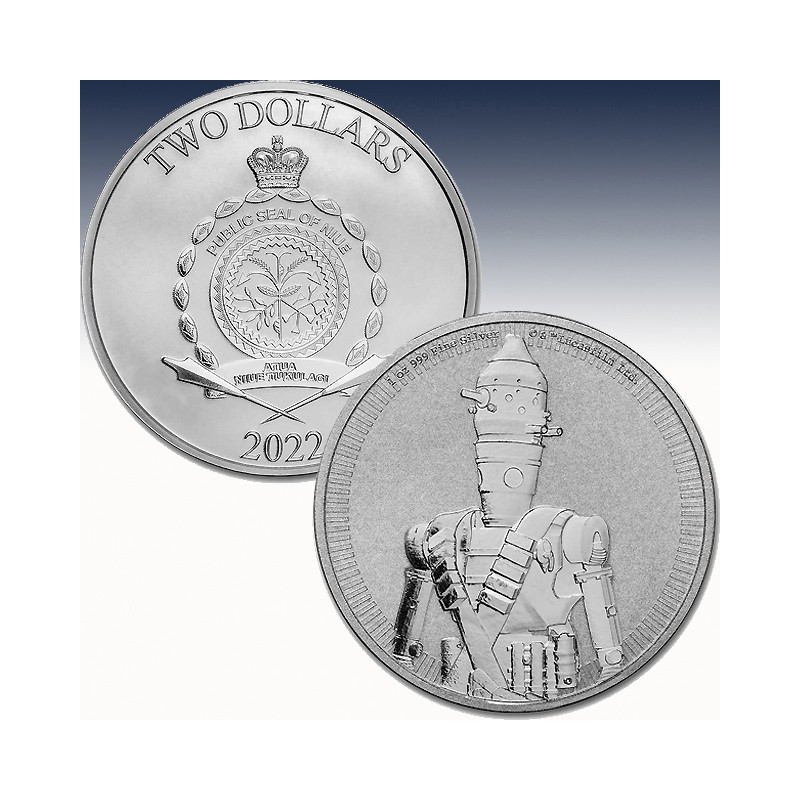  
1 x 1 oz Silbermünze 2$ Niue "Star Wars - IG-11 2022" -BU-*
| | | |
| --- | --- | --- |
| Herkunftsland: |   | NZ Mint |
| Nennwert: |   | 2 x 1$ NZ |
| Prägung: |   | Stempelglanz |
| Stückelung: |   | 1 x 1 Unze |
| Material: |   | Silber |
| Feinheit: |   | 999/1000 |
| Gewicht: |   | 31,103 Gramm |
| Durchmesser: |   |  je 40,60 mm |
| Auflage: |   | 25.000 Stück |
1 x 25 x 1 Unze (oz) Silbermünze  2$ Niue
"Star Wars - IG-11 2022"

(diff.besteuert nach §25a UStG)     

This is the third release in the Star Wars Mandalorian series featuring the IG-11 assassin droid from the hit show on Disney+. Grow your Precious Metals investment in highly collectible Star Wars Silver bullion!

Coin Highlights:
Contains 1 oz of .999 fine Silver.
Worldwide mintage of only 25,000 coins!
A single coin comes in a protective capsule. Multiples of 20 come in plastic tubes. Multiples of 200 come in themed Monster Boxes.
Obverse: Displays the Niue coat of arms along with the face value and the year of issue.
Reverse: Features the officially licensed image of the IG-11 assassin droid as seen in The Mandalorian streaming series on Disney+. The reverse also features the metal content, purity, and the Lucasfilm copyright for further authentication.
Issued by the sovereign government of Niue.


Star Wars The Mandalorian: IG-11
IG-11 is an assassin droid that functioned as a bounty hunter at the time of the new galactic republic following the events of Return of the Jedi. IG-11 features in the Mandalorian series on Disney+ as a rival bounty hunter to the main protagonist, the Mandalorian. The two characters meet on a bounty to kill the young Grogu or "Baby Yoda" and work together to take out the Nikto mercenaries guarding him. Upon discovering the target of the bounty, however, the Mandalorian, Din Djarin would destroy IG-11. Later the droid would be reassembled and reprogramed into a protector rather than a threat for the young padawan.

Explore the Galaxy Far, Far Away
In 1977, pop culture changed forever with the introduction of George Lucas' famed series, Star Wars. The worldwide phenomenon expanded to many films, comic, books, televisions series, video games and theme park attractions. Star Wars is currently (as of 2021) the fifth-highest-grossing media franchise of all time. Star Wars has made its way into all mediums of pop culture with a memorable storyline and beloved characters like R2-D2, Darth Vader, Yoda and many more.
Diese Sammlermünze wird als ganze Unze herausgegeben und besteht aus 99,9 Prozent Feinsilber"!
Sie hat einen Durchmesser von 40,60 mm. 
Auch diese Silbermünze gilt als gesetzliches Zahlungsmittel in ihren Herausgeberland Australien.
Gekapselt geliefert wird diese besondere Ausgabe. 
Jede dieser wunderschönen Silverround enthält 999/1000 Feinsilber und wurde im wunderschönem "Brilliant uncirculated" geprägt.
Technische Daten
Gewicht

31.103

Material

Silber

Jahreszahl

2022

Preis-Addition

12.8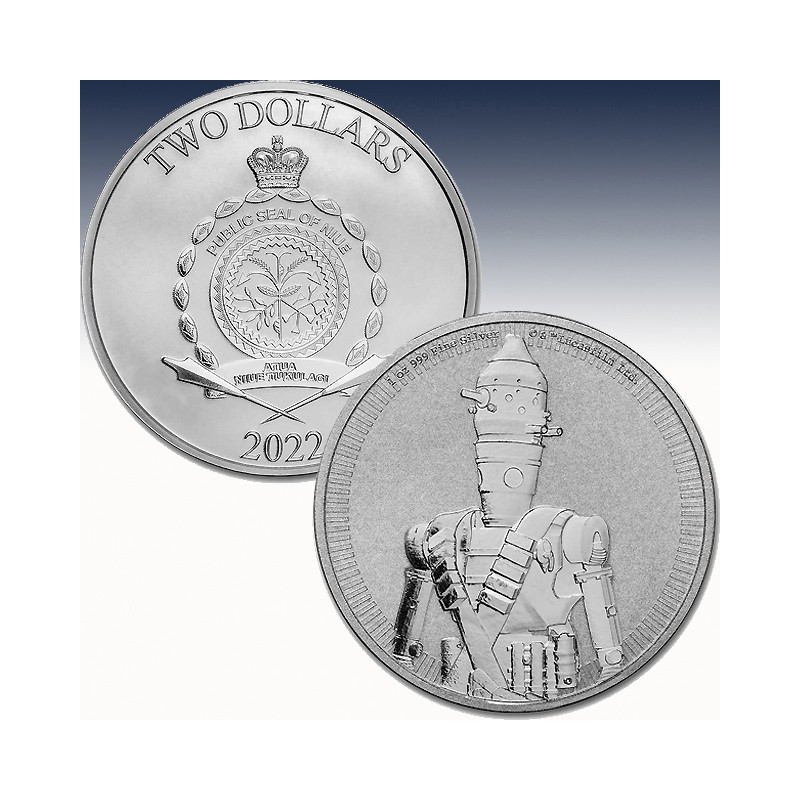 | | | |
| --- | --- | --- |
| Herkunftsland: |   | NZ Mint |
| Nennwert: |   | 2 x 1$ NZ |
| Prägung: |   | Stempelglanz |
| Stückelung: |   | 1 x 1 Unze |
| Material: |   | Silber |
| Feinheit: |   | 999/1000 |
| Gewicht: |   | 31,103 Gramm |
| Durchmesser: |   |  je 40,60 mm |
| Auflage: |   | 25.000 Stück |