Gold 1.759,60 Eur
Silber 21,36 Eur
Platin 923,60 Eur
Palladium 1.492,61 Eur
(49) 2935 - 3 390 375
Europaweite Lieferung
Europaweite Lieferung
Gold 1.759,60 Eur
Silber 21,36 Eur
Platin 923,60 Eur
Palladium 1.492,61 Eur
SILBER 15,39 EUR
PLATIN 853,48 EUR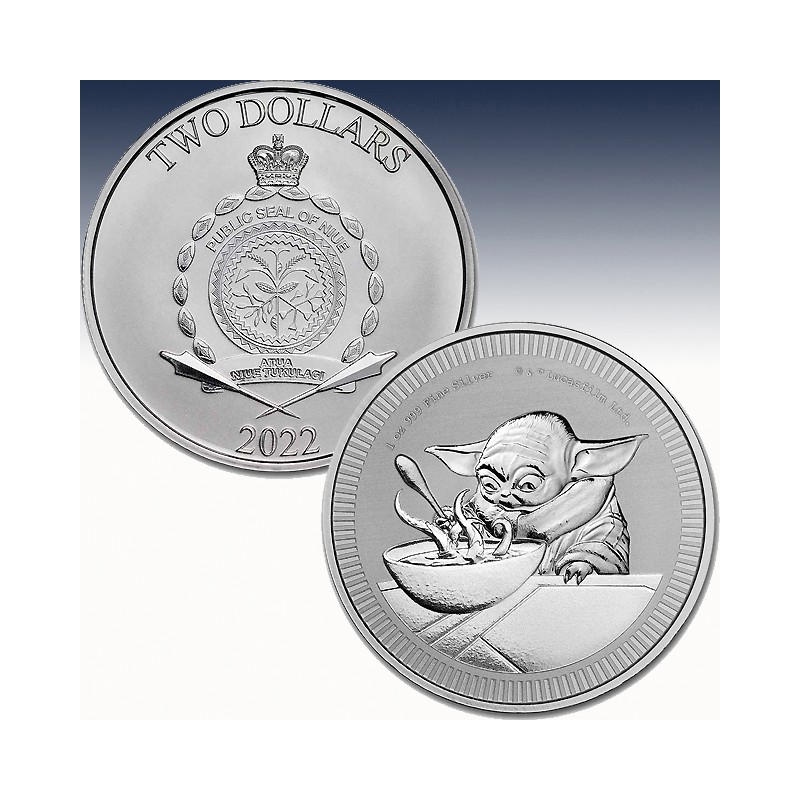  
1 x 1 Unze Silbermünze 2$ Niue "Star Wars - Grogu "Baby Yoda 2022" -BU-*
| | | |
| --- | --- | --- |
| Herkunft: |   | Niue |
| Nennwert: |   | 2$ NZD |
| Prägung: |   | Stempelglanz |
| Stückelung: |   | 1 x 1 Unze |
| Material: |   | Silber |
| Feinheit: |   | 999,9/1000 |
| Gewicht: |   | 31,10 Gramm |
| Verpackung: |   | zip-Tüte |
| Durchmesser: |   | 39x2,98 mm |
| Auflage: |   | 25.000 Stück |
1 x 1 Unze (oz) Silbermünze 2$ Niue Star Wars - Grogu "Baby Yoda 2022"
(diff.besteuert nach §25a UStG)
Continuing the popular APMEXclusive® Star Wars Mandalorian series, this release features the iconic Grogu, also known as Baby Yoda, from the Disney+ show, The Mandalorian. It is perfect for any fan of this legendary film and television series.

Coin Highlights:
Contains 1 oz of .999 fine Silver.
Worldwide mintage of only 25,000 coins.
Coin comes in protective packaging. Multiples of 20 come in plastic tubes.
Obverse: Depicts the Niue coat of arms, the face value and the year of issue.
Reverse: Shows the officially licensed depiction of Grogu from the Disney+ series The Mandalorian, sitting at a table eating a bowl of soup. The metal content, purity and Lucasfilm copyright are also displayed on the reverse.
Issued by the sovereign government of Niue.

Star Wars: Grogu "The Child" (aka Baby Yoda)
Created by Jon Favreau, the popular Disney+ series The Mandalorian follows Grogu and Din Djarin as they journey across the galaxy. Grogu, also referred to as "The Child," is from the same green-skinned species as the Jedi Master Yoda and trained under the Jedi Order before it was besieged during the fall of the Galactic Republic. Although the other younglings perished, Grogu was saved and hidden away for his security. Countless bounty hunters sought after Grogu, but none were able to find him – until Din Djarin. Din Djarin, also known as the Lone Mandalorian, ultimately becomes Grogu's protector and travel companion. The small green Baby Yoda quickly became one of the most adored characters in the Star Wars universe, and the two The Mandalorian seasons currently available have received critical acclaim.
Technische Daten
Gewicht

31.103

Material

Silber

Jahreszahl

2022

Preis-Addition

7.5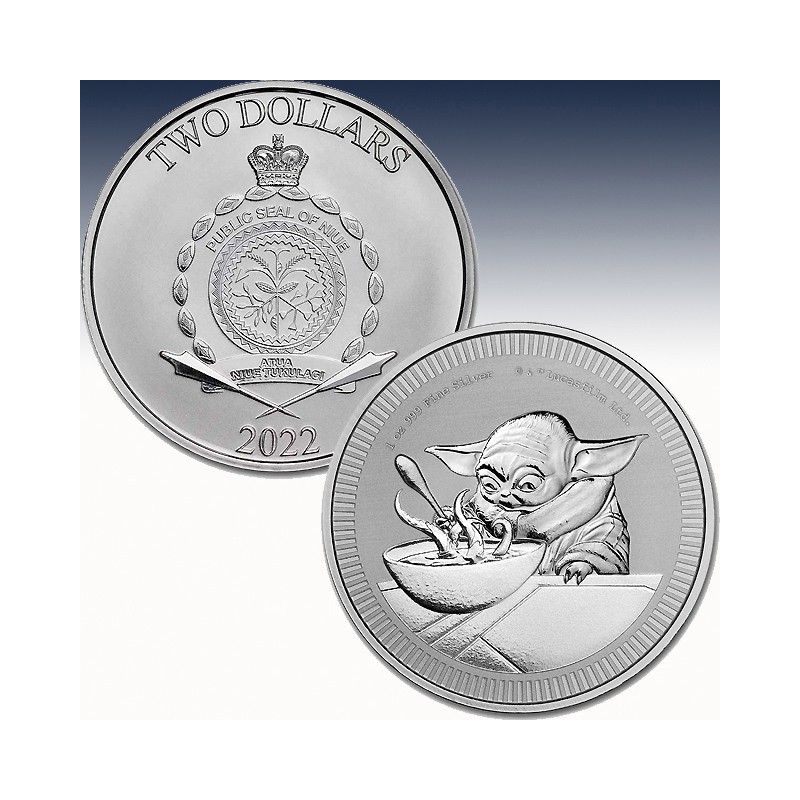 | | | |
| --- | --- | --- |
| Herkunft: |   | Niue |
| Nennwert: |   | 2$ NZD |
| Prägung: |   | Stempelglanz |
| Stückelung: |   | 1 x 1 Unze |
| Material: |   | Silber |
| Feinheit: |   | 999,9/1000 |
| Gewicht: |   | 31,10 Gramm |
| Verpackung: |   | zip-Tüte |
| Durchmesser: |   | 39x2,98 mm |
| Auflage: |   | 25.000 Stück |