(49) 2935 - 3 390 375
Europaweite Lieferung
Europaweite Lieferung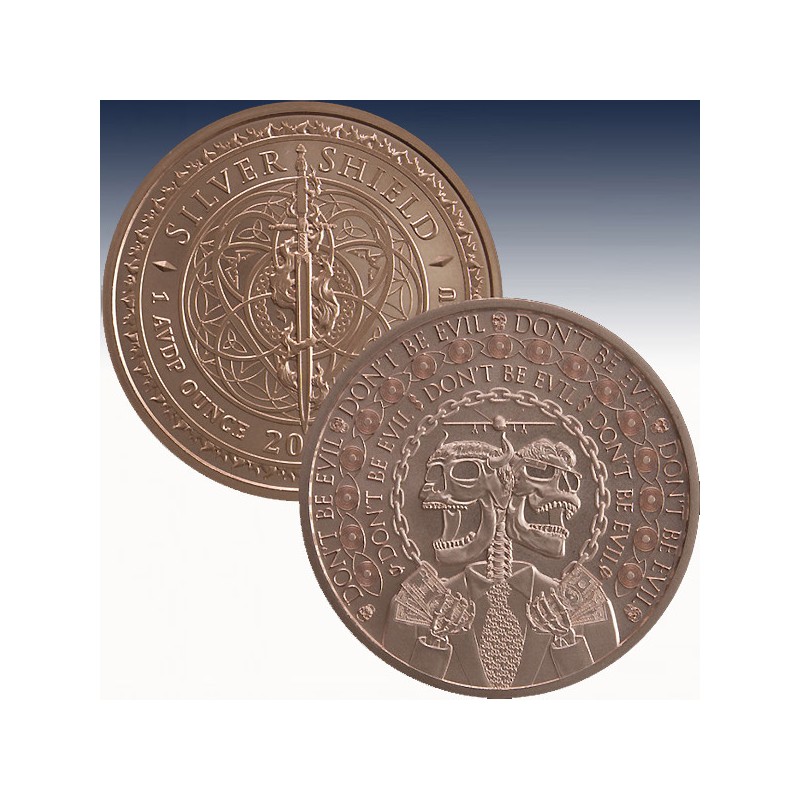  
1 x 1 oz Copperround Silver Shield "Don't Be Evil - MiniMintage 2019" -BU-
| | | |
| --- | --- | --- |
| Hersteller: |   | Silver Shield |
| Steuersatz: |   | 19% |
| Prägung: |   | Stempelglanz |
| Stückelung: |   | 1 x 1 Unze |
| Material: |   | Kupfer |
| Feinheit: |   | 999/1000 |
| Gewicht: |   | 28,49 Gramm |
| Verpackung: |   | zip-Tüte |
| Durchmesser: |   | 47 mm |
| Auflage: |   | - Stück |

Lieferbedingungen (bearbeiten im Modul "Kundenvorteile")

Rücksendebedingungen (bearbeiten im Modul "Kundenvorteile")
1 x 1 Unze (oz) Copper Round Silver Shield
"Dont Be Evil - MiniMintage 2019"
Diese Copperround ist mit einer der außergewöhnlichen Sammlung von "Silver Shield Group LLC." und dem Design von Chris Duane.

Jede neue Minimintage Serieausgabe ist zeitlich begrenzt! Die neue Ausgabe wird dann entsprechend der Verkaufzahlen des Motives von Golden State Mint Produziert.

Steigen Sie ein und kaufen Sie sich eines oder mehrere dieser begehrten Sammlerstücke!
I for one am very grateful Google and YouTube exist as they were both instrumental in my awakening and eventual career. The ability to researching for free and the ability to express ideas globally has changed my life and billions more forever. All of this occurred in the golden age of the Internet of wild freedom. That time has passed and we are entering into some dystopian future where a few can literally control the thoughts of humanity.

When Google created their unofficial motto of Dont Be Evil it posed a few questions to the nature of the company.

First and foremost is the ability for the company to be evil. It has a near monopoly on the flow of information. The unbelievable amount of access to information and private information in the wrong hands could empower psychopaths to exert even more control over individuals. Very few business even have the ability to be evil much less have the ability to do it in so many ways.

Those who control the present, control the past and those who control the past control the future. - George Orwell

Googles ability to alter search results and hide information has been evident in many cases. This promotes ideas they wish to make more popular and any oppositional ideas, simply disappear down the 1984 memory hole.

As we become more financially tied to the internet, the ability of Google demonetize sites with their ads provides an added level of control over the lives of others. Mind you this is only exerted in the Truth movement. You never here of gardening or self help businesses attacked in this way. Most often it is independent journalists and activists that have dedicated their lives to truth.

Google also poses as a private company, but works intimately with governmental agencies in the US but also in China. Where a recent revolt from employees over the controls China wanted Google to exert over its citizens.

The most powerful revolt came from more an 4,600 Google employees that signed a petition to end Googles participation in the Defense Departments Project Maven that would use Googles technology in warfare. While it seems the effort worked to pressure Google out of renewing the contract, I am sure it will not stop the more morally ambiguous talent from fulfilling that Government money. It does show that we can only make the difference in what we actively or passively accept in our world.

The amount of wealth it generates allows it to buy influence in ways the nature of their company cannot. And those that do the bidding of the company are rewarded with huge salaries and jobs in other areas of influence like that of government.

I think the most dangerous aspect of Google comes when AI comes online and will literally have the ability of a digital God. When this happens, it wont be held accountable by employees with morals. This is far too much power for any one to have, much less a private cabal.

The banning of others from their YouTube platform is an issue that is near and dear to my heart as I personally have worked every day here on YouTube creating over 1,700+ videos discussing a wide range of topics, knowing everyday that with a flip of a switch it could all disappear without any means of appeal.


This realization is one of the reasons why I am so passionate about the work I do with Silver Shield. No matter what happens with this online power, these Silver Shield strikes are a permanent reminder to future generations that not all were drunk on digital illusions or wealth and power.

The 2019 1 oz BU Dont Be Evil is a part of the Silver Shield InfoIndCom Series.
Jede dieser wunderschönen Copper Round enthält 999/1000 Feinkupfer und wurde im wunderschönem "Brilliant uncirculated" geprägt.
Pro Einheit mit 20 Münzen erfolgt die
Lieferung im Original - Münztube ohne Kapseln!
Technische Daten
Gewicht

31.103

Material

Silber

Jahreszahl

2019

Preis-Addition

7