(49) 2935 - 3 390 375
Europaweite Lieferung
Europaweite Lieferung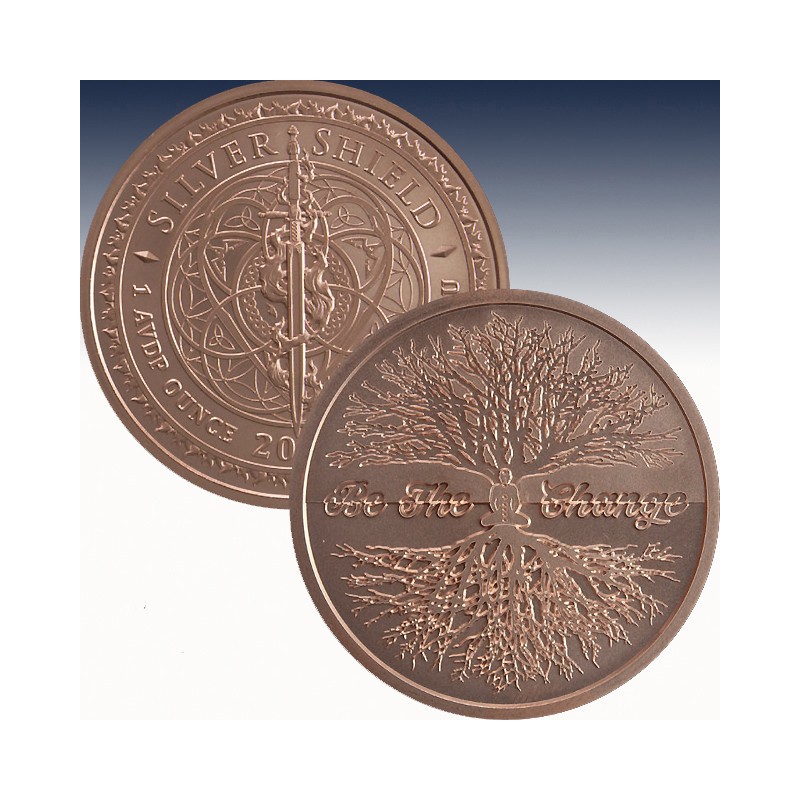  
1 x 1 oz Copperround Silver Shield "Be the Change - MiniMintage" -BU-
| | | |
| --- | --- | --- |
| Hersteller: |   | Silver Shield |
| Steuersatz: |   | 19% |
| Prägung: |   | Stempelglanz |
| Stückelung: |   | 1 x 1 Unze |
| Material: |   | Kupfer |
| Feinheit: |   | 999/1000 |
| Gewicht: |   | 28.349 Gramm |
| Verpackung: |   | zip-Tüte |
| Durchmesser: |   | 39 mm |
| Auflage: |   | - Stück |

Lieferbedingungen (bearbeiten im Modul "Kundenvorteile")

Rücksendebedingungen (bearbeiten im Modul "Kundenvorteile")
1 x 1 Unze (oz) Copper Round Silver Shield
"Be the Change - MiniMintage 2019"
Diese Copperround ist mit einer der außergewöhnlichen Sammlung von "Silver Shield Group LLC." und dem Design von Chris Duane.

Jede neue Minimintage Serieausgabe ist zeitlich begrenzt! Die neue Ausgabe wird dann entsprechend der Verkaufzahlen des Motives von Golden State Mint Produziert.

Steigen Sie ein und kaufen Sie sich eines oder mehrere dieser begehrten Sammlerstücke!
The entire Silver Shield collection has been divided into two distinct themes.

One part most famously exposing the power of lies in the Exoteric World run by the Debt and Death paradigm. The use of skulls or mocking has been the means in which the art changes the perception of this reality.

The other part of the Silver Shield collection has been aspirational. Using beauty to symbolize the real power of this reality in the Esoteric world. This power comes from our being.

What we are, is reflected by our outer world. This is the opposite of what we are indoctrinated with, to go out and change the world kid. We tell each other to go out into the world and try to change it. That is impossible as it only reinforces the cunning collectivist power there with fresh blood.

The only way to change the world truly is for people to recognize that they are the true source of power. That we can withdraw our power from anything that does not resonate with our inner purpose and focus all of our power into the only things we can effect change, in our thoughts, actions and immediate surroundings.

The world heals one conscious soul at a time.

Be The Change is a part of the Conscientia Series within the Silver Shield collection.

Jede dieser wunderschönen Copper Round enthält 999/1000 Feinkupfer und wurde im wunderschönem "Brilliant uncirculated" geprägt.
Pro Einheit mit 20 Münzen erfolgt die
Lieferung im Original - Münztube ohne Kapseln!
Technische Daten
Jahreszahl

2019