(49) 2935 - 3 390 375
Europaweite Lieferung
Europaweite Lieferung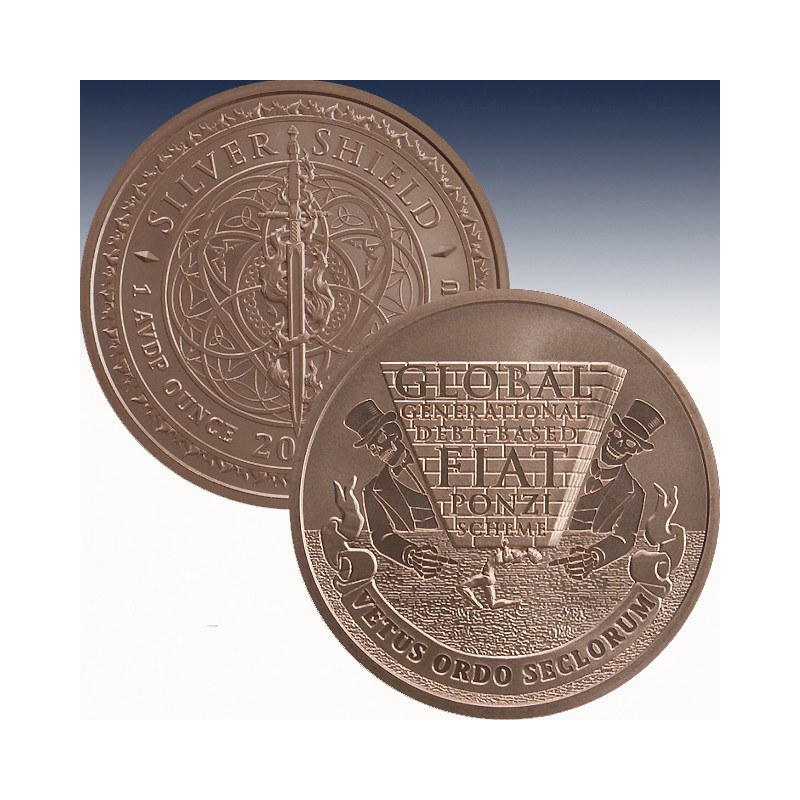  
1 x 1 oz Copperround Silver Shield "Global Ponzi 2019 - MiniMintage" -BU-
| | | |
| --- | --- | --- |
| Hersteller: |   | Silver Shield |
| Steuersatz: |   | 19% |
| Prägung: |   | Stempelglanz |
| Stückelung: |   | 1 x 1 Unze |
| Material: |   | Kupfer |
| Feinheit: |   | 999/1000 |
| Gewicht: |   | 28.349 Gramm |
| Verpackung: |   | zip-Tüte |
| Durchmesser: |   | 39 mm |
| Auflage: |   | 578 Stück |

Lieferbedingungen (bearbeiten im Modul "Kundenvorteile")

Rücksendebedingungen (bearbeiten im Modul "Kundenvorteile")
1 x 1 Unze (oz) Copper Round Silver Shield
"Global Ponzi - MiniMintage 2017"
Diese Copperround ist mit einer der außergewöhnlichen Sammlung von "Silver Shield Group LLC." und dem Design von Chris Duane.

Jede neue Minimintage Serieausgabe ist zeitlich begrenzt! Die neue Ausgabe wird dann entsprechend der Verkaufzahlen des Motives von Golden State Mint Produziert.

Steigen Sie ein und kaufen Sie sich eines oder mehrere dieser begehrten Sammlerstücke!
This is how collectivism thrives and individualism dies.

The single largest event in human history will be the collapse of the dollar and all the worlds digital illusions of wealth.

No other event in history will bring such global pain as it will not only result in economic, political, military and even spiritual upheaval.

When the collapse does happen, it will devastate all those not prepared as future generations will be cast into serfdom to never even have the chance of gaining wealth as they will no longer be able to use their labor to compete against Quantum Computers, Artificial Intelligence, and Advanced Robotics.

I guarantee that after the Global, Generational, Debt-Based, Fiat, Ponzi Scheme does collapse, the politicians, banksters, and media will say, no one saw this coming.

Those who stack the 2019 1 oz BU Silver Shield Global Ponzi will have literal proof that not everyone was drunk on the Debt and Death paradigm!

This strike will be legendary!
Jede dieser wunderschönen Copper Round enthält 999/1000 Feinkupfer und wurde im wunderschönem "Brilliant uncirculated" geprägt.
Pro Einheit mit 20 Münzen erfolgt die
Lieferung im Original - Münztube ohne Kapseln!