Gold 1.817,21 Eur
Silber 22,06 Eur
Platin 959,90 Eur
Palladium 1.303,86 Eur
(49) 2935 - 3 390 375
Europaweite Lieferung
Europaweite Lieferung
Gold 1.817,21 Eur
Silber 22,06 Eur
Platin 959,90 Eur
Palladium 1.303,86 Eur
SILBER 15,39 EUR
PLATIN 853,48 EUR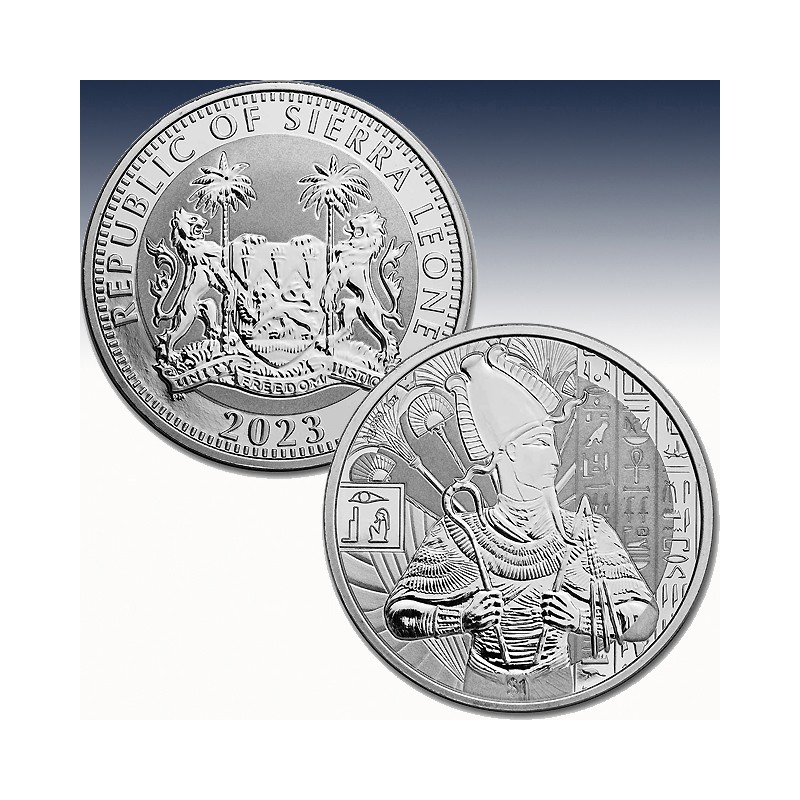  
1 x 1 Oz Silbermünze 1$ Rep. of Sierra Leone "Osiris - Reverse Frosted 2023" -BU-
| | | |
| --- | --- | --- |
| Hersteller: |   | PopJoy Mint |
| Steuersatz: |   | 19% |
| Prägung: |   | Stempelglanz |
| Stückelung: |   | 1 x 1 Unze |
| Material: |   | Silber |
| Feinheit: |   | 999/1000 |
| Gewicht: |   | 31,103 Gramm |
| Durchmesser: |   | 38,60 |
| Auflage: |   | 5.000 Stück |
1 x 1 Unze (oz) Silbermünze 1$ Rep. of Sierra Leon
"Egyptian Gods 3# Osiris - Reverse Frosted 2023"
                                                   
Pobjoy Mint is delighted to announce the release of a stunning new series of coins featuring the Egyptian gods.
This coin depicts Osiris —the Egyptian god of the underworld— known for his powers of fertility, agriculture, death, resurrection and life.

Coin Highlights:
Each coin contains 1 oz of .999 fine Silver.
Mintage limited to 5,000 coins.
Each coin comes in protective packaging. Multiples of 20 come in tubes.
Obverse: Depicts the Egyptian god, Osiris, holding his flail and shepherd's crook.
Reverse: Displays the Republic of Sierra Leone coat of arms.
Sovereign coin backed by the Sierra Leone government.
Jede dieser wunderschönen Silvercoin enthält 999/1000 Feinsilber und wurde im wunderschönem "Brilliant uncirculated" geprägt.
Technische Daten
Gewicht

31.103

Material

Silber

Jahreszahl

2023

Preis-Addition

7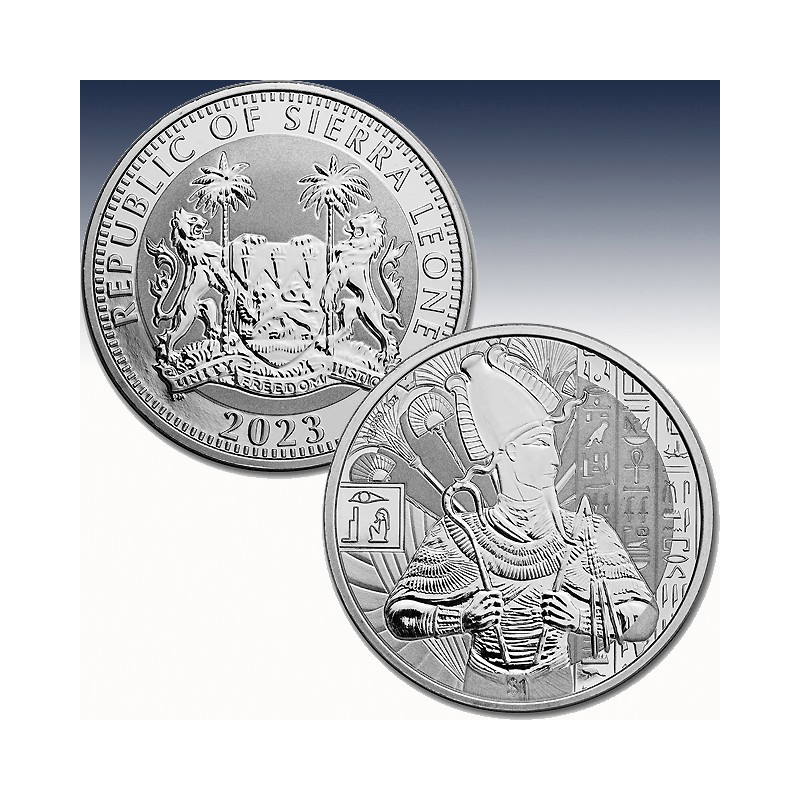 | | | |
| --- | --- | --- |
| Hersteller: |   | PopJoy Mint |
| Steuersatz: |   | 19% |
| Prägung: |   | Stempelglanz |
| Stückelung: |   | 1 x 1 Unze |
| Material: |   | Silber |
| Feinheit: |   | 999/1000 |
| Gewicht: |   | 31,103 Gramm |
| Durchmesser: |   | 38,60 |
| Auflage: |   | 5.000 Stück |