Gold 1.817,26 Eur
Silber 22,05 Eur
Platin 958,55 Eur
Palladium 1.303,22 Eur
(49) 2935 - 3 390 375
Europaweite Lieferung
Europaweite Lieferung
Gold 1.817,26 Eur
Silber 22,05 Eur
Platin 958,55 Eur
Palladium 1.303,22 Eur
SILBER 15,39 EUR
PLATIN 853,48 EUR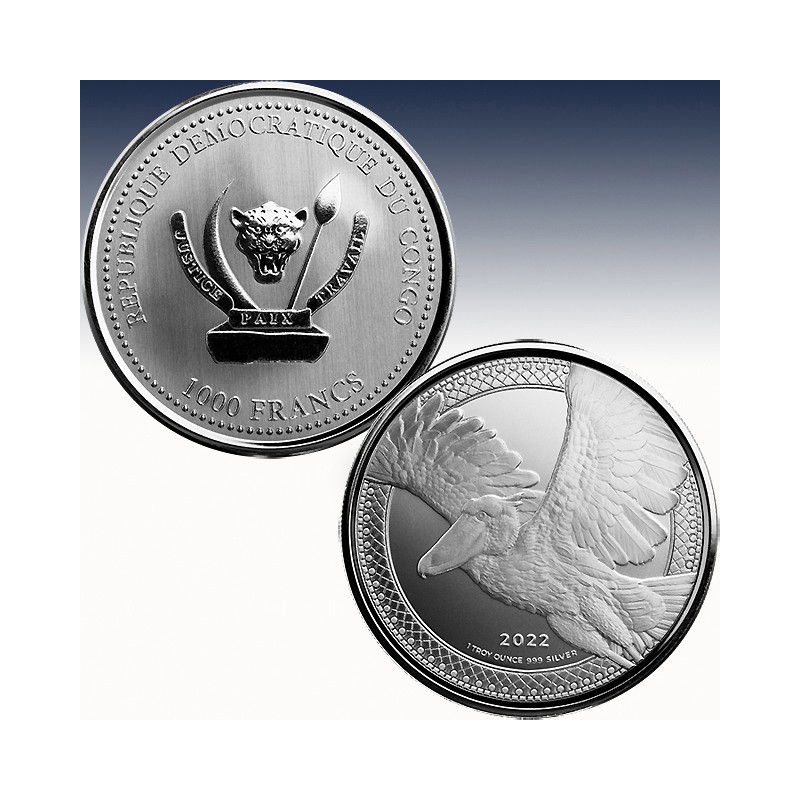  
1 x 1oz Silbermünze 1000 Democratic Republic of Congo "Shoebill Stork 2022" -PL- *
| | | |
| --- | --- | --- |
| Herkunftsland: |   | Rep. of Congo |
| Nennwert: |   | 1.000Francs CFA |
| Prägung: |   | Spiegelglanz |
| Stückelung: |   | 1 x 1 Unze |
| Material: |   | Silber |
| Feinheit: |   | 999/1000 |
| Gewicht: |   | 31,103 gramm |
| Durchmesser: |   |  39,00 mm |
| Auflage: |   | 20.000 Stück |
1 x 1oz Silbermünze 1000 Democratic Republic of Congo
"2# Schuhschnabelstorch 2022"
Wir präsentieren die 1-Unzen-Silbermünze 2022 DRC Shoebill Stork, die zweite in der erfolgreichen Serie, die erstmals 2021 von Scottsdale Mint herausgebracht wurde.
Der Schuhschnabelstorch, auch "Königswalkopf" oder "Schuhschnabelreiher" genannt, ist ein faszinierender Vogel, der in den Sümpfen und Marschen Zentralafrikas lebt.
Mit seinem prähistorischen Aussehen und seinem beeindruckenden Schnabel wird der Schuhschnabelstorch oft als einer der symbolträchtigsten und rätselhaftesten Vögel des afrikanischen Kontinents angesehen.
Diese majestätischen Kreaturen sind über 1,20 m groß und wiegen bis zu 6 kg.
Sie zeichnen sich durch ihren markant massiven Schnabel aus, der die Form eines Schuhs hat und bis zu 22 cm lang werden kann.
Diese Sammlermünze wird als 31,103 gramm herausgegeben und besteht aus 999/1000 Feinsilber!
Sie hat einen Durchmesser von 39,00 mm.
Auch diese Silbermünze gilt als gesetzliches Zahlungsmittel in ihren Herausgeberland Republik Congo.
Die Spiegelglanz Prägung sorgt für ein besonders detailreiches und schön anmutendes Motiv.
The Shoebill Stork frome the Republic of Congo. This inaugural year of an annual program is limited to just 20,000 units.
Technische Daten
Gewicht

31.103

Material

Silber

Jahreszahl

2022

Preis-Addition

6.2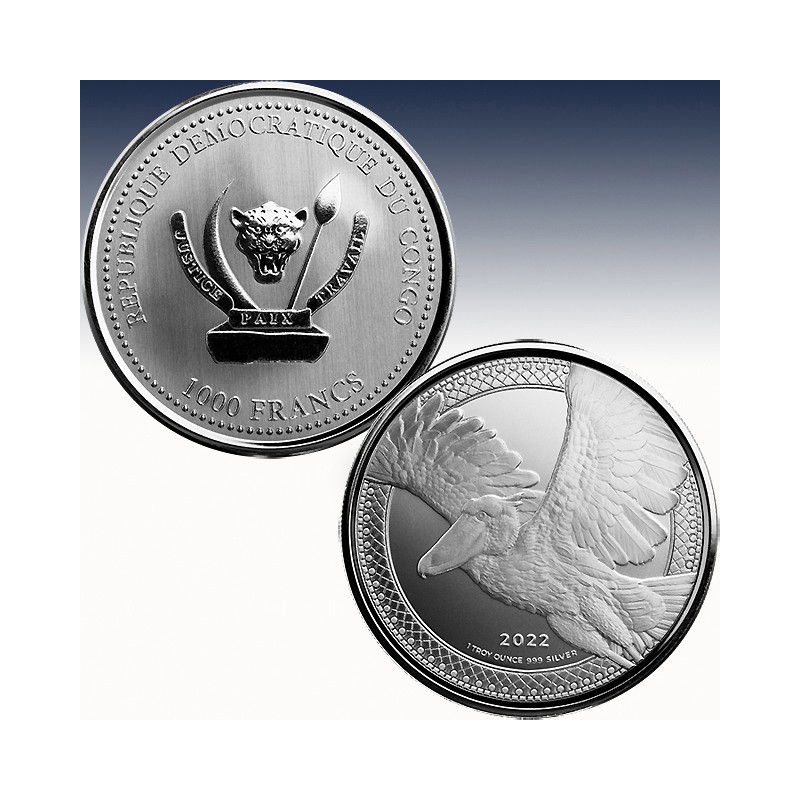 | | | |
| --- | --- | --- |
| Herkunftsland: |   | Rep. of Congo |
| Nennwert: |   | 1.000Francs CFA |
| Prägung: |   | Spiegelglanz |
| Stückelung: |   | 1 x 1 Unze |
| Material: |   | Silber |
| Feinheit: |   | 999/1000 |
| Gewicht: |   | 31,103 gramm |
| Durchmesser: |   |  39,00 mm |
| Auflage: |   | 20.000 Stück |