Gold 1.863,05 Eur
Silber 21,38 Eur
Platin 855,59 Eur
Palladium 879,72 Eur
(49) 2935 - 3 390 375
Europaweite Lieferung
Europaweite Lieferung
Gold 1.863,05 Eur
Silber 21,38 Eur
Platin 855,59 Eur
Palladium 879,72 Eur
SILBER 15,39 EUR
PLATIN 853,48 EUR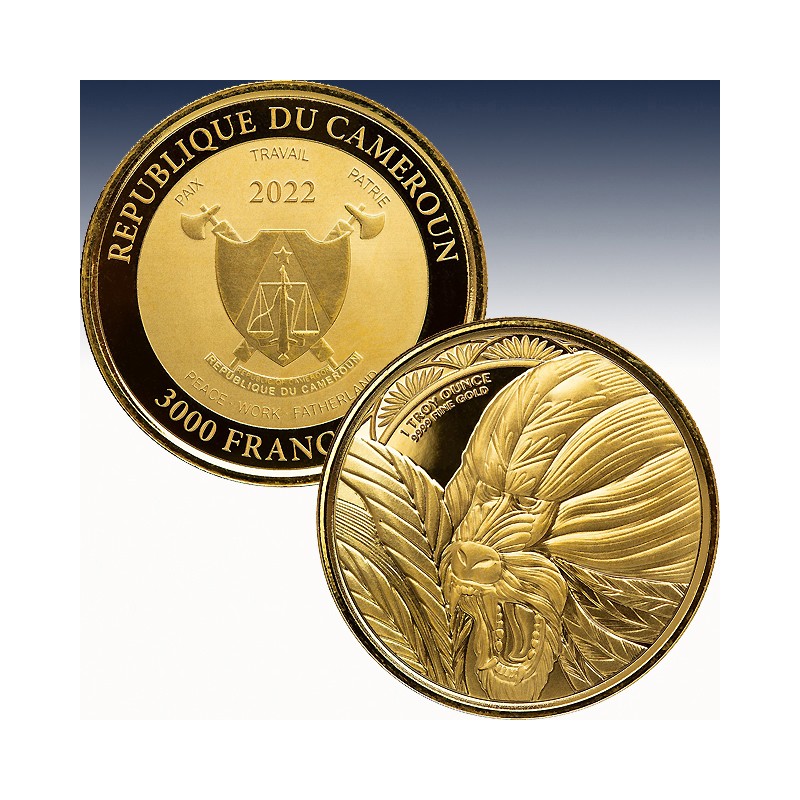  
1 x 1 oz Gold 3000 France CFA Republique de Cameroun "Cameroon Mandrill 2022" -PL-*
| | | |
| --- | --- | --- |
| Herkunftsland: |   | Rep.de Cameroun |
| Nennwert: |   | 3.000 France CFA |
| Prägung: |   | Spiegelglanz |
| Stückelung: |   | 1 x 1 Unze |
| Material: |   | Gold |
| Feinheit: |   | 999/1000 |
| Gewicht: |   | 31,103 gramm |
| Durchmesser: |   |  40,60 mm |
| Auflage: |   | 100 Stück |
1 x 1 Unze (oz) Goldmünze 3.000 France CFA Republique de Cameroun
"Cameroon Mandrill 2022"
Scottsdale Mint is pleased to announce a new bullion coin program:
Scottsdale Mint is pleased to announce its latest release from the Republic of Cameroon - The 2020 Cameroon Mandrill.

The mandrill is a primate of the Old World monkey family, and the largest of all monkeys. Mandrill's are native to southern Cameroon and other parts of Equatorial Africa, living mostly in rainforests in large groups. Perhaps the most distinctive aspect of the mandrill is its bright red and blue facial coloration, which is not seen anywhere else in the mammalian class.

These Cameroon legal tender coins are manufactured and distributed by Scottsdale Mint. The Mandrill 1 oz Silver BU is sold in plastic capsules and has a limited mintage of 15,000 oz. The Mandrill 1 oz Silver and 1 oz Gold color coins (Mintages of 1,500 oz and 100 oz respectively) are sold in capsules with a Scottsdale Mint display case with a certificate of authenticity. 
Hergestellt wurde diese wunderschöne Münze von der Prägeanstalt Scottsdale Mint"

Diese Sammlermünze wird als ganze Unze herausgegeben und besteht aus 999,9 Prozent Feinsilber in der Prägung "PROOF-Like"!
Diese Goldmünze gilt als gesetzliches Zahlungsmittel in ihren Herausgeberland Nature Isle.
Geliefert wird dieses besondere "Sammlermünze" .
Die Proof-LIKE Prägung sorgt für ein detailreiches und schön anmutendes Motiv.
Pro Münze wird in Original
  Verpackung/Box geliefert
Technische Daten
Gewicht

31.103

Material

Gold

Jahreszahl

2022

Preis-Addition

335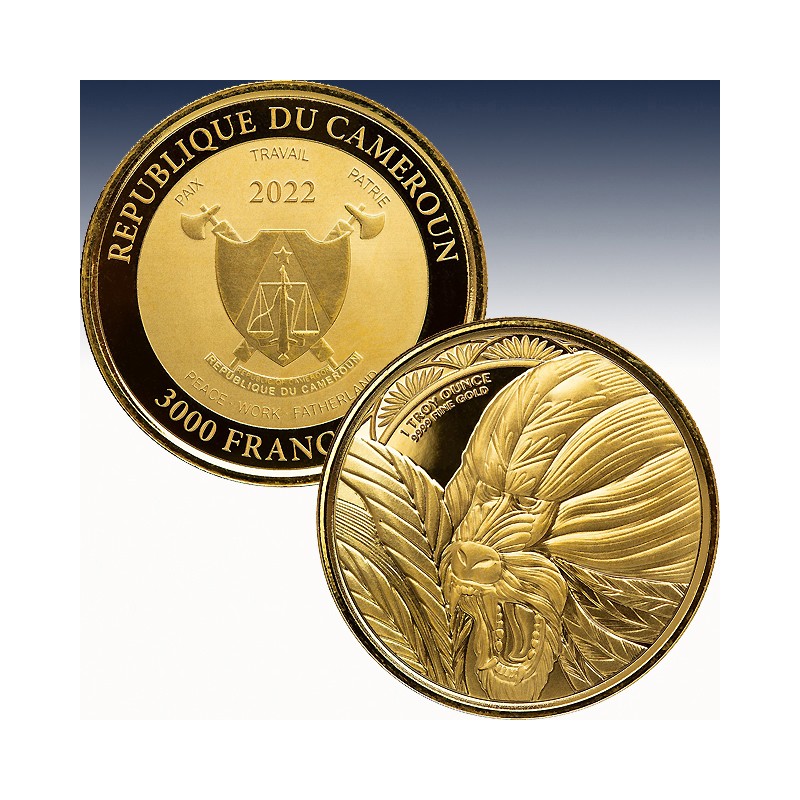 | | | |
| --- | --- | --- |
| Herkunftsland: |   | Rep.de Cameroun |
| Nennwert: |   | 3.000 France CFA |
| Prägung: |   | Spiegelglanz |
| Stückelung: |   | 1 x 1 Unze |
| Material: |   | Gold |
| Feinheit: |   | 999/1000 |
| Gewicht: |   | 31,103 gramm |
| Durchmesser: |   |  40,60 mm |
| Auflage: |   | 100 Stück |