Gold 1.855,04 Eur
Silber 21,69 Eur
Platin 910,51 Eur
Palladium 1.336,25 Eur
(49) 2935 - 3 390 375
Europaweite Lieferung
Europaweite Lieferung
Gold 1.855,04 Eur
Silber 21,69 Eur
Platin 910,51 Eur
Palladium 1.336,25 Eur
SILBER 15,39 EUR
PLATIN 853,48 EUR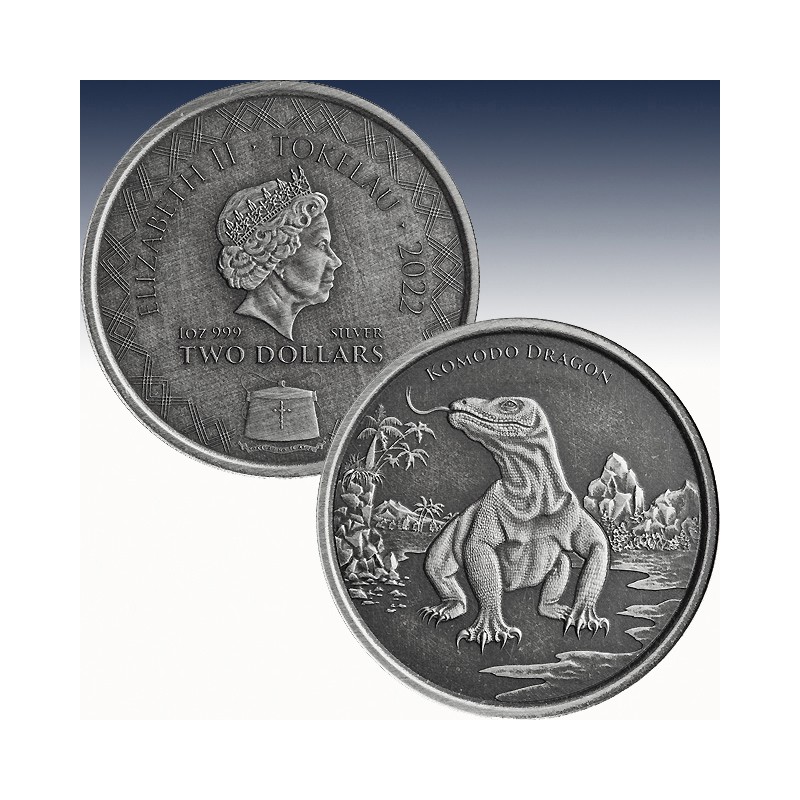  
1 x 1 oz Silbermünze 1$ Tokelau "Komodo Dragon 2022" -AF-
| | | |
| --- | --- | --- |
| Hersteller: |   | Scottsdale Mint |
| Nennwert: |   | 1$ |
| Prägung: |   | Antiquefinish |
| Stückelung: |   | 1 x 1 Unze |
| Material: |   | Silber |
| Feinheit: |   | 999/1000 |
| Gewicht: |   | 31,103 Gramm |
| Durchmesser: |   |  39,00 mm |
| Verpackung: |   | Kapsel |
| Auflage: |   | 3.000 Stück |
1 x 1 Unze (oz) Silbermünze 1$ Tokelau "Komodo Dragon 2022"
The Scottsdale Mint is excited to announce the launch of the three-coin 2022 Komodo Dragon program.

Within the offering is a 1 oz Proof-like Silver coin, as well as a 1 oz Silver Antique coin, both of which are housed in capsules.  Rounding out the program is the 1 oz Proof Gold coin in capsule and display box.
Komodo dragons are the largest living lizards in the world — and they have captured human attention since their discovery in 1910.  Using their long, forked-tongue to sample the air, these stealthy hunters rely on their sense of smell to detect prey - up to five miles away! While they can run better than most large lizards, they can also swim, and have been seen many miles from land.  Their hunting style is less aerobic, however; they prefer to spend hours waiting for a sizable meal to wander within range before launching a deadly attack with their venomous bite and hundreds of long, serrated teeth.  We think a coin series honoring these majestic creatures is long overdue!
Coin Details
–  1 Troy Ounce | 999 Fine Silver
–  Legal Tender in Tokelau
–  Maximum Mintage: 3,000
–  Quality: Antique
– Chipboard & Capsule
–  Diameter: 39 MM
Tokelau gilt als einer der abgeschiedensten Orte der Welt. Die Bevölkerung von Tokelau lebt in drei Dörfern auf den jeweiligen Atollen. Tokelau ist ein von Neuseeland unabhängiges Gebiet mit 1411 Einwohnern (Oktober 2011) und einer Fläche von 12 km². 
Die Bewohner versorgen sich durch Fischfangund die Nutzung der Kokospalmenzum großen Teil selbst. Die Gewässer um Tokelau besitzen große Thunfischbestände. Ärztliche Leistungen und Medikamente sind für die Tokelauer kostenlos. Deshalb benötigen sie nur wenig Geld. Tokelau war das letzte Land der Erde, in dem Bargeld eingeführt wurde.
Bekannt geworden ist Tokelau im Internetdurch die kostenlose Vergabe der Top-Level-Domain.tk. Es ist aber nicht der Inselstaat selbst, der die Top-Level-Domains vergibt, sondern ein Investor, der das Nutzungsrecht an der Adresse erwarb.
Die Rückseite zeigt das Bildnis Queen Elizabeth II.
Diese Sammlermünze wird als ganze Unze herausgegeben und besteht aus 999,9 Prozent Feingold in der wundervollen Prägung "Antique Finish"!
Diese Silbermünze gilt als gesetzliches Zahlungsmittel in ihren Herausgeberland Tokelau.
Technische Daten
Gewicht

31.103

Material

Silber

Jahreszahl

2022

Preis-Addition

8.8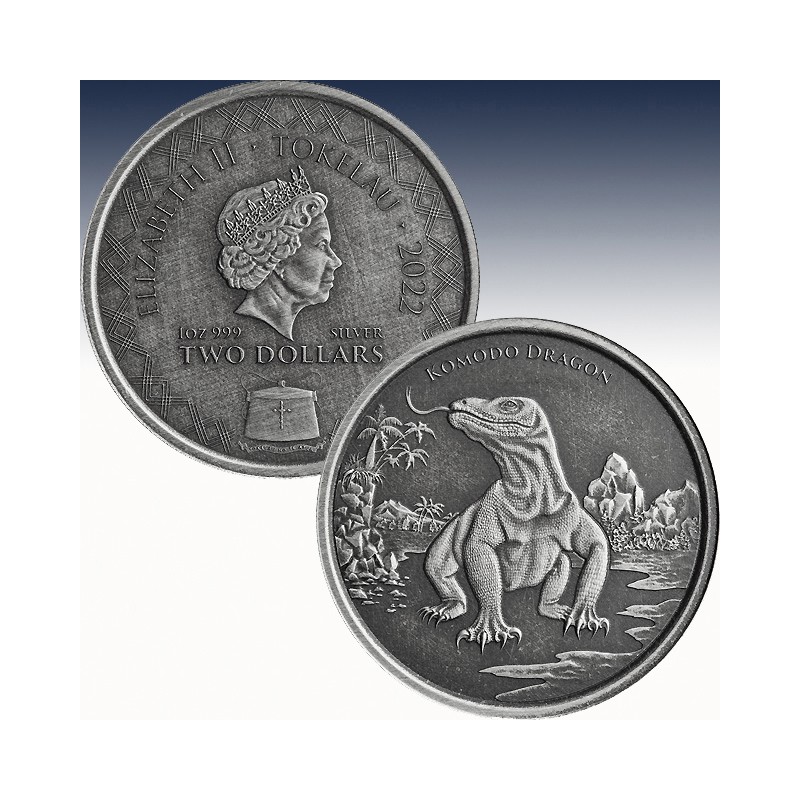 | | | |
| --- | --- | --- |
| Hersteller: |   | Scottsdale Mint |
| Nennwert: |   | 1$ |
| Prägung: |   | Antiquefinish |
| Stückelung: |   | 1 x 1 Unze |
| Material: |   | Silber |
| Feinheit: |   | 999/1000 |
| Gewicht: |   | 31,103 Gramm |
| Durchmesser: |   |  39,00 mm |
| Verpackung: |   | Kapsel |
| Auflage: |   | 3.000 Stück |