Gold 1.762,41 Eur
Silber 21,37 Eur
Platin 925,19 Eur
Palladium 1.496,50 Eur
(49) 2935 - 3 390 375
Europaweite Lieferung
Europaweite Lieferung
Gold 1.762,41 Eur
Silber 21,37 Eur
Platin 925,19 Eur
Palladium 1.496,50 Eur
SILBER 15,39 EUR
PLATIN 853,48 EUR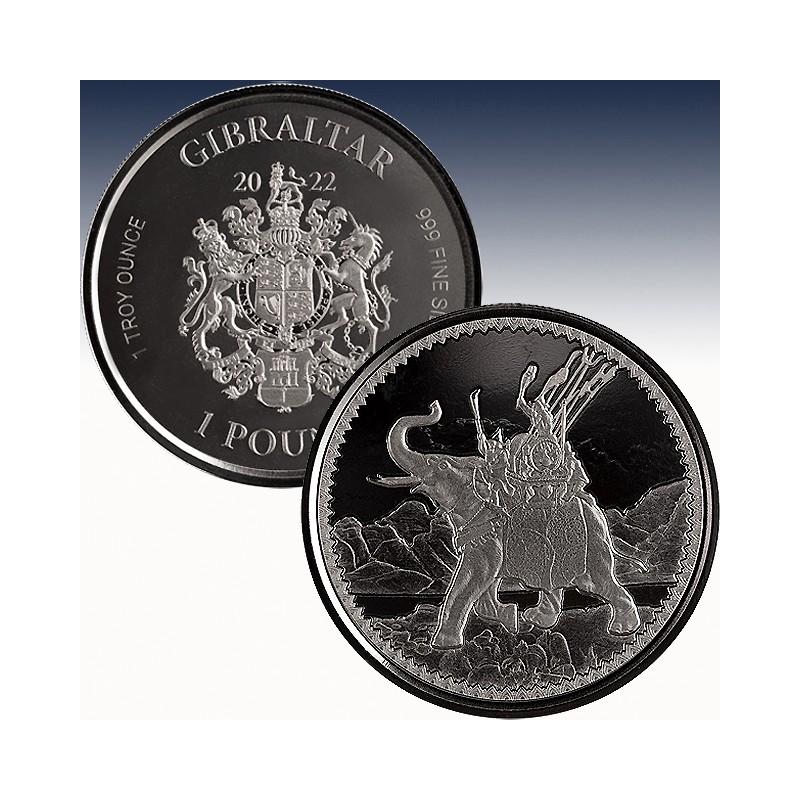  
1 x 1 Oz Silbermünze 1 Pfd Gibraltar "War Elephant 2022" -BU-
| | | |
| --- | --- | --- |
| Herkunftsland: |   | Gibraltar |
| Nennwert: |   | 1 GBD |
| Prägung: |   | Stemperlglanz |
| Stückelung: |   | 1 x 1 Unze |
| Material: |   | Silber |
| Feinheit: |   | 999/1000 |
| Gewicht: |   | 31,103 gramm |
| Durchmesser: |   | 39,00 mm |
| Auflage: |   | 15.000 Stück |
1 x 1 Unze (oz) Silbermünze 1 Pfd Gibraltar "War Elephant 2022"

(diff.besteuert nach §25a UStG)
War Elephants have a long and storied history, dating back to ancient times. These massive animals were used in battle as both a weapon and a symbol of power, and their impact on the outcome of war was often decisive.

Now, you can own your very own war elephant as part of our brand new program featuring these colossal creatures! Starting in 2022, Scottsdale Mint is pleased to announce the War Elephant coin featuring a traditional war elephant riding into battle, with soldiers on its back crying out and spears shooting into sky. On the obverse is the Gibraltar Coat of Arms. It's the perfect way to commemorate these magnificent animals, and their role in history.

Die Silbermünzen "War Elephant" bestechen durch eine hervorragende "Brilliant uncirculated" Prägequalität und einem außergewöhnlich schönem Design.
Die Münzen sind im Gebiet von Gibraltar gesetzliches Zahlungsmittel.
Technische Daten
Gewicht

31.103

Material

Silber

Jahreszahl

2022

Preis-Addition

11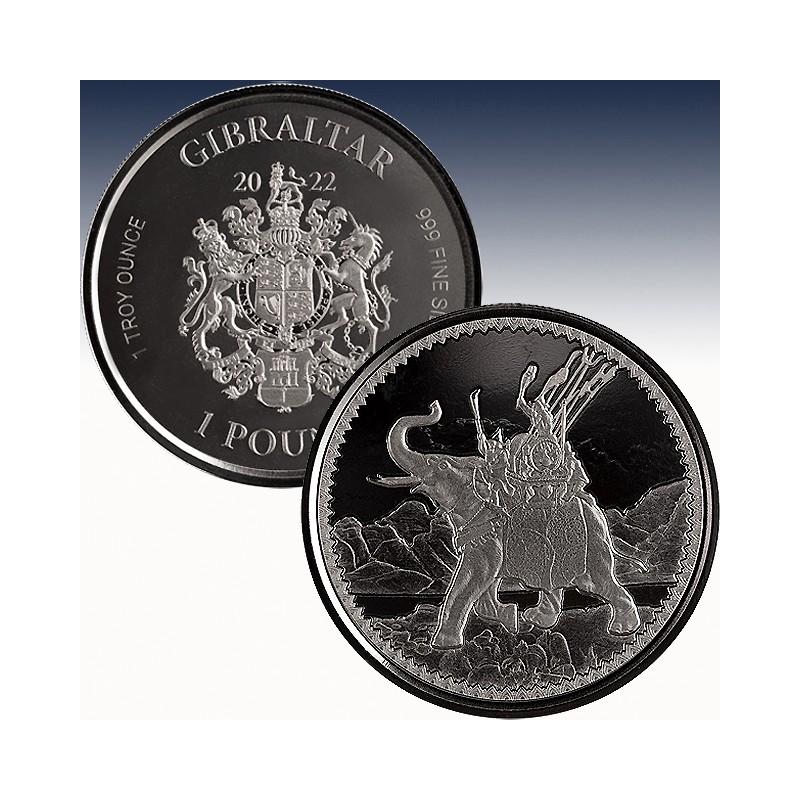 | | | |
| --- | --- | --- |
| Herkunftsland: |   | Gibraltar |
| Nennwert: |   | 1 GBD |
| Prägung: |   | Stemperlglanz |
| Stückelung: |   | 1 x 1 Unze |
| Material: |   | Silber |
| Feinheit: |   | 999/1000 |
| Gewicht: |   | 31,103 gramm |
| Durchmesser: |   | 39,00 mm |
| Auflage: |   | 15.000 Stück |