Gold 1.491,10 Eur
Silber 21,77 Eur
Platin 0,00 Eur
Palladium 2.100,42 Eur
(49) 2935 - 3 390 375
Europaweite Lieferung
Europaweite Lieferung
Gold 1.491,10 Eur
Silber 21,77 Eur
Platin 0,00 Eur
Palladium 2.100,42 Eur
SILBER 15,39 EUR
PLATIN 853,48 EUR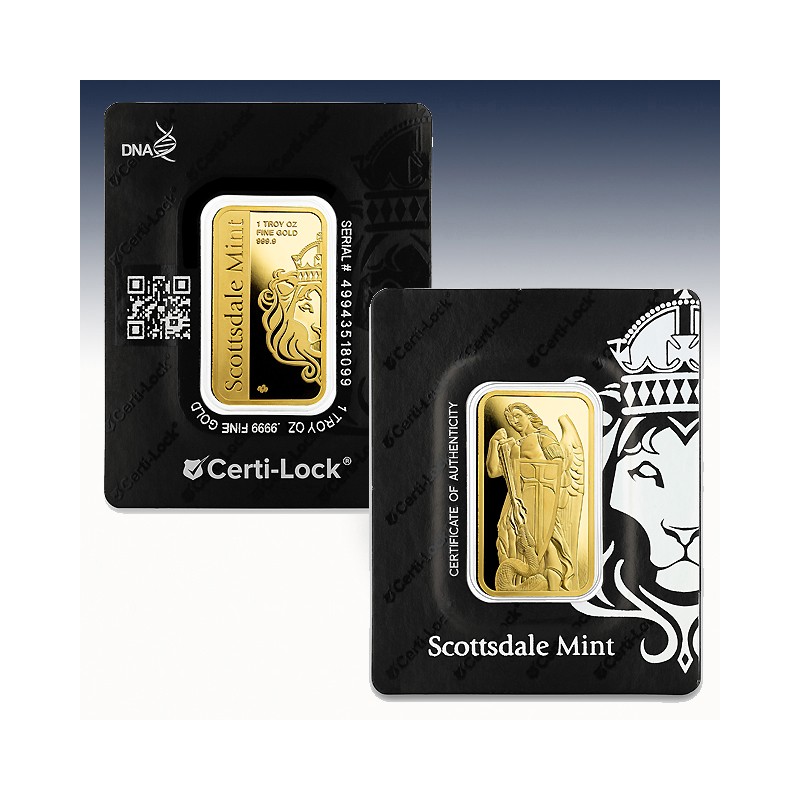  
1 x 1 oz Goldbarren Scottsdale Mint "PAMP Archangel Michael 2021" -Certi-Lock-
| | | |
| --- | --- | --- |
| Herkunft: |   | Schweiz |
| Steuersatz: |   | 19% |
| Prägung: |   | Stempelglanz |
| Stückelung: |   | 1 x 1 Unze |
| Material: |   | Silber |
| Feinheit: |   | 999/1000 |
| Gewicht: |   | 31,103 Gramm |
| Verpackung: |   | Blister |
| Durchmesser: |   | 39 mm |
1 oz Goldbarren Scottsdale Mint "PAMP Archangel Michael 2021"
PAMP Suisse and Scottsdale Mint, two of the world's most respected bullion producers, have collaborated on a new design that has been nearly a year in the making: The Archangel Michael.  Meticulous design and precise execution is evident, and this bar is already making its way quickly into safes and vaults around the world.
Each bar is sealed in a Certi-Lock®  assay card and assigned a unique set of authenticity credentials designed to give you more confidence when you sell, in any market. 1 Troy Ounce of .9999 Fine Gold.  LBMA & ISO 9001-2015.
Archangel Michael is most often thought of as the angel of protection and the most powerful of all the angels.  He is considered a leader within the angelic realm and a patron angel of righteousness, mercy and justice.  As such, scriptural artwork depicts him as a warrior most often carrying a sword.  Michael leads God's armies against Satan's forces in the Book of Revelation, where during the war in heaven he defeats Satan.
Specifications
–  1 Troy Ounce .9999 fine gold
–  Sealed in Certi-Lock® Certificate of Authenticity
–  Easy to verify authenticity and credentials using free Certi-Lock® phone app
–  Obverse is a detailed sculpt and strike featuring Michael the Archangel slaying the serpent
–  Reverse lists weight, purity, & metal type along w/ the PAMP Suisse assay mark & the Scottsdale Mint Lion Hallmark
–  LBMA certified gold produced by PAMP Suisse / Scottsdale Mint
Certi-Lock ist ein revolutionärer Ansatz für die Authentifizierung von Edelmetallen. Durch den Einsatz von Technologie und kostenlosen Smartphone-Anwendungen durch Certi-Lock können Verbraucher nun die Authentizität von Certi-Locked Edelmetallen an den Fingerspitzen überall in der Welt überprüfen. Um mehr über Certi-Lock zu erfahren, wenden Sie sich bitte an Scottsdale Mint oder besuchen Sie http://www.certi-lock.com.
Technische Daten
Gewicht

31.103

Material

Gold

Jahreszahl

2021

Preis-Addition

90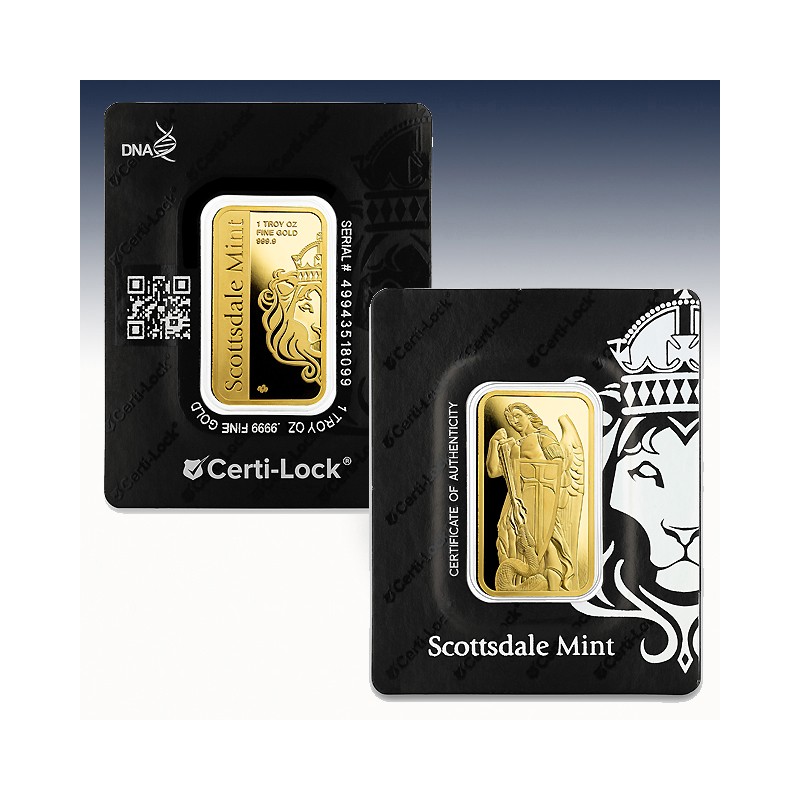 | | | |
| --- | --- | --- |
| Herkunft: |   | Schweiz |
| Steuersatz: |   | 19% |
| Prägung: |   | Stempelglanz |
| Stückelung: |   | 1 x 1 Unze |
| Material: |   | Silber |
| Feinheit: |   | 999/1000 |
| Gewicht: |   | 31,103 Gramm |
| Verpackung: |   | Blister |
| Durchmesser: |   | 39 mm |