Gold 1.689,14 Eur
Silber 21,32 Eur
Platin 956,08 Eur
Palladium 1.797,50 Eur
(49) 2935 - 3 390 375
Europaweite Lieferung
Europaweite Lieferung
Gold 1.689,14 Eur
Silber 21,32 Eur
Platin 956,08 Eur
Palladium 1.797,50 Eur
SILBER 15,39 EUR
PLATIN 853,48 EUR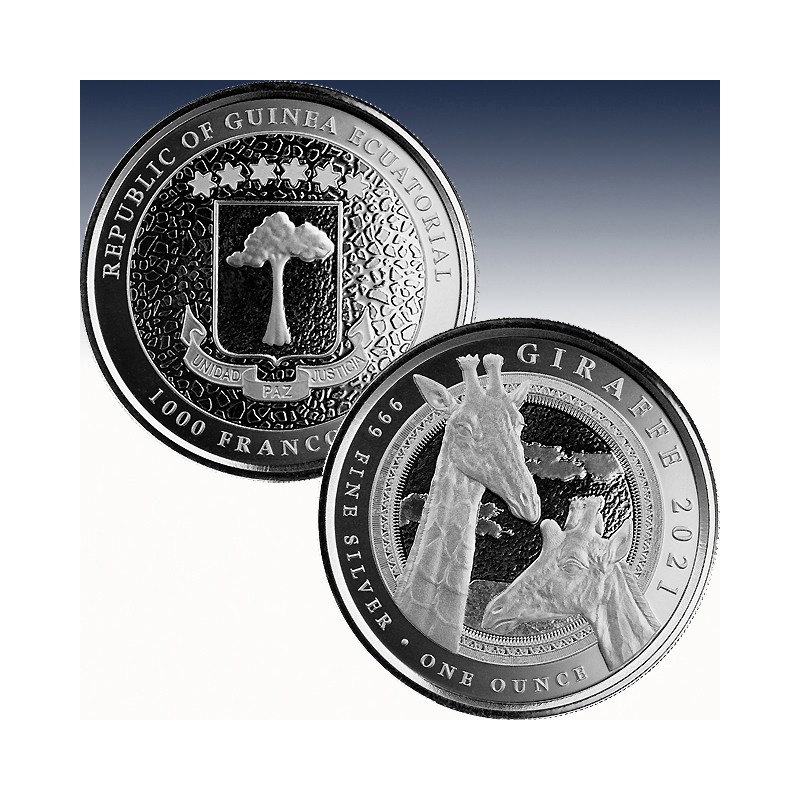  
1 x 1 oz Silbermünze 1000 FRA Rep. of Guinea "Equatorial Guinea Giraffe 2021" -PL-*
| | | |
| --- | --- | --- |
| Herkunftsland: |   | Equatorial Guinea |
| Nennwert: |   | 1000 FRA |
| Prägung: |   | Spiegelglanz |
| Stückelung: |   | 1 x 1 Unze |
| Material: |   | Silber |
| Feinheit: |   | 999/1000 |
| Gewicht: |   | 31,103 gramm |
| Durchmesser: |   |  39,00 mm |
| Auflage: |   | 15.000 Stück |
1 x 1 Unze (oz) Silbermünze 1000 FRA Rep. of Guinea
"Equatorial Guinea Giraffe 2021"
 (diff.besteuert nach §25a UStG)
The Giraffe is the National Animal of Equatorial Guinea, and our 2021 Equatorial Guinea Giraffe 1 oz Silver Coin is one of the most uniquely beautiful coins on the market today. Featuring two graceful giraffes in a sunset savannah scene, these pure silver and gold coins are legal tender in Equatorial Guinea and make a perfect addition to any collection.

At over eighteen feet tall, the Giraffe is considered the tallest animal on Earth. Don't miss your chance to own this masterpiece - order yours today!

- 1oz Silver Proof-like BU in Capsules • 15,000 Mintage
- 1oz Gold Proof Strike w/ Display Box and COA  • 100 Mintage
Hergestellt wurde diese wunderschöne Münze von der Prägeanstalt Scottsdale Mint"

Diese Sammlermünze wird als ganze Unze herausgegeben und besteht aus 99,9 Prozent Feinsilber in der Prägung "PROOF-Like"!
Auch diese Silbermünze gilt als gesetzliches Zahlungsmittel in ihren Herausgeberland Equatorial Guniea.
Geliefert wird dieses besondere "Sammlermünze" .
Die Proof-LIKE Prägung sorgt für ein detailreiches und schön anmutendes Motiv.
Technische Daten
Gewicht

31.103

Material

Silber

Jahreszahl

2021

Preis-Addition

12.5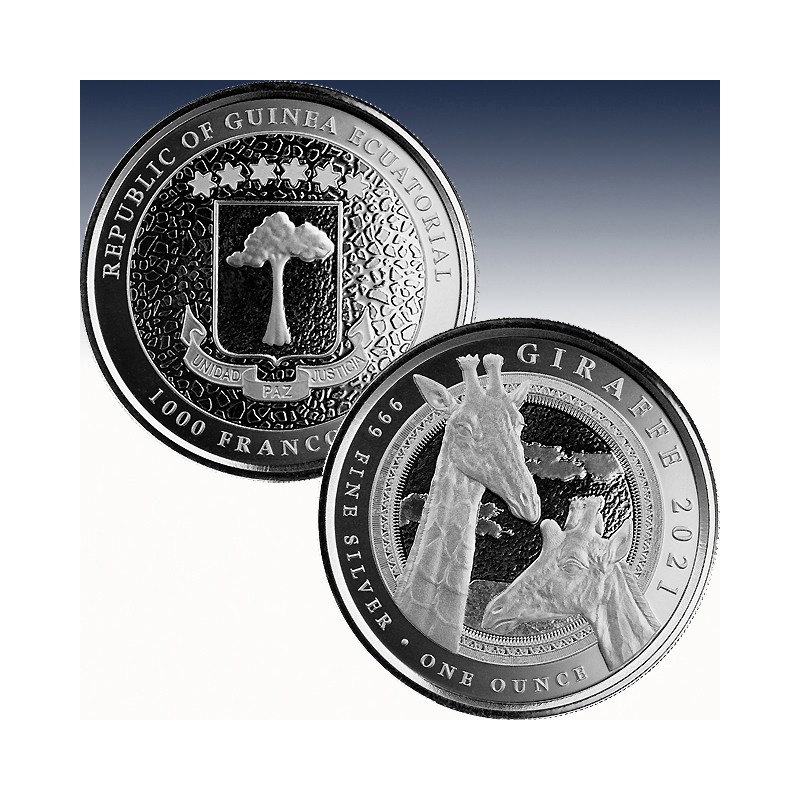 | | | |
| --- | --- | --- |
| Herkunftsland: |   | Equatorial Guinea |
| Nennwert: |   | 1000 FRA |
| Prägung: |   | Spiegelglanz |
| Stückelung: |   | 1 x 1 Unze |
| Material: |   | Silber |
| Feinheit: |   | 999/1000 |
| Gewicht: |   | 31,103 gramm |
| Durchmesser: |   |  39,00 mm |
| Auflage: |   | 15.000 Stück |