Gold 1.856,53 Eur
Silber 22,77 Eur
Platin 859,35 Eur
Palladium 961,93 Eur
(49) 2935 - 3 390 375
Europaweite Lieferung
Europaweite Lieferung
Gold 1.856,53 Eur
Silber 22,77 Eur
Platin 859,35 Eur
Palladium 961,93 Eur
SILBER 15,39 EUR
PLATIN 853,48 EUR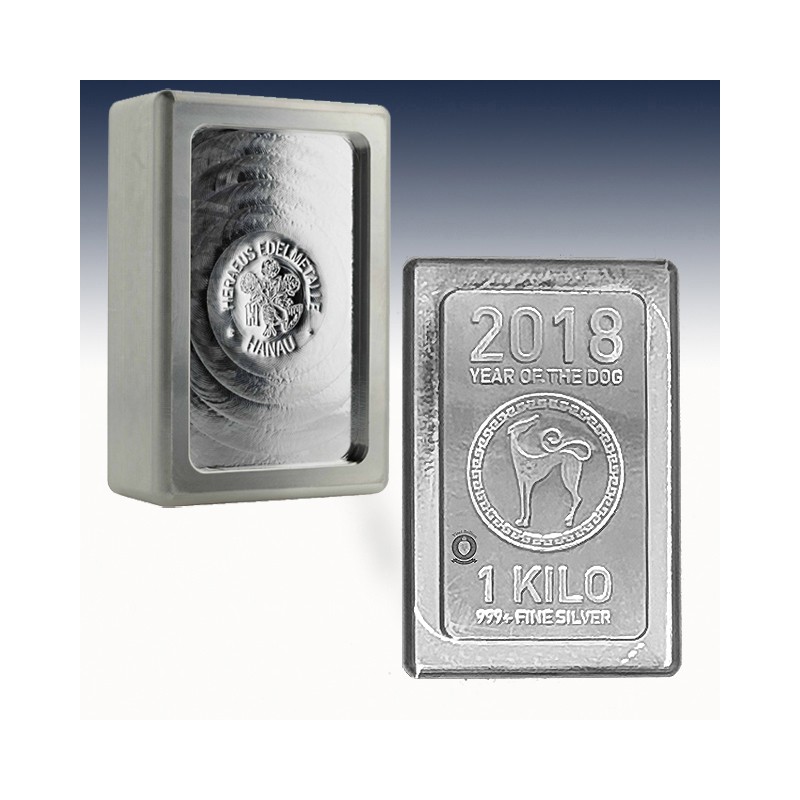  
1 x 1000 Gramm Silver Bar Scottsdale "Year of the Dog 2018" -BU-
| | | |
| --- | --- | --- |
| Hersteller: |   | Scottsdale Mint |
| Steuersatz: |   | 19% |
| Prägung: |   | Stempelglanz |
| Stückelung: |   | 1 x 1 Kilo |
| Material: |   | Silber |
| Feinheit: |   | 999/1000 |
| Gewicht: |   | 311,103 Gramm |
| Verpackung: |   | Tasche |
| Durchmesser: |   | 76x51x28 mm |
1 x 1000 Gramm  (32,15 oz) Silberbarren Scottsdale Mint "Year of the Dog 2018"
Specifications
–  1 Troy Ounce .9999 fine silver
–  Obverse is a detailed sculpt and strike featuring the Lunar Dog
–  Reverse lists weight, purity, & metal type along w/ the Heraeus Suisse assay mark & the Scottsdale Mint Lion Hallmark
–  LBMA certified gold produced by Argor Heraeus / Scottsdale Mint
Scottsdale Mint's 1 Kilo silver bar is the perfect balance of impressive weight and affordability. The 1 Kilo silver bar boasts absolute machine precision and perfection. This 1 Kilo silver bar from Scottsdale Mint is guaranteed to be .999% pure silver; you can be certain of its value thanks to the Scottsdale Mint logo, purity and serial number stamped on top.
All Scottsdale Mint products are 100% guaranteed in their purity, weight and content of precious metals. As one of only a few operating mints in the United States, Scottsdale Mint prides itself on offering the highest quality gold and silver on the market.
Einzigartig in ihrer Art und bereits jetzt schon Kult in den Vereinigten Staaten.


Jede dieser wunderschönen Silverround enthält 999/1000 Feinsilber und wurde im wunderschönem "Brilliant uncirculated" geprägt.
Technische Daten
Gewicht

1000

Material

Silber

Jahreszahl

2018

Preis-Addition

100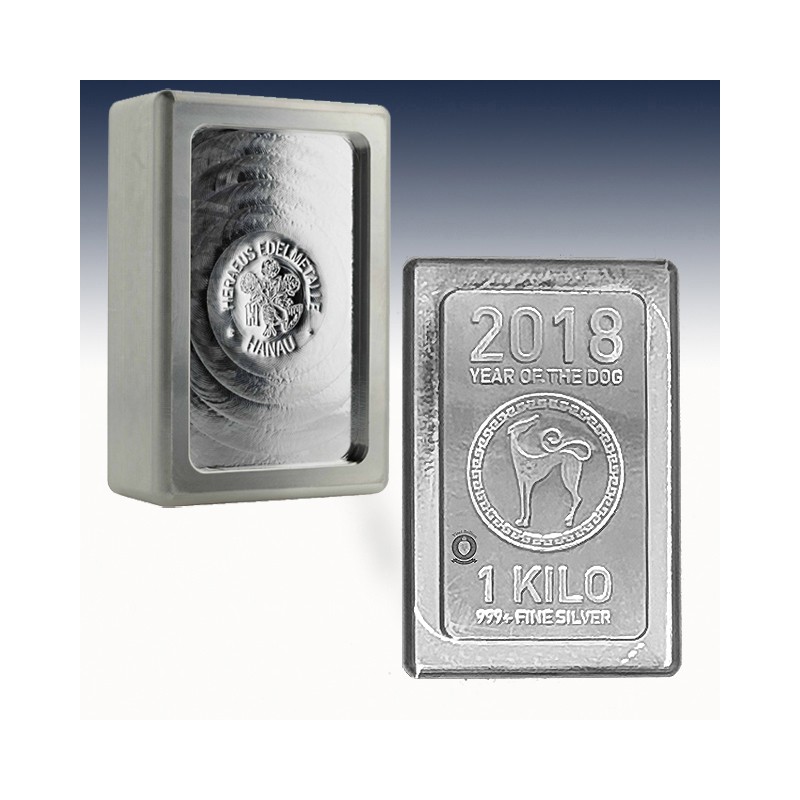 | | | |
| --- | --- | --- |
| Hersteller: |   | Scottsdale Mint |
| Steuersatz: |   | 19% |
| Prägung: |   | Stempelglanz |
| Stückelung: |   | 1 x 1 Kilo |
| Material: |   | Silber |
| Feinheit: |   | 999/1000 |
| Gewicht: |   | 311,103 Gramm |
| Verpackung: |   | Tasche |
| Durchmesser: |   | 76x51x28 mm |