Gold 1.863,05 Eur
Silber 21,38 Eur
Platin 855,59 Eur
Palladium 879,72 Eur
(49) 2935 - 3 390 375
Europaweite Lieferung
Europaweite Lieferung
Gold 1.863,05 Eur
Silber 21,38 Eur
Platin 855,59 Eur
Palladium 879,72 Eur
SILBER 15,39 EUR
PLATIN 853,48 EUR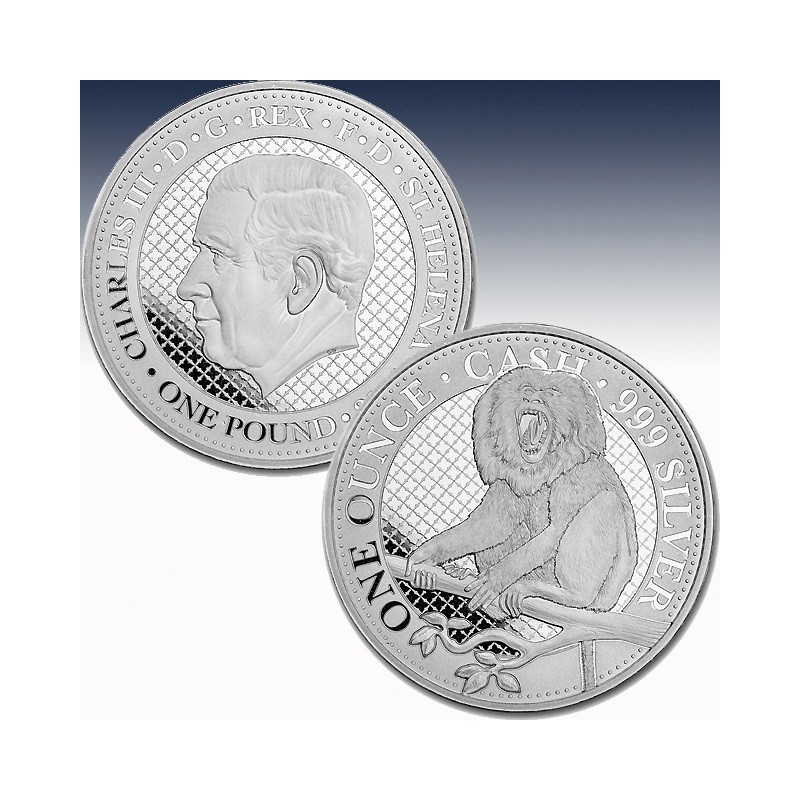  
1 x 1 oz Silbermünze £1 St. Helena "India Wildlife - Lion Tailed Macaque 2023" -BU-
| | | |
| --- | --- | --- |
| Hersteller: |   | St. Helena Mint |
| Nennwert: |   | £1 |
| Prägung: |   | Stempelglanz |
| Stückelung: |   | 1 x 1 Unze |
| Material: |   | Silber |
| Feinheit: |   | 999/1000 |
| Gewicht: |   | 31,103 Gramm |
| Verpackung: |   | zip-Tüte |
| Durchmesser: |   | 38,60 mm |
| Auflage: |   | 7.500 Stück |
1 x 1 Unze (oz) Silbermünze £1 St.Helena
"India Wildlife - 6# Der Löwenschwanz-Makaken 2023"
The Cash Indian Wildlife series continues in 1 oz .999 fine Silver with the lion tailed macaque monkey.

Coin Highlights:
Contains 1 oz of .999 fine Silver.
Limited mintage of 7,500.
Coins come in protective plastic. Orders in 19-coin increments may come in tubes.
Obverse: Likeness of King Charles III, date and face value, set against a patterned background.
Reverse: Features a dominant lion tailed macaque monkey with a beautifully detailed relief against a patterned background. Also included is the Silver weight and purity.

Treasures of India Wildlife Series
The Treasures of the India Wildlife series explores the significance and beauty of animals found throughout India by depicting the creatures in 1oz of .9999 fine Gold along with 1 oz and 5.Oz of .999 fine Silver. This release features the monkey, specifically the lion tailed macaque monkey, an endangered and protected species. Their population drastically decreased due to destruction of their rainforest habitat. Monkeys are a symbol of good fortune, strength and courage.

The "CASH" denomination shown on the coin is representative of the currency units used during British rule in India. While the origin of the word "CASH" has been up for debate, one theory believes it was derived from the Sanskrit word "karsa" and equals a weight of Silver equal to 1/400 of a "tola."
Jede dieser wunderschönen Silbermünze enthält 999/1000 Feinsilber und wurde im wunderschönem "Brilliant uncirculated" geprägt.
Technische Daten
Gewicht

31.103

Material

Silber

Jahreszahl

2023

Preis-Addition

8.65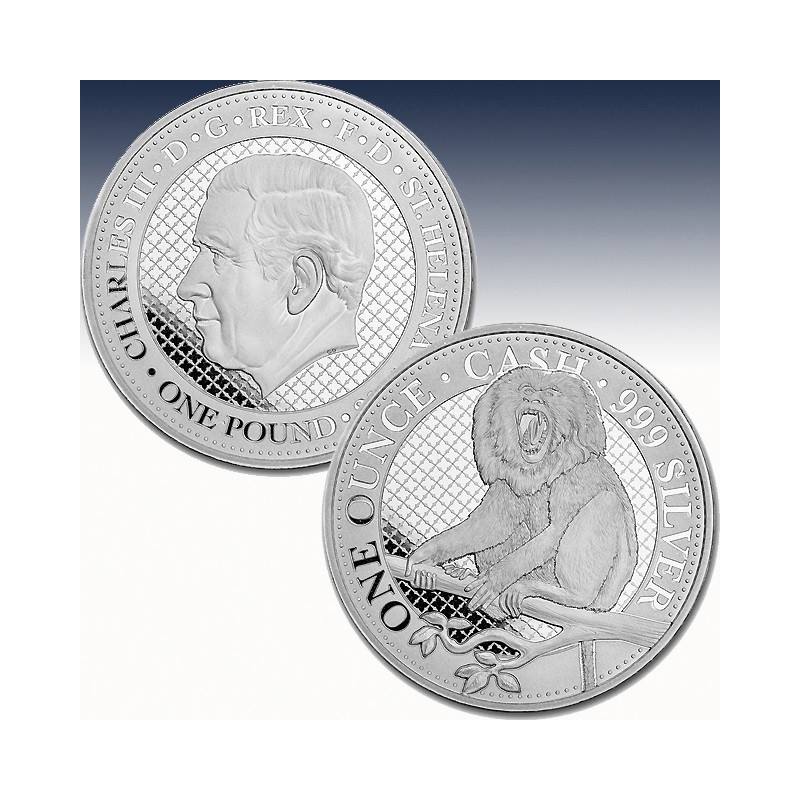 | | | |
| --- | --- | --- |
| Hersteller: |   | St. Helena Mint |
| Nennwert: |   | £1 |
| Prägung: |   | Stempelglanz |
| Stückelung: |   | 1 x 1 Unze |
| Material: |   | Silber |
| Feinheit: |   | 999/1000 |
| Gewicht: |   | 31,103 Gramm |
| Verpackung: |   | zip-Tüte |
| Durchmesser: |   | 38,60 mm |
| Auflage: |   | 7.500 Stück |