Gold 1.762,41 Eur
Silber 21,37 Eur
Platin 925,19 Eur
Palladium 1.496,50 Eur
(49) 2935 - 3 390 375
Europaweite Lieferung
Europaweite Lieferung
Gold 1.762,41 Eur
Silber 21,37 Eur
Platin 925,19 Eur
Palladium 1.496,50 Eur
SILBER 15,39 EUR
PLATIN 853,48 EUR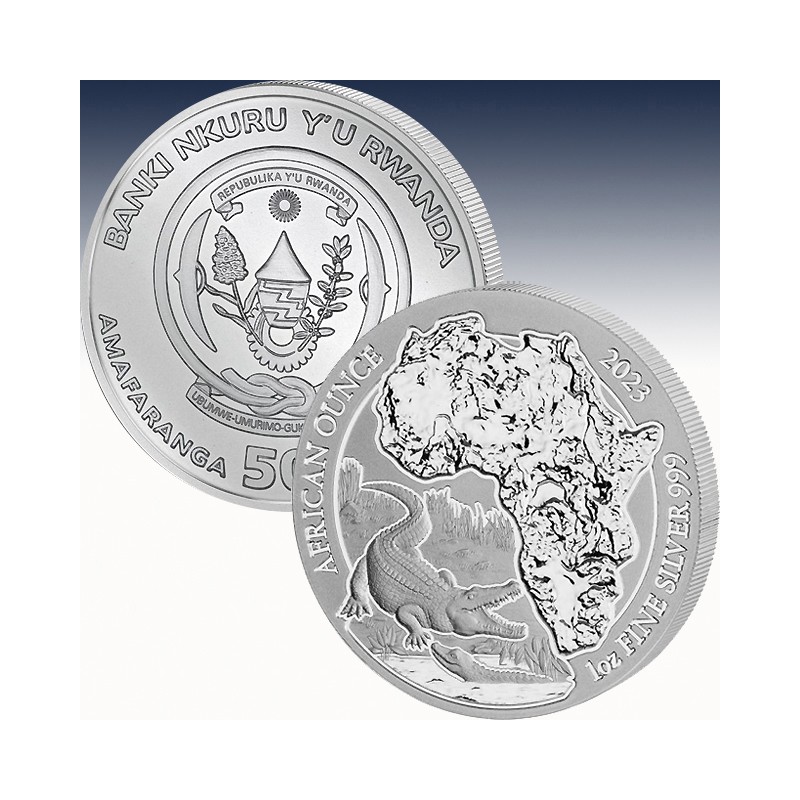  
1 x 1 Oz Silbermedaille 50 RWF Ruanda "Crocodile 2022" -BU-
Hersteller:  Republik Ruanda
Nennwert:  50 RWF Franc
Prägung:    Stempelglanz
Stückelung:1 Unze
Material:     Silber
Feinheit:      999/1000
Gewicht:     31,103 Gramm
Verpackung: Originalblister
Durchmesser: 40 mm
1 x 1 Unze (oz) Silbermedaille 50 RWF Ruanda "Krokodil 2023"

The Rwanda African Wildlife series has been incredibly popular with intricate designs and a history of premium appreciation. Launched in 2008, the successful series already celebrates its 15th issue and continuous growth of popularity across the globe.
Because of the protective packaging from the mint, these coins all arrive in phenomenal condition.

Coin Highlights:
Contains 1 oz of .999 fine Silver.
Product is in individual plastic packaging. Multiples of 10 come in sheets.
Obverse: Features two Pelicans facing in opposite directions and the continent of Africa arching over the animals. The inscriptions "African Ounce", "2022" and the purity are listed along the rim.
Reverse: Displays the official seal of Rwanda and the face value of 50 Francs.
Backed by the Rwanda government.

Each Silver coin in this very popular series is only minted until the next coin is released, making each coin exclusive and ensuring low mintages. Final mintage numbers are currently unknown.
Technische Daten
Gewicht

31.103

Material

Silber

Jahreszahl

2023

Preis-Addition

8.5