(49) 2935 - 3 390 375
Europaweite Lieferung
Europaweite Lieferung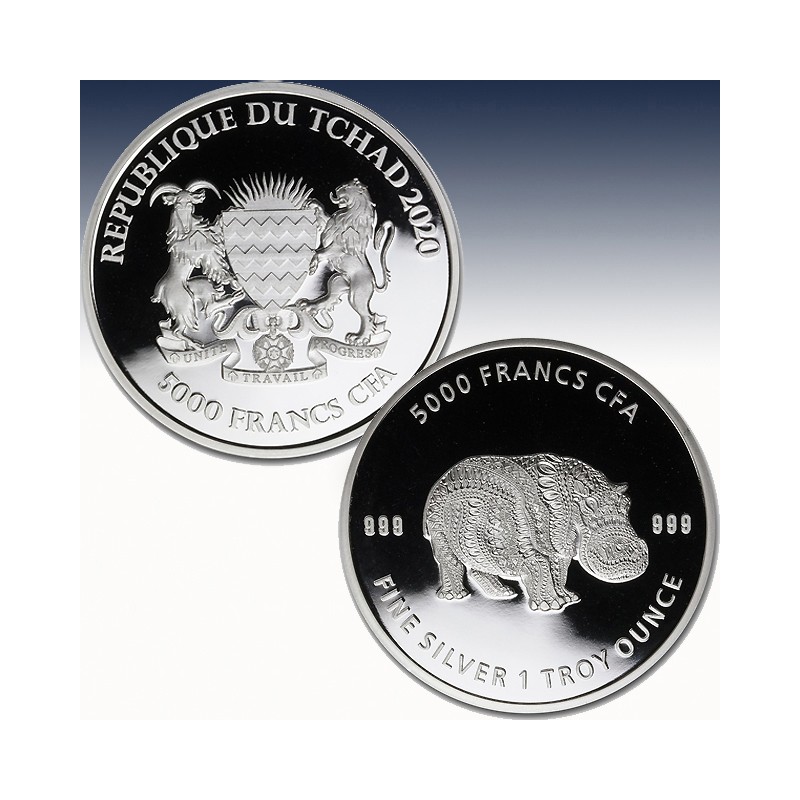  
1 x 1 Oz Silbermünze 5.000 France Republic of Chad "Mandala Hippo 2020" -BU-*
| | | |
| --- | --- | --- |
| Herkunftsland: |   | Republic of Chad |
| Nennwert: |   | 5.000 France |
| Prägejahr: |   | 2019 |
| Stückelung: |   | 1 x 1 Unze |
| Material: |   | Silber |
| Feinheit: |   | 999/1000 |
| Gewicht: |   | 31,109 Gramm |
| Verpackung: |   | zip-Tüte |
| Durchmesser: |   | 38,10 mm |
| Auflage: |   |  10.000 Stück |

Lieferbedingungen (bearbeiten im Modul "Kundenvorteile")

Rücksendebedingungen (bearbeiten im Modul "Kundenvorteile")
1 x 1 Unze (oz) Silbermünze 5.000 France Republic of Chad
"4# Mandala Nilpferd 2020"
(diff.besteuert nach §25a UStG)
The 1 troy ounce coin has a limited mintage of only 10,000 coins worldwide.
The striking Hippo is a symbol for strength, courage, and calmness. The large creature has a reputation for being slow and sluggish, but the Hippo can be remarkably agile and aggressive. The strength and complexity of the Hippo makes the animal a great addition to the Republic of Chad Mandala Wildlife series, following the third release of the Mandala Elephant. Each coin in the series will have a unique design and different animal featured. The changing designs and limited mintages makes these coins an enticing series for collectors and investors alike.

Coin Highlights:
Contains 1 oz of .999 fine Silver.
APMEXclusive® worldwide.
Limited to 10,000 coins worldwide
Individual coins come in protective packaging.
Obverse: Features a broad and imposing image of a Hippo, filled with a mandala print. Also included is the metal content, purity and denomination.
Reverse: Features the coat of arms of the Republic of Chad, a shield that is supported by a goat and lion on either side. Below the shield is a medal and scroll with the national motto in French, "Unite, Travail, Progres", meaning Unity, Work, Progress in English.

Continue your collection of the anticipated Republic of Chad Mandala Wildlife series with the fourth release featuring the strong and imposing hippo in .999 fine Silver. Add this 2020 Republic of Chad 1 oz Silver Mandala Hippo to your cart today!
Die wechselnde Motive stellen in wunderschönen Motiven, sind ein absolutes MUSS für alle Münzsammler.
Diese Sammlermünze wird als ganze Unze herausgegeben und besteht aus 999/1000  Feinsilber!
Sie hat einen Durchmesser von 38,10 mm und einem Gewicht von 31,103 gramm
Auch diese Silbermünze gilt als gesetzliches Zahlungsmittel in ihren Herausgeberland Tschad.
Jede dieser wunderschönen Silverround enthält 999/1000 Feinsilber und wurde im wunderschönem Brilliant uncirculated geprägt.
Technische Daten
Gewicht

31.103

Material

Silber

Jahreszahl

2020

Preis-Addition

9