(49) 2935 - 3 390 375
Europaweite Lieferung
Europaweite Lieferung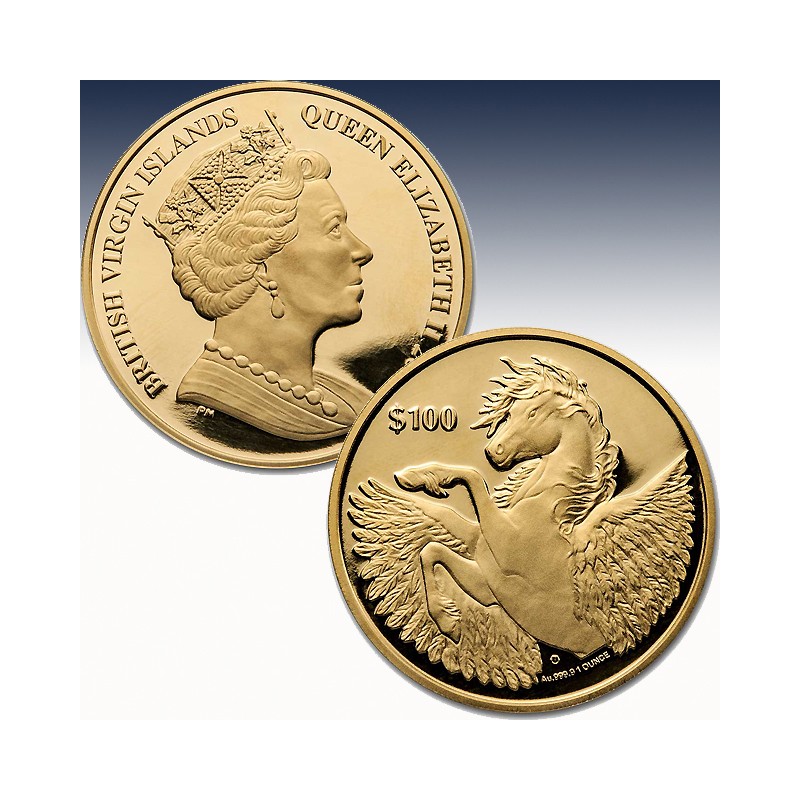  
1 x 1 Oz Gold $100 British Virgin Islands"Pegasus 2021" -proof-like cameo finish-
| | | |
| --- | --- | --- |
| Hersteller: |   | Pobjoy Mint |
| Nennwert: |   | $100 |
| Prägung: |   | Proof-Linke |
| Stückelung: |   | 1 x  Unze |
| Material: |   | Gold |
| Feinheit: |   | 999/1000 |
| Gewicht: |   | 31,135 Gramm |
| Durchmesser: |   | 32,70mm |
| Auflage: |   |  100 Stück |
1 x 1 Unze (OZ) Silber Tokelau "Pegasus 2014" -Antique-Finish
This 1 oz .9999 fine Gold coin celebrates the Pegasus bullion coin series with an extremely limited mintage of only 100 coins worldwide and features Pegasus, the mythical horse along with a revamped finish.

Coin Highlights:
Limited mintage of 100 coins worldwide.
proof-like cameo finish.
First Gold BU release in Pegasus series from Pobjoy Mint.
Contains 1 oz of .9999 fine Gold.
Each coin comes in protective packaging.
Obverse: Depicts an effigy of Her Majesty Queen Elizabeth II used exclusively by Pobjoy Mint.
Reverse: Features Pegasus, the mythical horse, rearing up with his wings spread.
Sovereign coin backed by the British Virgin Island government.

Pegasus is one of the best-known creatures in Greek mythology. This winged horse is usually depicted as white in color and was always considered a good-hearted and gentle animal. Throughout his life, Pegasus remained a mysterious creature that symbolized divine inspiration or the journey to heaven. As a reward for his service and loyalty, Zeus honored him with a special immortality, turning him into a constellation on the last day of his life.

The story of Pegasus begins when Perseus is sent to kill one of the three Gorgons, Medusa who had writhing snakes instead of hair. It was said that anyone unfortunate enough to gaze on her face would turn to stone. The God Hermes and the Goddess Athena came to aid Perseus with special gifts, including a shield which Perseus used as a mirror so he did not look directly at Medusa. When Perseus beheaded Medusa it is said that Pegasus was born from the blood of the Gorgon. Many wanted to capture Pegasus but no one could work out how to tame such a magnificent creature.
Tokelau gilt als einer der abgeschiedensten Orte der Welt. Die Bevölkerung von Tokelau lebt in drei Dörfern auf den jeweiligen Atollen. Tokelau ist ein von Neuseeland unabhängiges Gebiet mit 1411 Einwohnern (Oktober 2011) und einer Fläche von 12 km². 
Die Bewohner versorgen sich durch Fischfangund die Nutzung der Kokospalmenzum großen Teil selbst. Die Gewässer um Tokelau besitzen große Thunfischbestände. Ärztliche Leistungen und Medikamente sind für die Tokelauer kostenlos. Deshalb benötigen sie nur wenig Geld. Tokelau war das letzte Land der Erde, in dem Bargeld eingeführt wurde.
Bekannt geworden ist Tokelau im Internetdurch die kostenlose Vergabe der Top-Level-Domain.tk. Es ist aber nicht der Inselstaat selbst, der die Top-Level-Domains vergibt, sondern ein Investor, der das Nutzungsrecht an der Adresse erwarb.
Eine neue Ausgabe aus Tokelau mit dem "Pegasus".

Der Nennwert beträgt 5$ . Diese Münze hat einen Anteil von 99,9% Feinsilber mit einem Durchmesser von 38,60mm, wiegt 31,135 Gramm und wurde in einer wunderschönen Antique-Finish Version Produziert.

Die Vorderseite zeigt das Bildnis Queen Elizabeth II.
Geliefert wird diese Sammlermünze gekapselt mit Echtheitszertifikat.
Technische Daten
Gewicht

31.103

Material

Gold

Jahreszahl

2021

Preis-Addition

420