Gold 1.754,51 Eur
Silber 20,27 Eur
Platin 925,92 Eur
Palladium 2.196,00 Eur
(49) 2935 - 3 390 375
Europaweite Lieferung
Europaweite Lieferung
Gold 1.754,51 Eur
Silber 20,27 Eur
Platin 925,92 Eur
Palladium 2.196,00 Eur
SILBER 15,39 EUR
PLATIN 853,48 EUR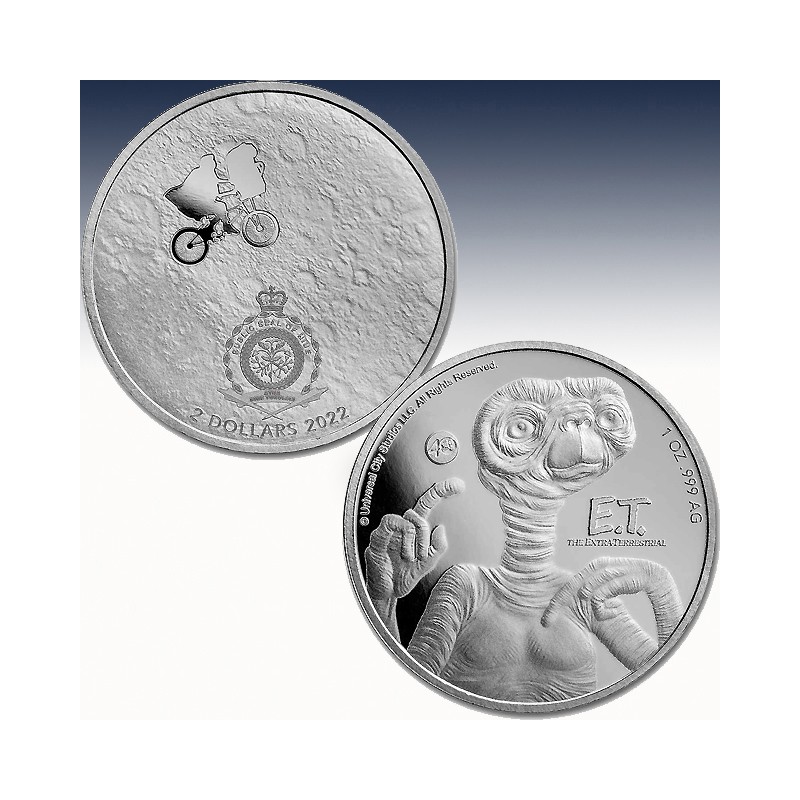  
1 x 1 Unze Silbermünze 2$ Niue "E.T. 40th Anniversary Coin 2022" -BU-*
| | | |
| --- | --- | --- |
| Herkunft: |   | Niue |
| Nennwert: |   | 2$ NZD |
| Prägung: |   | Stempelglanz |
| Stückelung: |   | 1 x 1 Unze |
| Material: |   | Silber |
| Feinheit: |   | 999,9/1000 |
| Gewicht: |   | 31,10 Gramm |
| Verpackung: |   | zip-Tüte |
| Durchmesser: |   | 39x2,98 mm |
| Auflage: |   | 25.000 Stück |
1 x 1 Unze (oz) Silbermünze 2$ Niue "E.T. 40th Anniversary Coin 2022"
(diff.besteuert nach §25a UStG)
He's just a lost space alien trying to find his way home. Commemorate a classic 1980s film as E.T. The Extra-Terrestrial turns 40 years old in 2022. With a limited mintage of only 25,000 Silver coins, these are an excellent addition to any collection!
Coin Highlights:
Contains 1 oz of .999 fine Silver.
Worldwide mintage of 25,000 coins.
Individual coins come in a protective capsule. Multiples of 20 come in heat-sealed rolls.
Obverse: Displays the iconic scene of the full moon with the silhouette of Elliott and E.T. flying across on a bicycle. The Niue coat of arms as well as face value and year of issue appear at the bottom of the moon face, which takes up the entire obverse.
Reverse: Features an officially licensed image of E.T. raising his glowing finger while pointing to his glowing heart with the opposite hand. To the left of E.T. is the 40th anniversary logo as a privy mark. To the right of E.T. is the E.T. movie logo. Along the rim is the Universal City Studios LLC copyright along with the metal weight and purity.
Issued by the sovereign government of Niue.

E.T. The Extra-Terrestrial
According to Stephen Spielberg, the concept for E.T. evolved out of a question he asked himself about what if an Alien from Close Encounters of the Third Kind had stayed behind as a sort of exchange student. He then imagined the character from the perspective of his own childhood and the loneliness he felt during his parent's divorce. Thus, E.T. was created as a friendly extra-terrestrial being who was left behind on Earth, but aided by the young boy Elliot to return home. In the course of this encounter, a unique friendship would emerge to the benefit of both characters and the delight of audiences around the world.

E.T. The Extra-Terrestrial first premiered on May 26, 1982 at the Cannes Film Festival and later on June 11, 1982 across the United States. Its success was immediate, even surpassing the first Star Wars movie as the highest-grossing film of all time. APMEX is proud to present this exclusive Precious Metals coin release to commemorate the 40th anniversary of an award-winning cinematic masterpiece. Grow your collection with this unique coin!
Niue ist eine isolierte Koralleninsel im Südpazifik in der Nähe von Tonga, 2.400 km nordöstlich von Neuseeland. Sie liegt südlich von Samoa und westlich der Cookinseln.
Der Nennwert beträgt 2$ . Diese Münze hat einen Anteil von 999,9% Feinsilber mit einem Durchmesser von 39,00mm, wiegt 31,103 Gramm und wurde in einer wunderschönen "Brilliant uncirculated" Version Produziert.
Technische Daten
Gewicht

31.103

Material

Silber

Jahreszahl

2022

Preis-Addition

13.4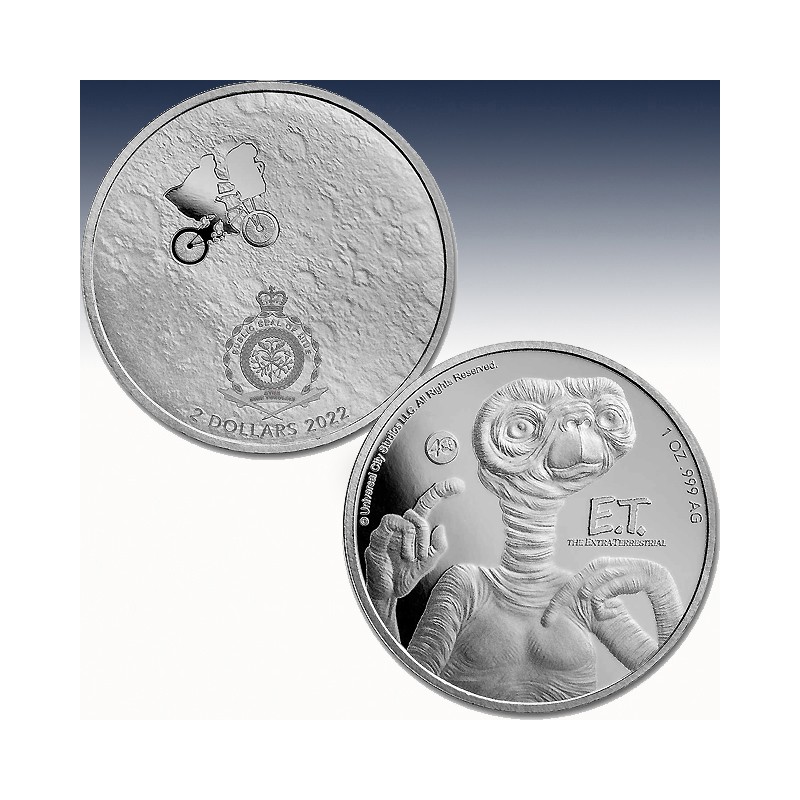 | | | |
| --- | --- | --- |
| Herkunft: |   | Niue |
| Nennwert: |   | 2$ NZD |
| Prägung: |   | Stempelglanz |
| Stückelung: |   | 1 x 1 Unze |
| Material: |   | Silber |
| Feinheit: |   | 999,9/1000 |
| Gewicht: |   | 31,10 Gramm |
| Verpackung: |   | zip-Tüte |
| Durchmesser: |   | 39x2,98 mm |
| Auflage: |   | 25.000 Stück |